10 Best Things To Do in Calpe, Spain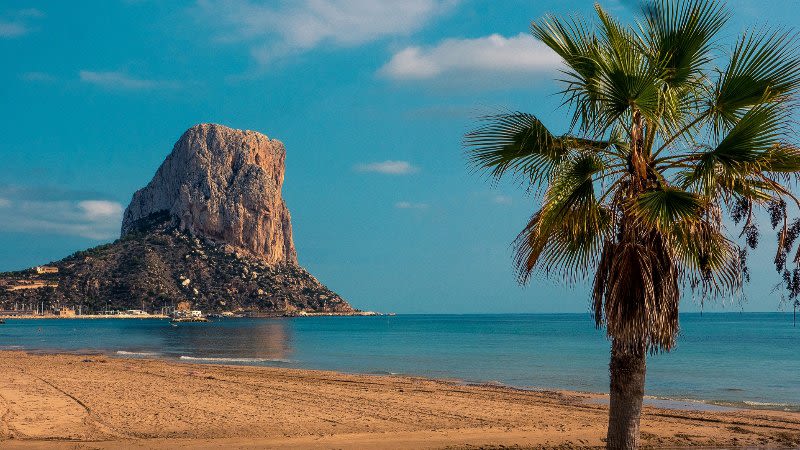 Calpe is yet another beautiful coastal town in the Costa Blanca region, one of the most popular tourist destinations in Spain for beach holidays, especially during the summer months.
Today, Calpe's main industry is tourism, although in the past the main focus was on fishing, as was the case for many other towns in the area like Altea or Villajoyosa.
Calpe is situated only an hour drive away from Alicante Airport, which is the main aviation hub for tourists arriving on holiday to Costa Blanca. If you rent a car you can drive on the A7 autopista straight into Calpe (tolls apply) or you avoid the tolls by driving on the coastal road via Villajoyosa, Benidorm and Altea, which takes a bit longer depending on day and time.
What to do in Calpe - best places to visit and attractions
If you're planning a holiday to Calpe and you're wondering what there is to do in the area, we recommend going through the following list, as you'll probably be surprised at how many interesting activities and places are in town and in the near vicinity.
1. Natural Park of Peñón D'Ifach
The Peñón de Ifach rock, also known as Calpe Rock, is what dominates the landscape in Calpe, as this is the highest point in town, at 322 m altitude.
This used to be a place of high importance in the town's defense strategy in the past, as they used the rock as a lookout point to spot pirates or other enemies attacking from the sea.
If you're visiting Cape and you want to get the best view over the city, then climbing the Peñón D'Ifach rock is the best option. If you want to climb the rock, then we advise that you wear appropriate footwear, as part of the trail is a bit challenging and you need to be careful. The signposted route starts at the Visitor Centre and we advise that you bring water with you and suncream, especially if you're going on a hot summer day.
Also, make sure to choose a clear day for your hike on Calpe Rock, as on those days you even have the chance of spotting the island of Ibiza from the top of the rock, besides the gorgeous views that you get of the surrounding landscape.
2. Calpe's Old Town (Casco Antiguo)
The Old Town is one of the best places to see in Calpe and all you have to do to discover its charm is to let yourself get lost in its narrow cobblestone streets. The historical center is located 2 km away from the coast.
You'll discover a wonderful mix of European and Moorish architecture, as a proof of the town's past and present, with colorful murals, tiles and balconies decorated with flowers.
Some of the most important sights, which you should not miss when strolling through the Old Town in Calpe are the Torre de la Peça, Ermita de San Salvador and Ermita de San Juan de la Cometa.
Also, while you're walking through the Old Town of Calpe, don't miss the famous Calle Puchalt, which is for sure the most photographed and Instagrammed street in town.
3. Torre de la Peça
The tower is part of the old defensive wall which was built to protect the city of Calpe from the Moorish attacks.
Torre de la Peca is located in the Old Town and it's one the most focal points of the historical center of Calpe, a really photogenic place, which is surrounded by many more old buildings from the same era.
4. Calpe Promenade
The promenade in Calpe has a lovely view of the Rock D'Ifach, so it's a lovely place to stroll in the evening and enjoy a drink or even dinner. It's a really long promenade, so you'll have new places to discover every day.
During the daytime, it gets really busy especially at lunchtime, when people from the beach pop over for a quick lunch at one of the many bars and restaurants.
The promenade is tiled and lined with tall palm trees and you'll find lots of places to take a seat and relax, rest and enjoy the view along the way.
5. Calpe Street Market
where: Avenida del Norte and Avenida Puerto de Santa María in Calpe
when: Saturday, from 8 am to 2 pm
The weekly market in Calpe (Mercadillo de Calpe) takes place on Saturdays, between Avenida del Norte and Avenida Puerto de Santa María.
You'll find a mix of fresh produce (vegetables, fruit and other food items from the area) on one side of the market, while on the other side you'll have a mix of things like clothing, shoes, souvenirs, fake items and toys, all mixed in one place (over 250 stalls). It's an interesting experience, just watch your pocket carefully, since it tends to be quite crowded especially during the high tourist season.
6. Calpe Craft Market
where: Avenida de Rumania
when: Saturday, from 9 am to 2 pm
On Saturday there's also another market, dedicated to craft items, which might be a good place to visit if you want to bring back home something special and unique from Calpe.
Local artisans will participate in this market and you'll find all sorts of souvenirs, jewelry, and even vintage clothing.
Best beaches in Calpe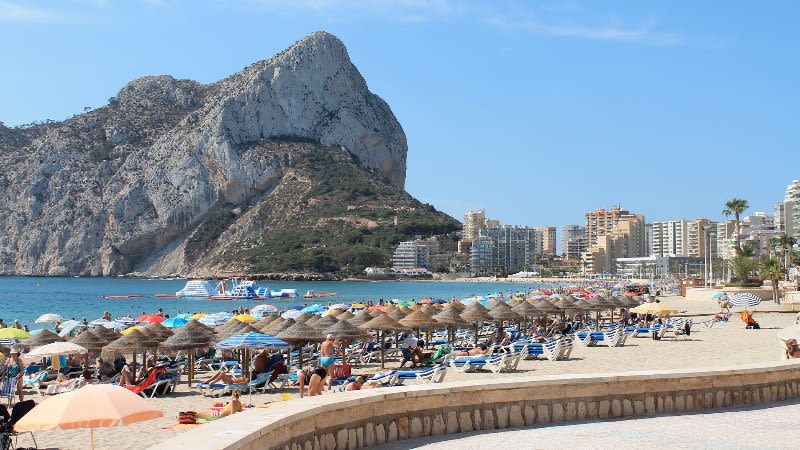 What would a trip to Calpe be without a few days on the beach, enjoying the Spanish sun?
7. Playa de la Fossa
Playa de la Fossa is one of the most popular beaches in Calpe, with fine sand and many restaurants and bars close-by. It is situated north of the Calpe rock and close to Las Salinas.
In 2019, the price for two sunbeds and an umbrella was 15 Euros.
In summer it does get crowded, but that's expected since it's such a clean beach, with a lovely view and ideal for families with kids, due to the calm waters.
8. Playa del Cantal Roig
Located near the fishing port, Cantal Roig is a cozy and small beach in Calpe, compared to others in the area. It has crystal clear water, family atmosphere and it's ideal if you're staying in this area of town.
9. Arenal Bol - Beach
Arenal Bol is a nice sandy beach, on the other side of the Calpe Rock from Playa de la Fossa. It does get busy, although it is a pretty long beach, of 1,5 km in length.
Since it's an urban beach you'll find all the amenities like sunbeds, umbrellas, adapted area for persons with disabilities and also a sports area for windsurfing and paddleboarding.
Nearby you have access to plenty of restaurants and bars, so it's a good place to have lunch with a lovely view and also a good place for a walk on the promenade which passes in front of the beach.
10. Calpe Saltmine (Las Salinas de Calpe)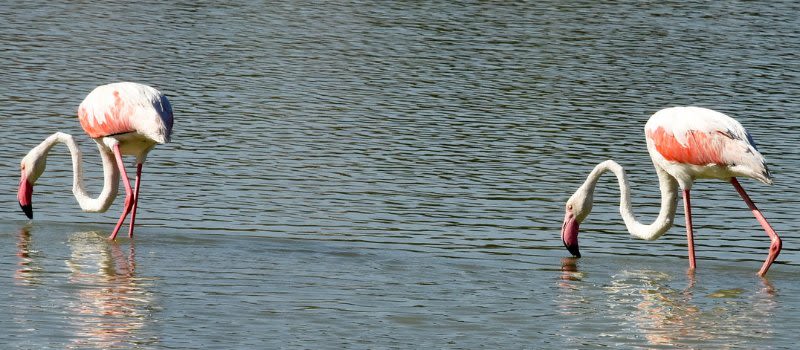 Calpe's Salt Flats are located very close to the Natural Park Peñón de Ifach and they represent a place of high biological and cultural value. This saltmine has been in use since the Roman era and nowadays is a favorite place for birdwatching, with around 170 species of birds and other wildlife living in the area.
Most visitors are attracted by the possibility of seeing pink flamingos, who often stay for periods of time in this large lagoon of salt water, so flamingo spotting is the main reason why people visit.
Nowadays the Calpe Saltmine is a protected area and it's a good place to enjoy some quiet moments away from all the noise and crowds in the city center.