Bucharest Fountain Show: Dates & Schedule 2021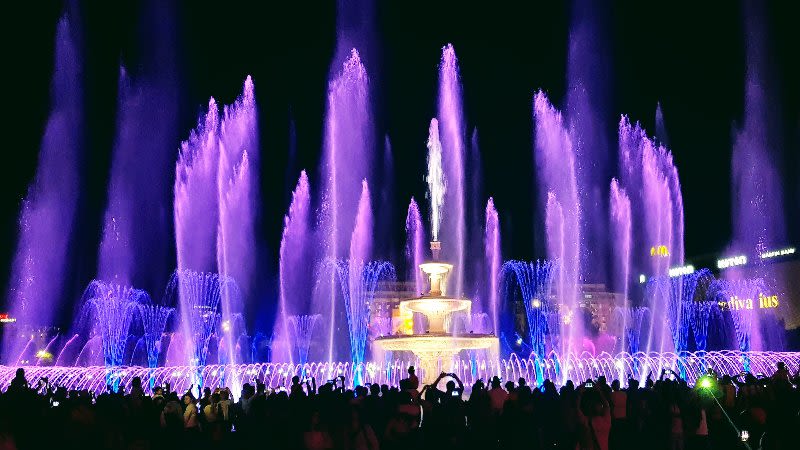 Unirii Fountains are located in the center of Bucharest in Unirii Square and in 2018 they were completely renovated, becoming the newest tourist attraction in Romania's capital.
In the year 2018, the Unirii Fountains Unirii underwent through an extensive rehabilitation process and a piece of state-of-the-art equipment for a music and light show was installed.
Since then the Music and Light Fountains in Bucharest have increased in popularity, as the town's residents and also people from other parts of Romania have gathered every weekend to admire the show.
If you're visiting Bucharest during a weekend trip we totally recommend coming to Union Square to see the show, as you'll be completely amazed by how great it is.
During the 2018 rehabilitation work, a new mosaic was also installed in the central piece of the fountain, so it's worth seeing the fountains also during daylight when you can better admire the effort that was put into them.
The Unirii Fountains in Bucharest were first built in 1980s and in total there are 44 fountains, which work together to put up an incredible music and lights show.
UPDATE 2021 - SHOW IS SUSPENDED
Due to the pandemic, the Fountain Show (Water Symphony) is currently SUSPENDED indefinitely.
In order to avoid large crowds of people gathering to see the show, the authorities have decided to suspend this event, so currently, in 2021 there's no light and music show at the Unirii Fountains in Bucharest.
The fountains are still functional and working, but there is no show during the weekends.
We will update this page as soon as the program of show restarts.
Bucharest Fountain Show schedule
The Music and Lights show (called Water Simphony - Simfonia Apei) will be held every week between the months of May and October on Fridays, Saturdays and Sundays.
MAY - show starts at 21:00
JUNE & JULY - show starts at 21:30 h
AUGUST - show starts at 21:00 h
SEPTEMBER & OCTOBER - show starts at 20:00 h
The schedule can be modified depending on weather conditions.
For real-time info about the show's schedule please check the official Facebook page Simfonia Apei.