Best Time To Visit Romania - When Should You Come Over?
Are you planning a trip to Romania and you don't know when to come over?
This article is written by a local from Bucharest, so we really do hope it will help make your decision easier.
Romania is still an undiscovered destination if we compare it to most other European countries, with a diverse landscape which offers a wide range of activities for every type of tourist.
When is the best season to visit Romania?
The short answer would be: all the seasons have their unique charm and you can come over at any time of the year, depending on what your interests are.
The longer answer is more complicated and it depends on several factors.
Romania's climate and four seasons
Romania has a temperate-continental climate, with four very distinct seasons and temperatures which vary enormously between winter and summer.
While in summer, especially during July and August, you can expect temperature to rise above 30 °C constantly, in winter, mostly between January and February, temperatures go below freezing level, up to around - 8 °C or -10 °C.
Most rainy days happen in spring (March and April) and autumn (October and November). Summer rains can also happen often, but they are usually just short showers and then the sun quickly comes out again.
Hottest months in Romania: July and August
Coldest months in Romania: December, January
Spring in Romania
Romania actually celebrates the coming of spring with an old tradition known as Martisor. On March 1st, men usually offer women a small decoration called Martisor, something like a brooch, which comes with a red and white cord and women wear it pinned on their clothes for the duration of the entire month.
Snow is still a possibility in March in all the country and it can also rains a lot sometimes.
Another important holiday that happens in spring is Easter, the Orthodox Easter more precisely, since Romania is an Orthodox country. If you are interested in experiencing different traditions like decorating Easter eggs, then plan your trip at this time and look for accommodation in a traditional guesthouse, so that you can taste typical foods that get cooked for Easter (cozonac, drob).
April and May is when nature comes to life and everywhere you look you see trees in bloom, green forests and colorful fields.
Springtime is the best time to come to Romania if you are interested in a city break in places like Bucharest, Cluj-Napoca, Brasov or Sibiu. The weather starts to warm up and so the temperatures are ideal for walking and exploring.
Summer in Romania
Summer is considered a high season for tourism in Romania.
Most people in Romania also go on holiday in July and August and many of them travel to the seaside to enjoy a relaxing holiday at the Black Sea.
From late June until the end of August it's the best time to come to Romania if you want to experience Romania'a seaside. July and August are the most expensive months, so booking in advance might be the best option if you want to get a good price. Most of the seaside resorts are crowded and noisy, so I would not personally recommend a holiday at the Black Sea in Romania. Maybe just a weekend, for the experience itself. Just don't come with high expectations.
Summer is the best season for exploring the natural attractions in Romania: the Carpathian mountains, the forests, the lakes and the amazing caves in the Apuseni Mountains. If you are interested in hiking in Romania, then you should definitely come over in summer in order to make the most of your time here. During the other seasons the weather can be quite unpredictable and some of the mountain massifs can be very dangerous when the weather suddenly changes.
Autumn in Romania
September is still fairly warm in most of Romania, almost summer like.
So visiting Romania in September is ideal if you want a city break. Besides Bucharest (the capital) and the other cities previously mentioned, you also have Timisoara and Iasi, also beautiful places to visit.
October looks like a symphony of colors in Romania's forests, when all the trees have yellow, golden or red leaves, and the mountains look magical under the multitude of colors. It is again an time to visit if you want to explore the countryside and also Transylvania.
Winter in Romania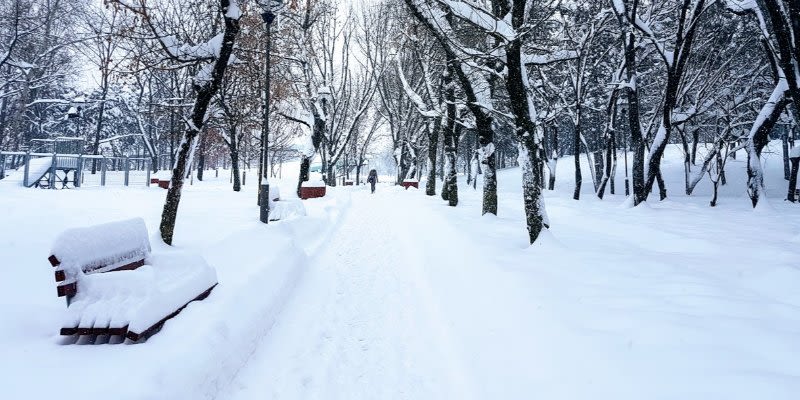 December starts with an important holiday for Romanians: the 1st of December is Romania's National Day and it's a public holiday. There are parades organized in most big cities, but the most important ones are in Bucharest and Alba Iulia.
You should visit Romania in December if you want to come to the Christmas Fair organized each in Bucharest, right in the square in front of The House of Parliament (People's House - Casa Poporului). Another amazing Christmas Market is the one in Sibiu, which looks really charming each year, due to its location in the Big Square in the pedestrian Old Town.
January and February are cold months, with lots of snow and temperatures below freezing level on most days (and even colder nights).
These months are the best for visiting Romania only if you are interested in skiing. Prahova Valley (Valea Prahovei) is the closest ski location close to Bucharest, but it can get crowded during weekends, so if you have the possibility we recommend that you come over during the weekdays.
Spending the Christmas holiday in Transylvania or Maramures is again a one of a kind experience, since here you will get to see many local traditions, as well as enjoy the culinary delights (sarmale and palinca).
When to visit Romania
Best months to visit for a city break: April, May, September
Best months to visit for hiking: June, July, August, September
Best months to visit for the seaside: July, August
For a first time traveler to Romania we would advise coming over either in late spring or summer, in order to enjoy the good weather and be able to explore all over the country.
Honest warning: It can get very hot in summer in big cities like Bucharest and walking outside at midday can prove to be difficult. The good thing is that there are many outdoor terraces and gardens in Bucharest and you can always take a break and enjoy a cold cocktail or a beer. Heatwaves happen often between July and mid August especially, when temperatures often go above 35 °C for many days in a row. So be careful to book an apartment or a hotel with air conditioning if you are coming over during summer.
Also summer is when the 3 largest music festivals in Romania take place: Electric Castle (Banffy Castle - Bontida, near Cluj Napoca), Untold (in Cluj-Napoca) and Neversea (Constanta - at the Black Sea). Both Neversea and Electric Castle usually happen in July and Untold is in August. If you plan to come to Romania in order to participate to one of these events, make sure to buy your tickets well ahead of time and also book your flights and accommodation early on, as prices are skyrocketing closer to the dates of each event.