15 Best Things To Do In Brasov, Romania - Local Guide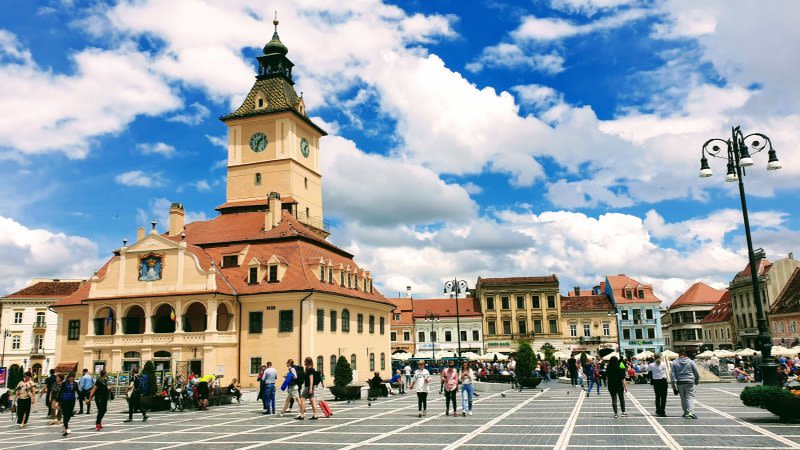 Brasov is a cool city in Romania, situated relatively close to Bucharest, the country's capital. Brasov is a great destination for a weekend or a few days away from the big capital and it's a great starting point if you want to visit Bran Castle (also known as Dracula's Castle) and Rasnov Fortress.
How to get to Brasov
By car: 180 km (112 miles) from Bucharest or 275 km (170 miles) from Cluj-Napoca. You can rent a car and drive here on your own. Prahova Valley (Valea Prahovei), the route which you would have to follow to drive from Bucharest to Brasov, is a popular weekend destination for residents in Bucharest, so it can get quite busy and the traffic is sometimes crazy on Fridays (on the sense towards Brasov) and on Sundays (on the way from Brasov to Bucharest, when people drive back home).
By train: it's around a 3 hours journey from Bucharest to Brasov. You can take a train from CFR (the national railway company in Romania) or from a private train company called Softrans - their train ride should only take 2 hours and the price is around 10$ each way.
What to do in Brasov & Places to visit
1. Brasov Historical Center
Brasov has a pretty Old Town and the most iconic place to see in Brasov city center is the Council Square (Piata Sfatului), which you can see pictured above at the start of the article.
This is a big square, with lots of cafes and restaurants, where you can sit outside and enjoy your coffee or lunch (during the warm months of course). You can see the BRASOV sign on top of the mountain and it's a great starting point for explorations around the city.
2. Museum of History
The History Museum is located inside the building that you see in the middle of Council Square. It is a really old building, with a clock tower and sometimes they have temporary exhibitions, besides the permanent one. Unfortunately we are not sure if they have info available in English or other languages too, so you should better ask at the ticket office before deciding to go in.
This is one probably one of the most photographed buildings in the Old Town of Brasov, since it is located right in the middle of the big square.
3. The Black Church
The Black Church is probably one of the most iconic tourist attractions in Brasov. Its distinctive feature is the six-ton bell, the biggest in Romania and an impressive 4,000 pipe organ, which is still played during weekly concerts.
Tickets: 10 lei (~ 2 Euros).
The church is located really close to the Council Square (Piata Sfatului), from where you can even see it. The best location from where you can photograph the Black Church is the White Tower (more info below).
4. Rope Street - the narrowest street in Romania and Eastern Europe
Rope Street is now very popular and you have to be patient if you want a nice picture here, especially if you are visiting during the weekend.
This narrow street has a width that varies between 1,11 and 1,35 m and it's considered to be the 3rd narrowest street in all of Europe and the narrowest in Eastern Europe.
5. Graft Bastion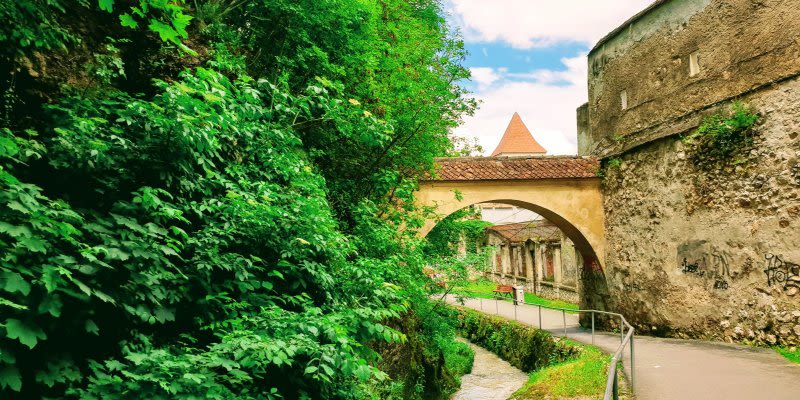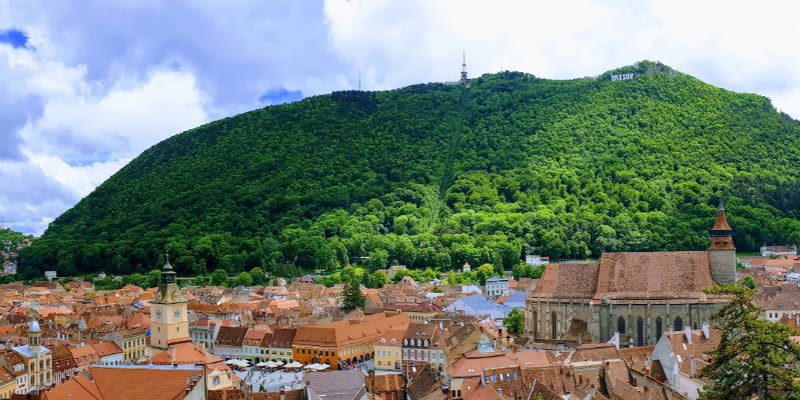 Location: After Walls / Aleea Dupa Ziduri
Most probably built during the 16th century, the bastion's role was to provide more security in this defense sector. Not far from here there are two watchtowers, which you must also see: the White Tower and the Black Tower.
6. The White Tower & The Black Tower
It's an easy hike from Graft Bastion to each of the towers. The view from the White Tower is really great, but the view from the Black Tower not so much, due to the abundant vegetation. In June 2019 when we last went there both towers were closed and we couldn't go inside, but the view is still worth going up there.
7. Catherine's Gate
From the Council Square we made our way towards Catherine's Gate, which was built in 1559 with defensive purpose in mind. It has 4 turrets and its architecture is really interesting and beautiful, so it deserves a visit.
8. Schei Gate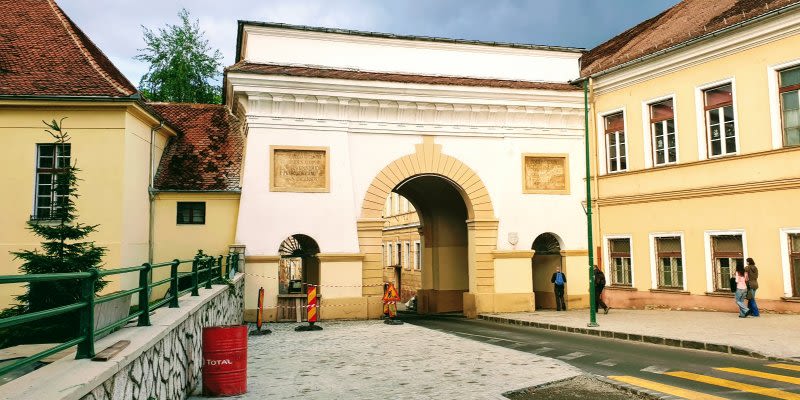 It is located right next to Catherine's Gate and it was recently renovated.
9. Weaver's Bastion
This is a historical building, also part of the History Museum. You can see here a permanent exhibition about Brasov Fortress (Cetatuia) and Barsei Country Fortifications.
10. Draper's Bastion
This is another old fortification in Brasov, built in the 13th century. Right now the building is run down but it's nice to see if you are on a walk to see the defensive wall and the other fortifications around the city.
11. Carpenter's Tower
It was also part of the city's defensive system. Located nearby is also Postavarilor Tower.
12. Other fortifications in the medieval town Brasov
Hunters Tower
Ropemaker's Bastion
13. Brasov Fortress (Cetatuia de pe Straja)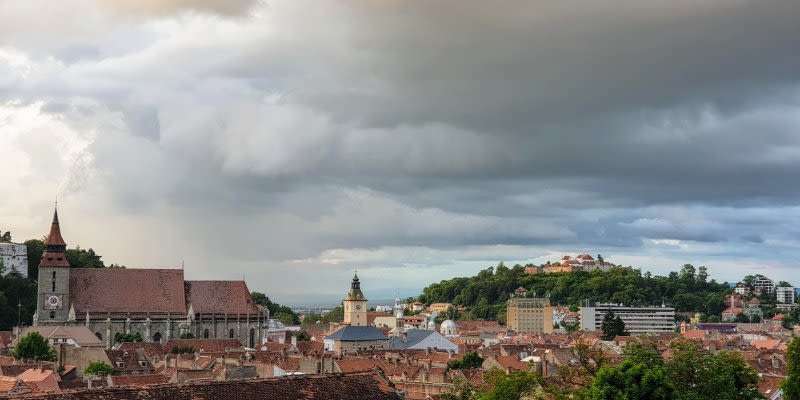 The fortress is located on a high point over the city and you can see it from many places inside the historical center. Last time we went up there was in June 2019, when the fortress was not open for a visit, because at the moment there is a legal trial regarding its ownership.
However, it is possible to walk on the outside and on the grounds, see the view and take some amazing photos of Brasov city center with the BRASOV sign on the background.
14. Titulescu Park
This a small and lovely park, located just outside the Old Historical Town. It is quiet and nice for a stroll or just to rest for a while on a bench.
15. Tampa Mountain
Tampa is the mountains that you see from almost anywhere in Brasov, where the sign with the city's name is located.
You can go up Tampa Mountain using the cable car or by hiking (there are actually 4 hiking trails, with different difficulties). The easiest hike only takes around 45 minutes - 1 hour but the most spectacular hike is the longest one, known as Gabony's stairs (scarile lui Gabony).
From up there you can get to the BRASOV sign and nearby there's an observation deck, from where you have an amazing view over the entire city. Tampa Mountain is one of Brasov's best attractions in our opinion and one of the places that you absolutely must visit when in town. The view is truly spectacular and for those who love nature it's also a chance to do an easy hike, without having to travel outside the city.
However, you have to keep in mind that this is a nature's reserve and wild animals still like here, so you need to be careful and make some noise in order to make your presence known (wild animals are scared by people and they don't usually want to meed you either). But Tampa Mountain is a really popular place among locals, and there are always people here running, hiking or biking, so there's really no reason to worry.
Where to stay in Brasov
We chose to stay at an Airbnb outside the city center, because we needed a place to park since we were traveling by car. But you have lots of options right in the heart of the historical town, where all the cool bars and restaurants are located. Prices are considerably lower than in other parts in Europe and you can find a lovely private apartment for only 30 - 50 Euros/night, right in the old town.
Where to eat and drink in Brasov
Our favorite restaurants in Brasov are:
La Ceaun - we recommend their soups, goulash and also their meatballs (parjoale). They are located just outside the main big square but still inside the old town.
Beraria Ciucas - this is actually a beer hall, which also has food on the menu, specific for such establishments (chicken wings, soups, sausages, schnitzels). The prices are lower compared to most restaurants in the old town, the service is friendly but this is an unpretentious place, where locals usually come to hang out with friends and have a local beer.
Emma La Dolce - the best ice cream we had in Brasov and one of the best in Romania. You have to try the Amarena Cheesecake and the Sicilian Pistachio, they are really good and also go for their artisanal cone, it's really worth the extra 50 cents.
Best time to visit Brasov
Brasov is actually a city that you can visit throughout the entire year, although it is always best to see when the weather is warm and nice. Since the city is located close to many mountains, it tends to rain a lot and also the temperatures are also lower than in Bucharest most of the times.
Best time to visit Brasov: May - September. This almost guarantees you lovely weather, which is also important if you want to do some hiking while in the area (there are many hiking trails near Brasov).
Christmas Market in Brasov: December. If you want to see the Christmas market organized in the Council Square, you must come over sometimes after the 5th of December and Christmas. You can drink mulled wine, see the stalls, the lights and the magical winter atmosphere (especially if it has already snowed for the first time).