11 Secret Places & Hidden Gems in Bucharest, Romania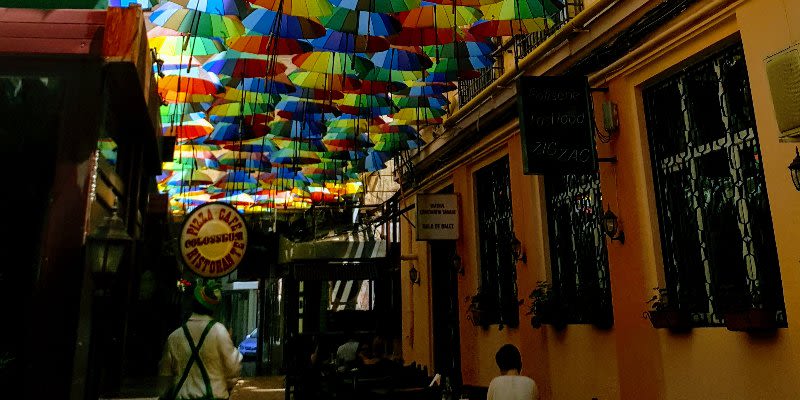 If you have already seen the best attractions in Bucharest and you want to explore more of Romania's capital, then this guide might be what you need.
This article is written by a local who lives in Bucharest, so you'll find here a few places that are unknown even to some of the city's residents; places that have either a unique history or a bizarre feature, which might raise interest in some visitors.
Bizarre and secret places to see in Bucharest
Bucharest is slowly gaining interest from international visitors, who come to see this vibrant city usually for a short city break. So, during the weekends, places like the Old Town can become crowded and noisy, so you may want to see some of the more obscure, unusual attractions and hidden gems in Bucharest (some of them are unknown even to most locals).
1. Umbrella Passage (Victoria Passage)
We're kicking off our list with what's probably the most "popular" secret place on the list (pictured above).
This place has become popular on Instagram after it was decorated with colorful umbrellas. There's not much to do here besides a pretty picture, although there are a few bars, a club and a pizzeria situated inside the passage. All of them are mediocre in quality and service, but it's a good place to "hide" in case you get caught in the rain or you want to escape the hot summer sun.
2. Macca - Vilacrosse Passage
Villacrosse Passage is situated very close to the Old Town of Bucharest and it makes the connection between Calea Victoriei and Lipscani Street (one of the most popular streets in the Old Town). It is covered and with a nice architecture. Here you will find many oriental cafes, where you can try a hookah, an instrument for smoking flavored tobacco. This passage is also known in Bucharest as Valea Regilor (Valley of Kings), due to the multitude of bars and cafes all with an oriental note.
3. Xenofon Street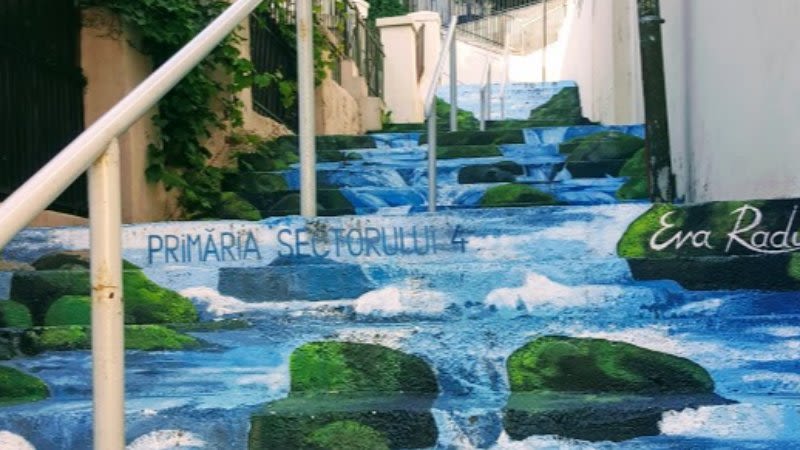 This place is situated close to Carol I Park, one of the largest parks in Bucharest.
Although it is called a street, it is actually made out of stairs and it is beautifully painted in different styles that change from time to time. Again, this is a cool place to take some cool pictures in Bucharest, one of the most Instragrammable places in Bucharest actually.
We recommend that you also take a stroll in Carol Park, so that it will be worth the trip to this area of the city.
Xenofon street is actually the only street formed entirely by stairs in Bucharest, so probably the only street in the city where no car has ever passed.
4. The mural on General Eremia Grigorescu street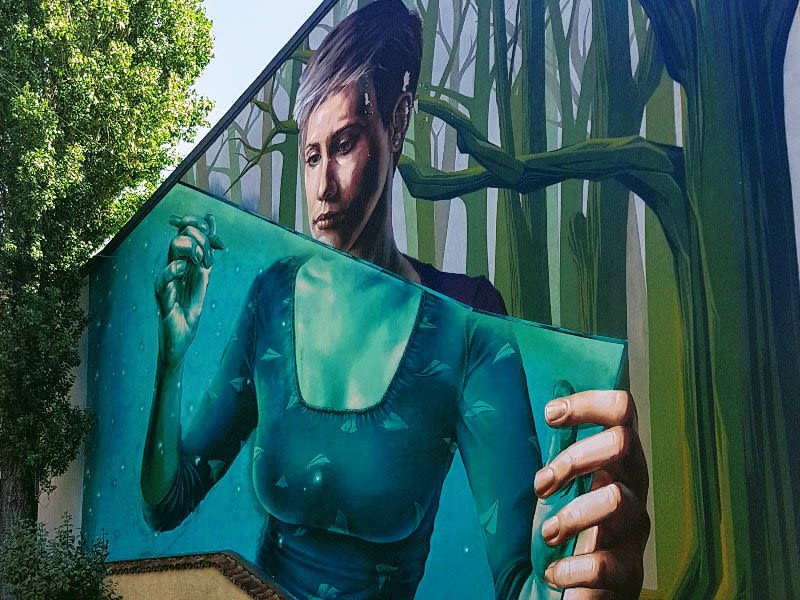 Another cool mural to use as a backdrop for your Instagram photos in Bucharest. The mural is situated at 12 General Eremia Grigoresti street, very close to Romana Square and Gradina Icoanei Park, 2 other places usually included on most lists of highlights in Bucharest. Nearby you also have 2 cool bars and restaurants where you can take a break: Lente Dionisie Lupu and Shift Pub, serving great cocktails.
5. Vacaresti Natural Park
This is a very unusual place to see in Bucharest, one of those places that not even many people who live in the city have visited.
Only 5 km away from the busy downtown Bucharest you can reach this protected area which is the first urban natural park in Romania. It is still such a wild place, protected for its biological diversity and ideal for a walk away from the noise and all the pollution in the city.
There's also an Observatory from where you can see the Vacaresti Delta from above and also learn more about this nature reserve situated inside a big European capital. The access is free, although it requires an appointment, which you can solicit online on the official website.
6. Romanian Kitsch Museum
This place gets very mixed reviews from locals, but for many foreign visitors it's an unusual place to see in Bucharest, full of objects that were popular several decades ago, objects that you could find in almost any Romanian home.
The descriptions are funny and you might get a glimpse of life in Romania during the communist era. We recommend to visit on Sunday if possible, as it's a bit cheaper than during the rest of the week.
7. Museum Of Senses
One of the more recently opened museums in Bucharest, this place is situated inside a big shopping mall called AFI Cotroceni. So if you plan to do some shopping while in Bucharest you can come here and combine the 2 activities.
This is a really fun museum, ideal to see during a trip with the kids in Bucharest. It's interactive and full of optical illusions, with lots of great opportunities for photos.
8. Politehnica Subway Station
You may wonder what can be so interesting in a subway station that it's worth seeing when visiting Bucharest.
Well, this subway station was inaugurated in 1983 and the station's floor is made out of prehistoric fossils, extracted from the Apuseni Mountains. These fossils date back 65 millions years and they are visible in the floors inside the subway station.
It is hard to imagine that so many people are stepping every day on such an old piece of history and they don't even know it! But this is actually true, since most residents in Bucharest don't know anything about this peculiarity in one of the most used stations, which bears the name of one of the largest universities in Romania: Politehnica University.
So although the place is not actually a secret, its peculiarity if a mystery even for its frequent users. Builders back in the day didn't actually know they were using such a precious material as pavement; they were just in a rush to finish the station quickly.
If you plan to visit the AFI Cotroceni shopping mall and the Museum of Senses you can arrive by metro at the Politehnica Station, so you can combine these three activities in one trip.
9. Carturesti Carusel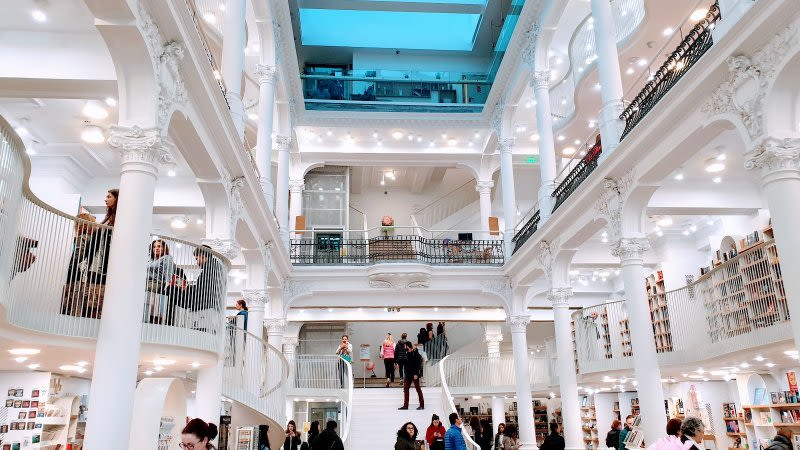 This library is located in the Old Town, but you might miss it from the outside if you don't know about it before getting there. The place has made it onto many design magazines and was actually named by some as the most beautiful bookstore in Europe.
Is situated on the pedestrian street Lipscani and it has several floors with books, quirky objects ideal for gifts or souvenirs and also a small bistro situated on the highest floor.
Carturesti Carusel is located inside a renovated old building, with an intricate staircase, which is its focal point of attraction. It is popular among locals and you'll find many people inside at any hour of any day. But it's still a cool place to see and the food in the bistro is pretty good also.
10. Vlad Tepes Castle
This building is actually a replica of the famous Poenari Fortress, the real castle of Vlad Tepes, also known as Vlad the Impaler.
This is a red brick building, representative for the medieval times when the original fortress was built. This replica is located inside Carol I Park, the one that we recommend to visit if planning to go see Xenofon street.
Unfortunately you can't visit the Tepes Castle in Bucharest, since the building is used by the Romanian Army. It is open for the public only once or twice per year, but you can see the building from the outside.
11. Melik House
Melik House is the oldest house in all of Bucharest and is now home to the Theodor Pallady Museum, part of the National Museum of Art. It is situated centrally, very close to Universitatii Square. Besides the wide collection of paintings signed by Theordor Pallady you can also admire the beautiful design and architecture of this old and magnificent house, once the home of a wealthy merchant by the name of Melik.