8 Best Beaches in Zadar County, Croatia - City + Surrounding area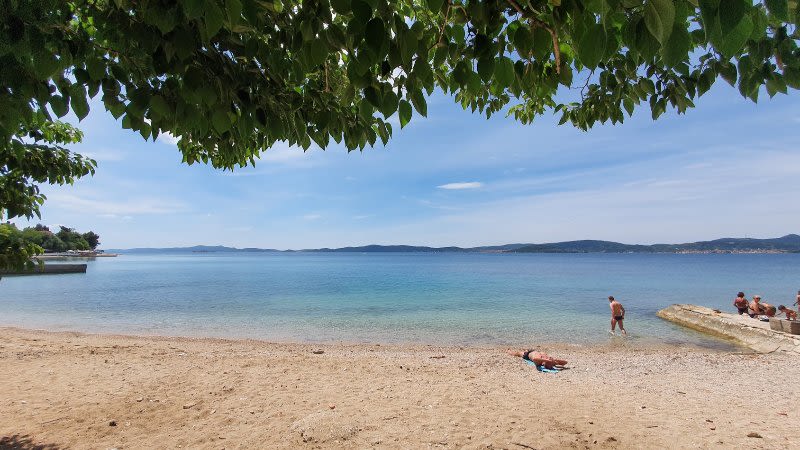 Zadar was the first city we visited in Croatia during our trip and so it holds a special place in our memories. Even after exploring many more cities, beaches and island, Zadar is still one of our favorite places to visit in Croatia, due to its young vibe and the beautiful surrounding areas, which includes many amazing beaches.
Best urban beaches in Zadar city
If you are spending some time Zadar and you don't have a car to move around, or you just want to stay put in the city for a day or two, while still going to the beach, you should know that the city offers visitors multiple options, all within easy reach, depending on where you're staying in Zadar.
1. Kolovare beach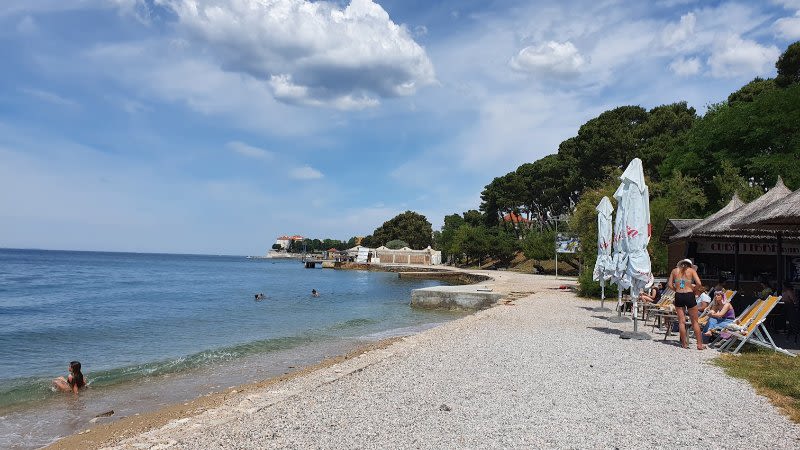 Kolovare beach is the most popular urban beach in Zadar, with small pebbles and a calm sea, where you can find all the normal amenities of a city beach like umbrellas, sunbeds, showers, changing rooms and easy access to bars and cafes.
Kolovare beach is located 1 km (0.6 miles) away from the Old Town of Zadar, so you can get there in around 15 minutes on foot.
2. Borik beach
Borik beach is on the other side of the Old Town compared to Kolovare beach and it's also located a bit further away.
The beach is managed by the nearby resort, so there is an entrance fee of around 15 HKR (2.4$) per person. If you're staying in this area of Zadar and you want to spend time at the beach without leaving the city, Borik beach is probably the best beach in Zadar for you, especially if you are traveling with kids. Next to the beach, there's also a playground, so it is good for families.
It is a well-maintained beach in Zadar, with all modern facilities, crystal clear waters and very clean.
Borik beach is located in the northern part of the city of Zadar and it is a pebble beach (no sand).
Best beaches around Nin riviera
The small town of Nin is only 25 minutes away from Zadar, but it's definitely worth visiting. Many people decide to spend their holidays on the Nin Riviera due to the great beaches, some of them sandy, which is not usually the norm in Croatia.
3. Queen's Beach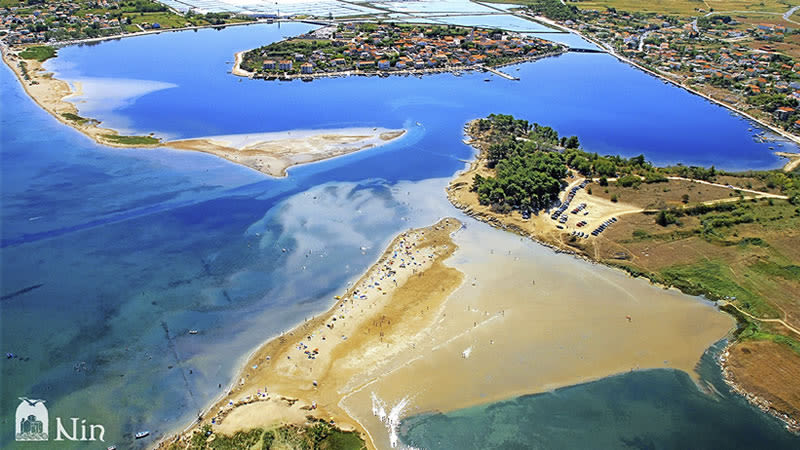 Queen's Beach is probably one of the most famous beaches in the Zadar area and definitely the most popular beach near Nin. The main reason is that is one of the few sandy beaches around Zadar and so it draws in crowds of people who love beaches with sand instead of pebbles, like it's usually the case in Croatia.
It's easy to get to Queen's beach either by car or on foot from Nin and you can also visit from Zadar and the drive takes around 25 minutes. If you arrive by car you need to pay a parking fee for the day (this may not be the case if you go there during the low season months).
Queen's beach is popular among families, who set up their beach tents for the day and enjoy the spectacular views of the mountains. The water is usually warmer here than on other beaches around the coastline of Zadar.
4. Sabunike beach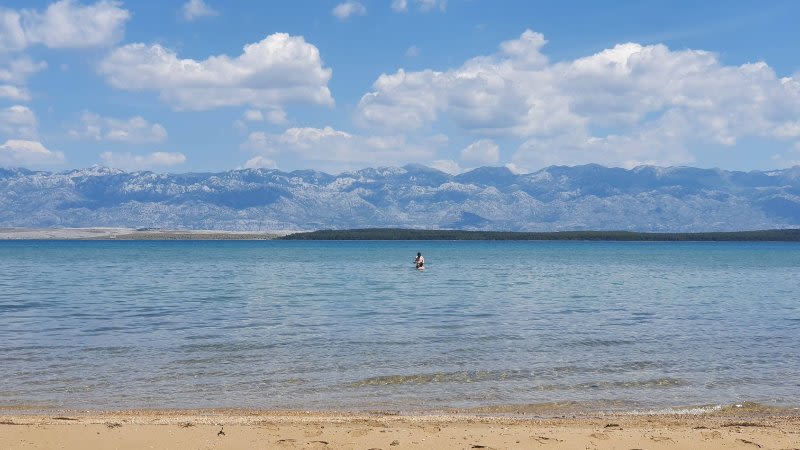 Sabunike beach is located very close to Queen's Beach, around 1 km (0.6 miles) distance and you can actually walk from one to the other, or even cycle if you have a bike.
Sabunike beach is perfect for kids, since you can go in the sea up to 100 m and the water is still shallow and calm, so it is safe for children to play around freely.
During the summer season, you can pay to rent sunbeds and an umbrella, or you should bring your own because there's no shade at this beach and the sun can be unbearable in the afternoon hours.
We loved Sabunike beach because the water is crystal clear and it offers amazing views of the mountains, plus there is sand in the water at the entrance, not pebbles, at least in some areas of the beach, which is a plus for many people who prefer sand over rocks and pebbles.
From Nin, it takes around 10 minutes to drive to Sabunike beach, while from Zadar to Sabunike beach the drive takes around 30 minutes.
5. Kozino beach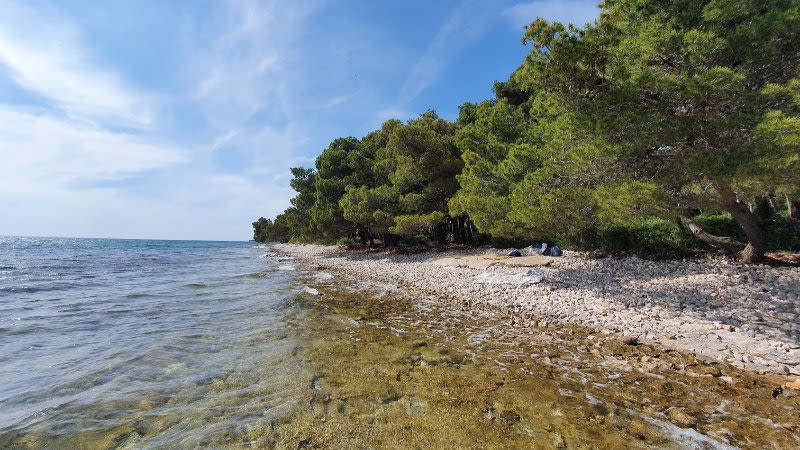 Compared to the other places on our list, Kozino beach can be seen as more of a secluded beach near Zadar and also one of the quiet beaches, since it's harder to get to, although it is relatively close to the city - around 15 minutes drive.
You can park the car right next to the beach, under the pine trees, which is great during the hot summer days.
The beach itself is made up of large rocks and concrete platforms, where you can site.
What we loved at Kozino beach was that there were pine trees right on the beach, just a few feet from the sea. We were able to hang our hammocks and sit comfortably almost above the sea, enjoying the view and the natural shade.
Kozino is probably the closest beach to Zadar with natural shade, so we came here several times to sit under the trees and simply do some reading. Swimming is not that easy or great at this beach, due to the large rocks, but if you have a hammock with you, we absolutely recommend visiting this beach for a unique experience.
Kozino beach is also a very quiet beach in the Zadar area, compared to others which draw bigger crowds, so if you're looking for a rather secret beach in Zadar county, where you can have a chilled day by the sea, this would be a great spot.
There are no restaurants, showers, changing rooms, or toilets at Kozino beach.
6. Petrčane beach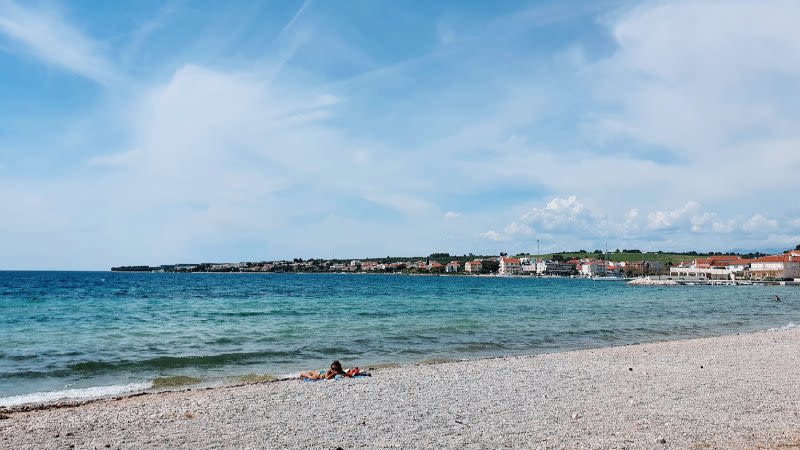 In between Kozino and the famous Zaton resort you will find Petrčane, with its lovely pebbly beach.
Only 15 minutes away from Zadar, you will find the charming Petrčane beach, which is usually quiet and chilled, despite its proximity to the city.
Although here you don't have pine trees on the beach like in Kozino, the advantage is that the water is shallow and great for kids, so it's an ideal beach near Zadar for families with small kids.
You can also park the car near the beach, since there's a big parking lot and you can have lunch just a few feet away, at the cafe/bar located on the beach that serves simple stuff like burgers or pizza.
This beach offers all the usual facilities like changing rooms, sunbeds, umbrellas, toilets.
Explore the islands near Zadar
Of course, there are many more beaches in the area of Zadar and if you have a car you should explore on your own and discover others as well.
These were our favorite beaches in Zadar but we also went to the two nearby islands, both connected by bridges to the mainland, Pag and Vir.
Both islands also have some fantastic beaches, so if you run out of beaches to go to near Zadar, venture a bit further and discover the best beaches in Vir and Pag as well.
7. Jadro Beach - best beach on Vir island
Jadro beach is the most popular beach on Vir island, easily reachable from Zadar especially if you have a car.
Jadro Beach has clear turquoise water, it offers sunbeds and umbrellas and it usually gets crowded during July and August.
You can find some bars and restaurants across the beach, where you can get lunch.
The beach itself is narrow but quite long, with a smooth entrance in the sea. It is a pebbly beach, it's typical for Croatia.
8. Zrce Festival Beach - most famous beach on Pag
The island of Pag is one of the places to visit if you're ever in Zadar. You could actually spend a few days on Pag, enjoying its rugged landscape and hidden beaches, with beautiful coves that you can explore.
Zrce beach is the most famous beach on the island of Pag and it's known as one of the party beaches around the world. There are big clubs around this beach and it's the hot spot for nighttime partying around Zadar, so this is the place to be if you're after the best nightlife in the area of Zadar and Croatia in general.
FAQ about beaches around Zadar
Does Zadar have nice beaches?
In our opinion, Zadar actually has some of the best beaches around continental Croatia. We loved swimming at Sabunike beach, exploring the small beaches around Vir island and also chilling at Kozino beach.
Does Zadar have a beach right in the city?
Zadar has more than one city beach and the most popular urban beaches are Borik Beach and Kolovare beach.
Where can you swim in Zadar?
The city beaches Borik and Kolovare are good for swimming in Zadar, but you can also use the concrete platform that are located right by the Old Town and offer the easiest access to the sea.