25 BEST Airbnbs in Costa Rica: Beach Villas, Treehouses, Jungle cabins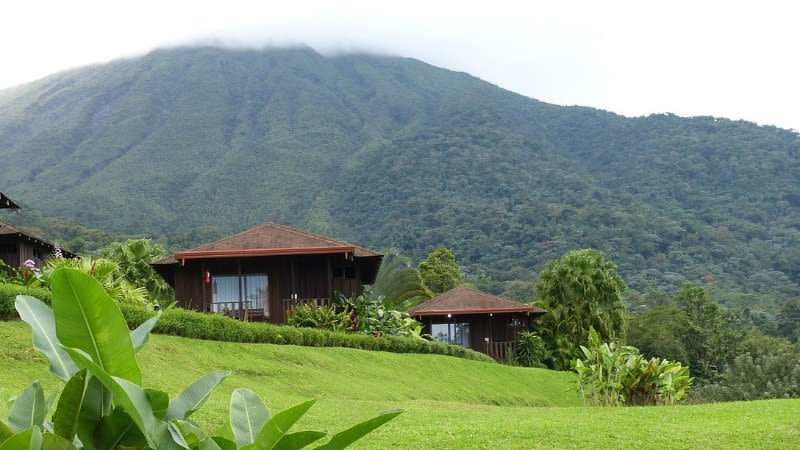 Costa Rica is an incredible destination, with so many interesting places to visit, from the vibrant city of San Jose to volcanoes, jungles and of course amazing beaches.
Most visitors start their journey in San Jose, Costa Rica's capital before they venture to beach towns like Tamarindo in Guanacaste province or Jaco in Puntarenas province. Other famous beaches in Costa Rica include Playa Conchal, Playa Flamingo and of course, Manuel Antonio beach.
We have selected some of the best Airbnbs in Costa Rica, from condos to treehouses, luxury villas and other unique places to stay like domes or cob cottages. These are some of the most unique places to stay in Costa Rica, in some of the country's most popular towns and areas. These Costa Rica Airbnbs are offered by Superhosts, so you can expect the best hospitality services, cleanliness, and amazing amenities.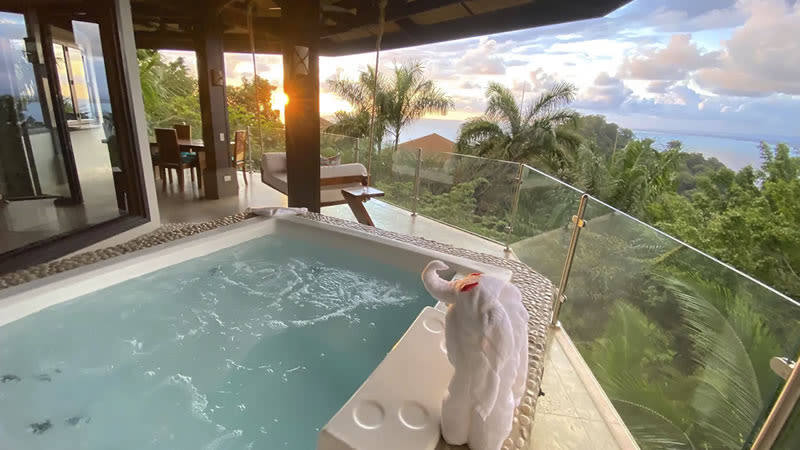 Stay in Tulemar Resort - Villa Salty Breeze - Premium 2 Bedroom Villa with a very private ocean view balcony. This villa is the perfect place to stay if you want to enjoy one of the best beaches in Costa Rica, Playa Manuel Antonio.
Major Monkey Corridor
Balcony Hanging Couch with Amazing Views
Balcony Jacuzzi
Superfast Wifi
All Tulemar Amenities
Enjoy the awesome ocean view from the 2400 sqft villa and relax on the huge balcony with an ocean view in the heart of Tulemar.
Check price & availability on Airbnb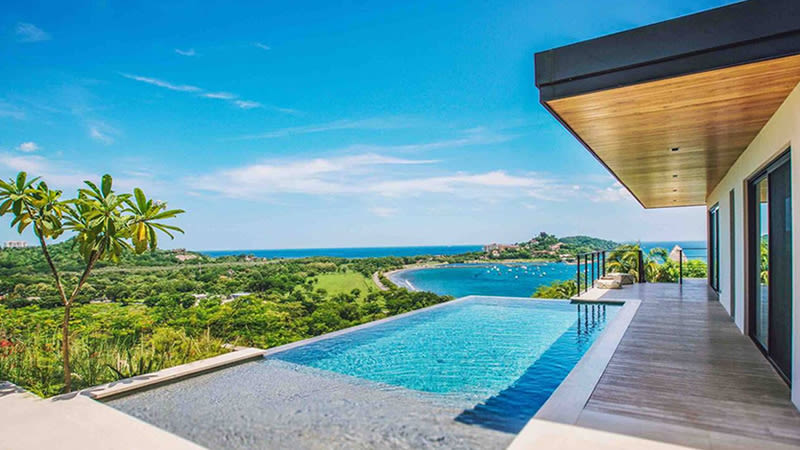 Enjoy an unforgettable vacation in Guanacaste province, Costa Rica, and stay in a brand new Airbnb luxury villa, located in front of Playa Flamingo.
The villa has 3 bedrooms with a king-size bed and bathroom each and a swimming pool with an amazing ocean view. The town is only a short 5-minute drive from the villa and Playa Conchal is just 10 minutes away.
This amazing Airbnb luxury villa in Playa Flamingo, Guanacaste, has a perfect score based on visitor's reviews, so you can expect top-notch services and amenities.
Check price & availability on Airbnb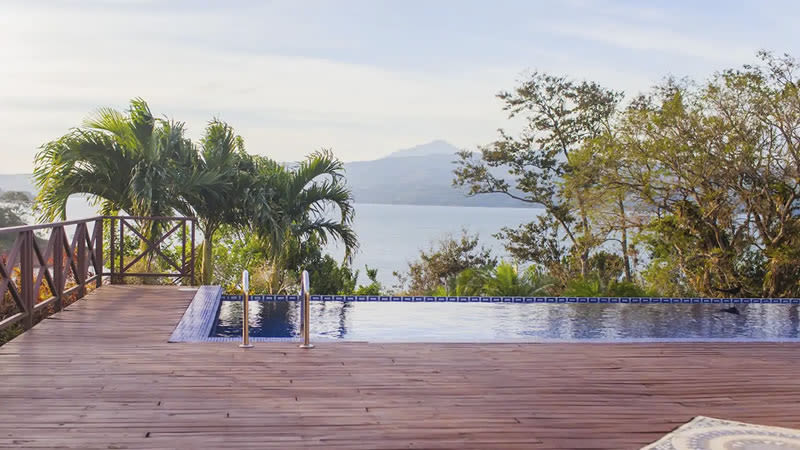 Stay in Costa Rica in a gorgeous Airbnb, a private lakeside villa with an infinity pool.
Relax amidst nature in this spacious and comfortable home. Perfect for those looking for a staycation, needing to work from home, or just needing a break.
Glass doors open onto a private infinity pool and huge terrace. Perfect for morning coffee with toucans, sunsets, and stargazing. The pool is both private and spectacular, great for laps, or enjoying lake views. The villa also features a very large and private yard.
This villa is the crown jewel of a private gated community, which is both safe and quiet. It is located 10 minutes away from town which has 3 grocery stores.
Check price & availability on Airbnb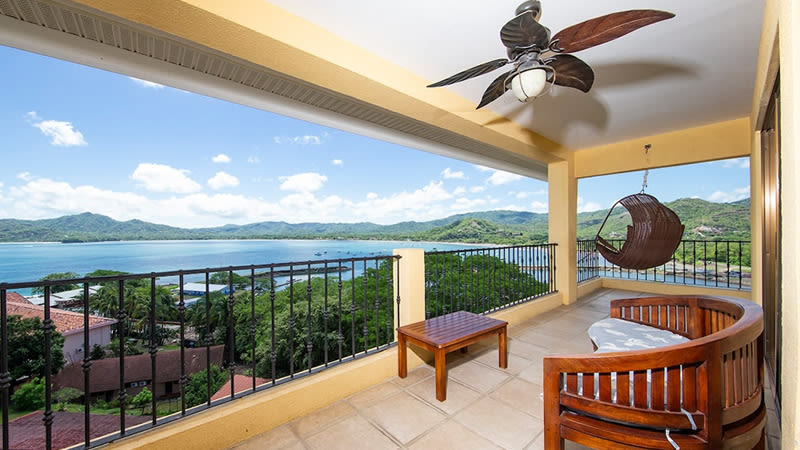 500 Sunset Heights is only a 5-minute walk from one of the most gorgeous white-sand beaches in Costa Rica! Located on the top floor, and with a 75-foot wrap-around balcony, you'll enjoy ocean and mountain views from every room.
500 SUNSET HEIGHTS sits nestled high in the lush scenic hills of Playa Flamingo. With 1700 sq. ft. of luxury floor space, two bedrooms, two bathrooms, this is one of the best places to stay in Playa Flamingo, Guanacaste. The building is fully guarded night and day, and for your added protection the Master Bedroom also has a programmable safe.
Check price & availability on Airbnb
SEE ALSO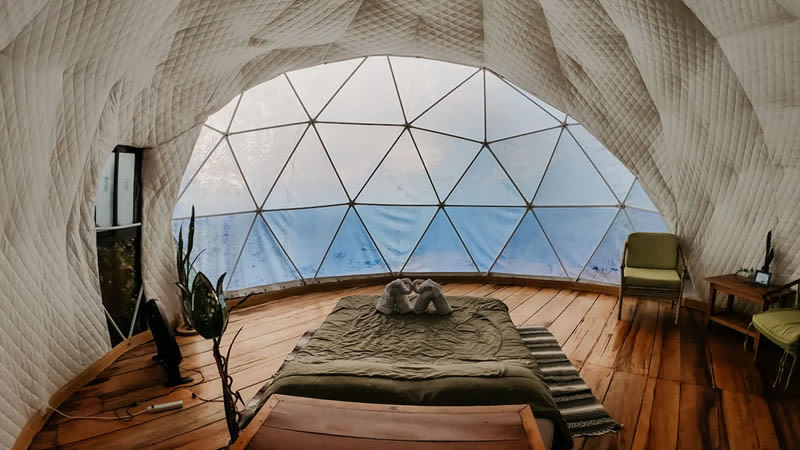 This magic Dome is quiet and calm, perfect for those who prefer to avoid the masses and noise. It is separate from the other facilities and has a kitchen, a shower and an outdoor air bath surrounded by our young reforested forest. The view of Puntarenas and the starry sky at night is overwhelming.
The Dome is simply a unique place to stay in Costa Rica. During the day, you can relax in the hammocks by the pool.
Check price & availability on Airbnb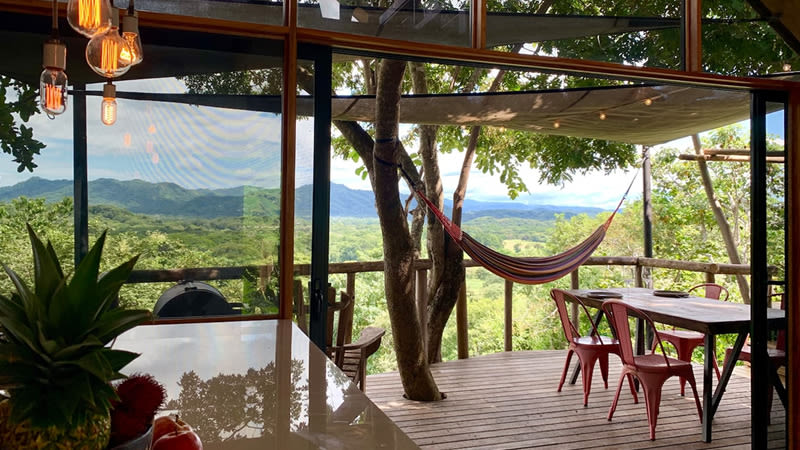 Stay in a unique Airbnb in Guanacaste: a Tree House with a stunning view, located in a quiet area, only 5min away from Playa Grande.
Modern and tropical style, created to live in harmony with the local environment. Designed to offer a constant natural freshness inside.
The treehouse is surrounded by nature and wildlife, so you can unwind and relax on the porch.
Check price & availability on Airbnb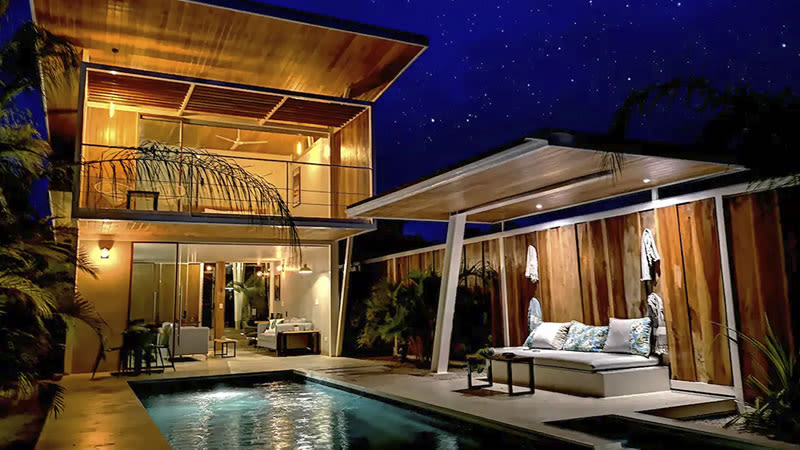 This incredible ocean view house with a private pool is located just 5 minutes from one of the most popular beaches of Santa Teresa. It can accommodate 4 people, it has what it takes to spend an incredible vacation with your family or friends.
This Costa Rican Airbnb is located in the middle of the jungle so you can feel the magic of the wilderness and you can enjoy the privacy and tranquility you need. Also, you get a spectacular view of the perfect sunsets in Santa Teresa. (4x4 or ATV needed to get to the villa).
Check price & availability on Airbnb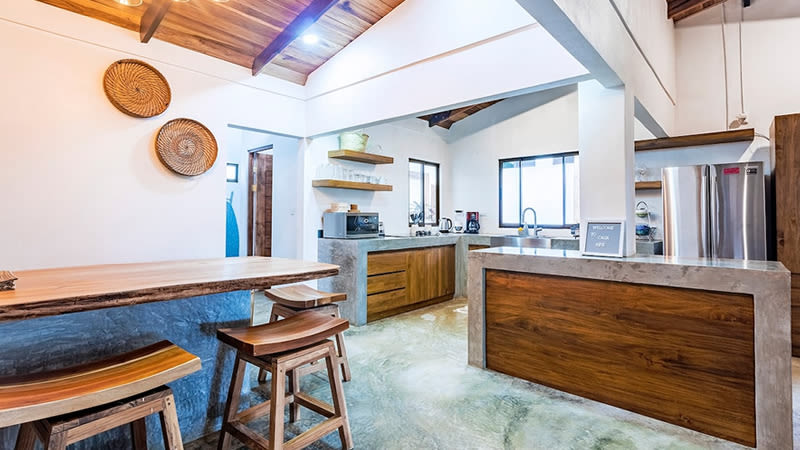 Casa Aire Complex is an Eco-Friendly development with three unique home-styles - Casa - 2 large bedrooms with an independent bathroom, each one sleeps six comfortably with a queen-size sofa bed in the living room, a spacious kitchen area perfect for share with family or friends, laundry area with washer and dryer.
the home-style is insulated for energy efficiency and fully furnished.
Casa Aire has a minimalist concept. In the property there are three different concepts in size, there are a house, an apartment and a studio. Guests have access to the entire property, but the common will be shared with other guests.
Check price & availability on Airbnb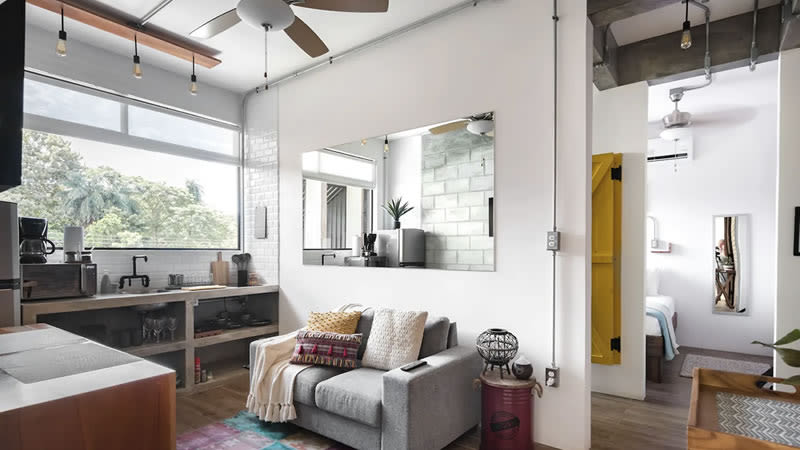 Stay in an Airbnb Plus apartment in Jaco, Puntarenas province, with high ceilings, exposed masonry walls, and trendy Edison light bulbs. All these features lend this space a distinctly urban feel. Yet just outside is a serene emerald pool and wicker lounge chairs surrounded by tropical plantings—with great surfing only 3 minutes away.
Check price & availability on Airbnb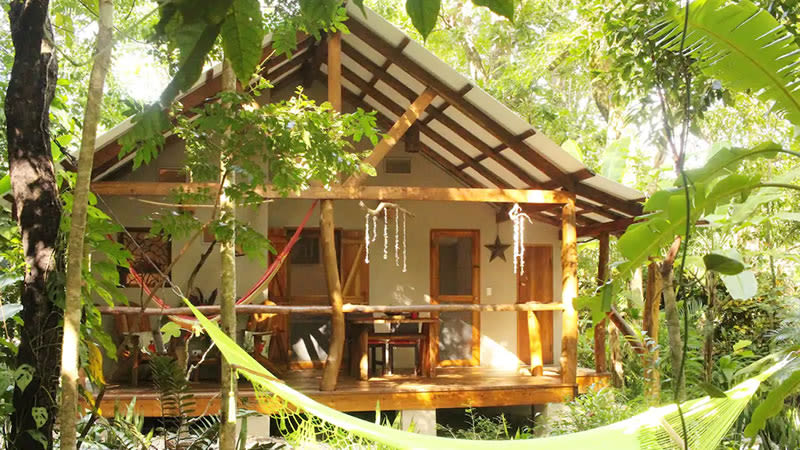 Stay in a fantastic cottage near Montezuma, a good place for couples, in an amazing location, only 3 minutes walk from one of the loveliest beaches in Montezuma, surrounded by nature with wildlife visiting constantly.
The cottage sits on 2 acres of land with mango trees that attract monkeys, coatis and many varieties of birds. This cottage in the middle of Costa Rica's natural beauty provides the perfect romantic getaway for 2 persons who want quiet and relaxing holidays and who are looking for style, beauty and cleanness.
Check price & availability on Airbnb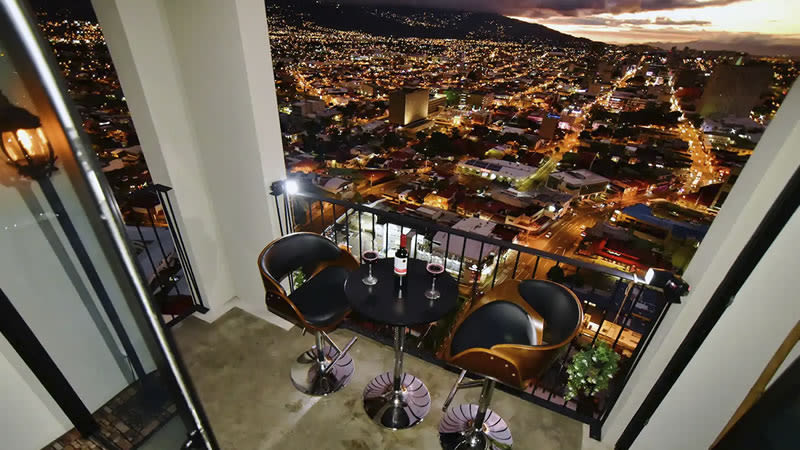 Stay in one of the best Airbnb in San Jose, 27th floor, with 270° panoramic views from your own private balcony! It is located in a gastronomic area of San Jose, with more than 50 restaurants just in the neighborhood, just 4 blocks away from the national museum and the city center.
From San Jose you can to various areas of Costa Rica, you can easily take a one-day tour and in 90 Minutes will be on the beach or on top of a volcano.
Check price & availability on Airbnb
SEE ALSO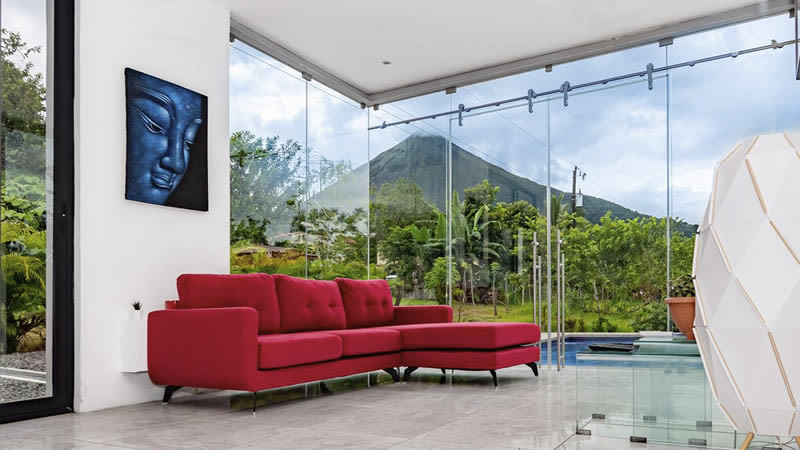 Stay in one of the best villas in La Fortuna, an exclusive and stylish property with gorgeous views of the volcano that can be enjoyed from anywhere in the house.
After a day of exploring and hiking to the famous waterfall come back to unwind at the jetted pool and reload for another day of fun. Discover La Fortuna like a local while enjoying privacy, comfort and luxury.
This magnificent villa is in a quiet location only 10 minutes from La Fortuna Town.
Check price & availability on Airbnb
SEE ALSO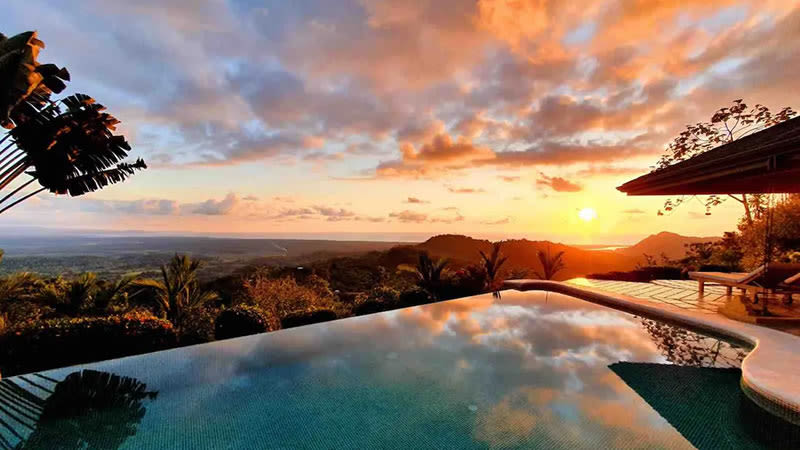 Near Ojochal, in the hamlet of Tres Rios, this is a large studio for 4 people perched above the main house. As it is not inhabited during your stay, the pool of the property will be exclusively for you. This small cocoon in the heart of nature is accessible by 4x4 vehicle, essential to keep away from the noise of the road, enjoy the sounds and sights of the jungle and keep the breathtaking view of the ocean and the park of Corcovado.
This Airbnb is in the jungle of Costa Rica but offers views of the sea.
Check price & availability on Airbnb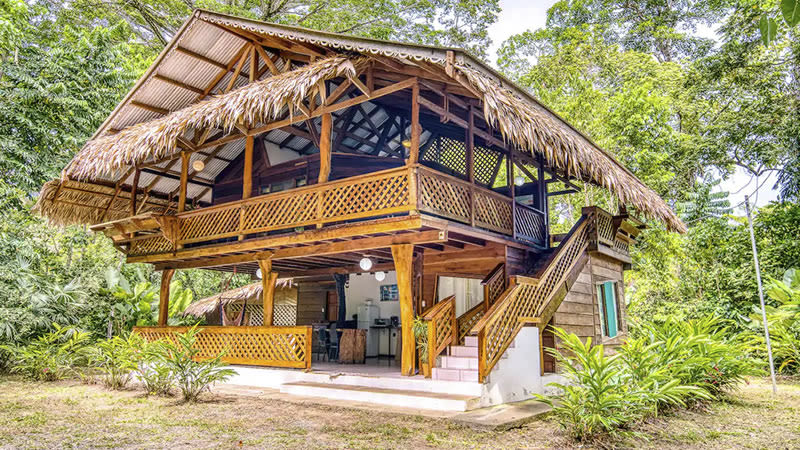 Enjoy the nature of Costa Rica while staying in an Air-Conditioned place, close to the beach, with great views, very close to restaurants, family-friendly activities and some partying as well. The house is located 5 minutes by car to Playa Negra and 8 minutes to Puerto Viejo Town.
The house has 2 floors, each fully furnished with its own room, kitchen and bathroom. It can accommodate up to 10 guests.
Check price & availability on Airbnb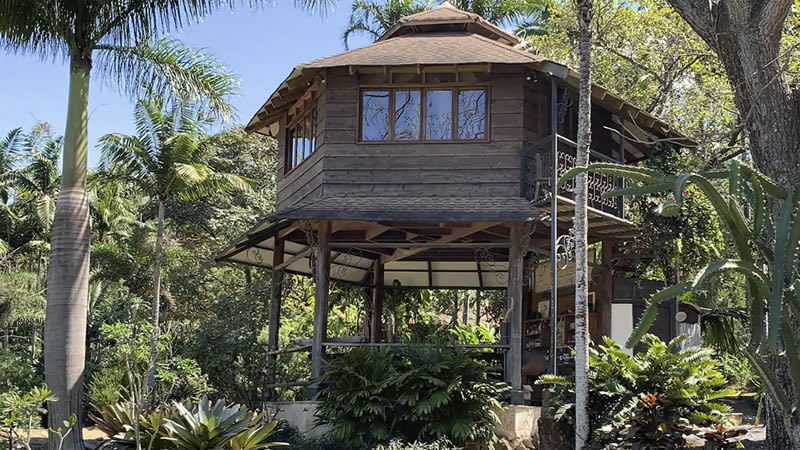 Stay in an Airbnb Treehouse very close to San José, nested in a Costa Rican farm, with a lovely botanical palm tree garden, ideal for a quiet retreat.
Enjoy the lush environment of the property, the eco-friendly lake, and the sounds of our native birds. It's a great place to get off the grid and relax!
Also, conveniently close to the airport- 20 min car ride.
Check price & availability on Airbnb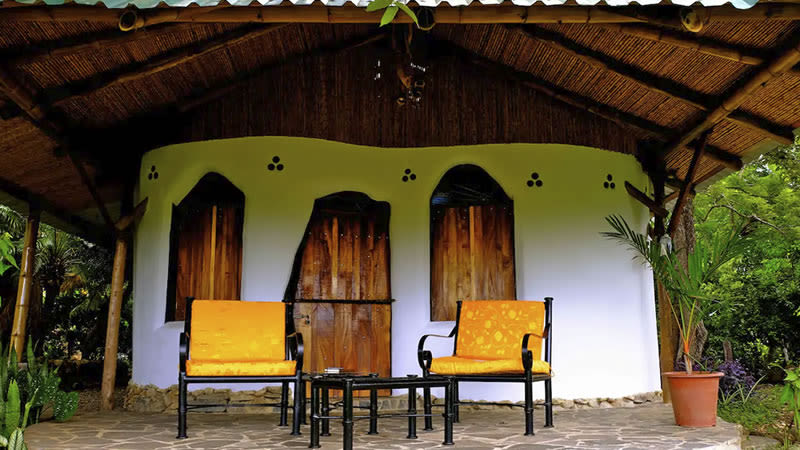 This uniquely designed hand-built Hobbit Cob Cottage surrounds you with a warm natural ambiance that soothes the soul. Located in the dry tropical forest of Guanacaste at an elevation of 1,300 ft. you will find the climate very pleasant.
One hour from LIR Int'l Airport, centrally located to Miravalles Volcano with hot springs, canopy tour, hiking, and horseback riding. Miravalles Jorge Manuel Dengo National Park, previously known as Miravalles Protected Zone, is a national park and nature reserve which forms part of the Arenal Tilaran Conservation Area.
Besides exploring the area, you can also just relax on the covered patio, enjoying the view of the forest and valley below.
Check price & availability on Airbnb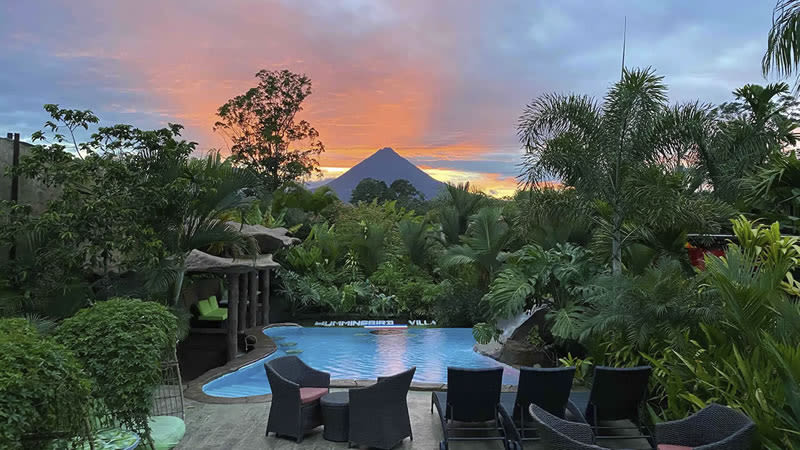 Villa Colibrí (Hummingbird Villa) is the perfect place to stay for couples and families in La Fortuna. It's the quietest and most relaxing place in La Fortuna, away from noisy streets but at the same time, close to all principal attractions.
This villa is surrounded by tropical gardens, full of colorful flowers, hummingbirds, so it's a really special place, one of the best Airbnbs in La Fortuna, great for spending a few days to explore the area and relax as well.
The villa is located less than 5 minutes away from La Fortuna Downtown (the closest town to Arenal Volcano).
Master bedroom with king-size bed; Second bedroom with a bunk bed plus a twin bed
Internet connection by Wifi
BBQ ranch with a charcoal grill
Outdoor Hot Tub with capacity for 5 people.
The villa is located in a 1000 m2 flat property, surrounded by tropical gardens.
Check price & availability on Airbnb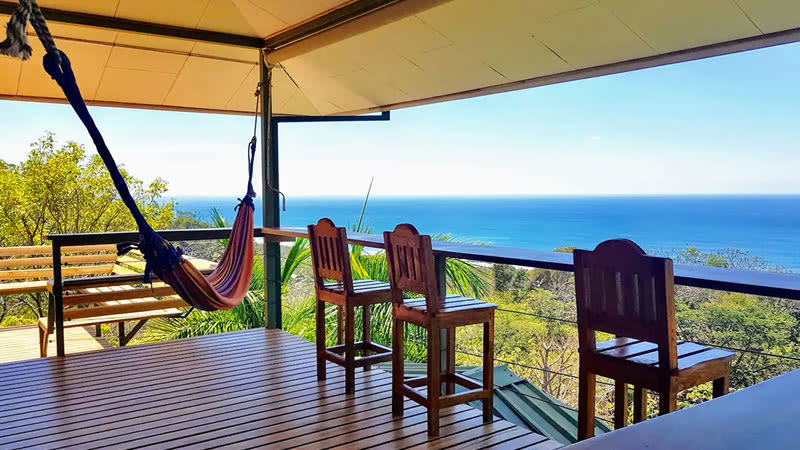 Stay in the third-floor rooftop penthouse, which is one of the 6 rooms on this property.
The 3rd Floor Rooftop Penthouse sits high above the Jungle canopy offering absolutely breathtaking views of the Ocean, Surfers, Waves & Jungle. There's an expansive ocean view deck with star gazing benches all made of Teak Hardwood.
You will have your own private rooftop tanning area with plenty of space for yoga and stretching. Consistent Ocean breeze, an amazing outdoor hot shower looking at the Ocean and Jungle, full kitchen, a/c, wifi.
Check price & availability on Airbnb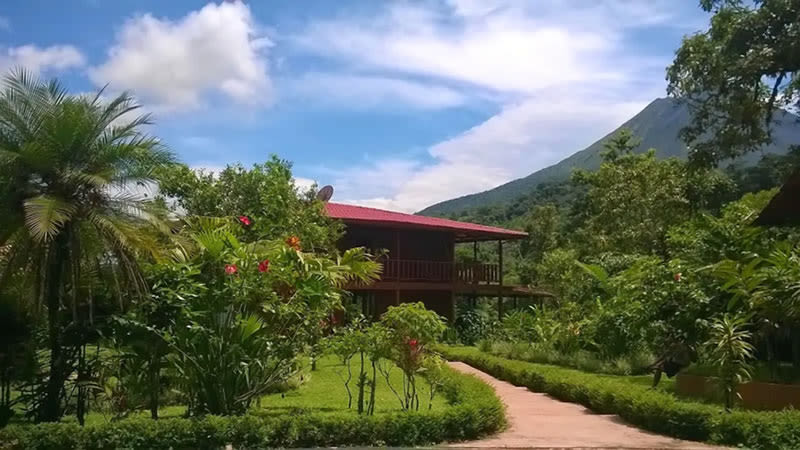 Stay in a great Bed and Breakfast in La Fortuna, very secure and central to all activities. The home and studio apartment have patios looking on to the jungle across the Rio La Palma and the famous Arenal Volcano. It has a wrap-around balcony, is gated and private. We have WI-Fi, Sky TV, indoor and outdoor dining surrounded with flowers, birds, butterflies, and can accommodate up to ten people. The kitchen is equipped with all the amenities any home needs. Our breakfasts are highly recommended.
Check price & availability on Airbnb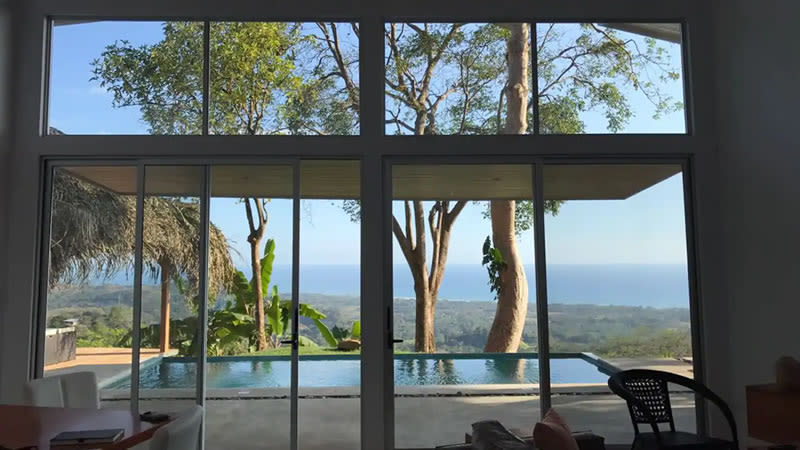 Private, beautifully designed villa with exceptional 180º views of the Pacific Ocean, surrounded by tropical rain forest with an abundance of wildlife. This is the ideal Airbnb in Costa Rica for nature lovers looking for a very private and secluded place that's only a 5-minute drive to the beach.
Located minutes from the highway, in a private and secure location, only 12 minutes from Dominical, and 30 minutes from Manuel Antonio National park, it is the perfect location to explore the central pacific region.
The modern kitchen is fully equipped, and there's also an outdoor kitchen with BBQ on the wooden terrace overlooking the ocean. There is a utility room with a washer and dryer for your convenience.
Check price & availability on Airbnb
EXPLORE MORE AROUND COSTA RICA