16 Most Unique Airbnbs in San José, Costa Rica - Best places to stay in 2021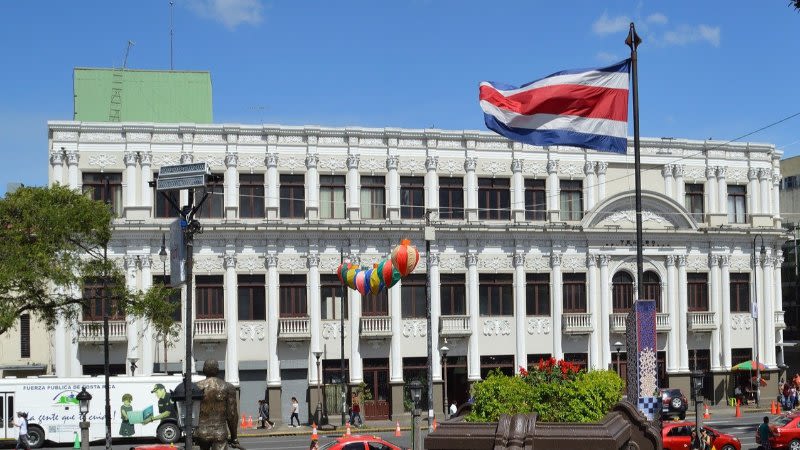 San José, Costa Rica's capital, is an interesting place to start your visit to the country, due to the cultural heritage of the city and its privileged geographical position.
The best time to visit Costa Rica is between early December and late April when it's the dry season and the weather is ideal for exploring the country's beaches and jungles.
We have selected some of the best Airbnbs in San Jose, Costa Rica's capital, like apartments with great views, treehouse,s or villas in select neighborhoods. These are some of the most unique places to stay in San Jose province, some of the near downtown and some outside the city limits, but still located in the metropolitan area. These San Jose Airbnbs are offered by Superhosts, so you can expect the best hospitality services, cleanliness, and amazing amenities.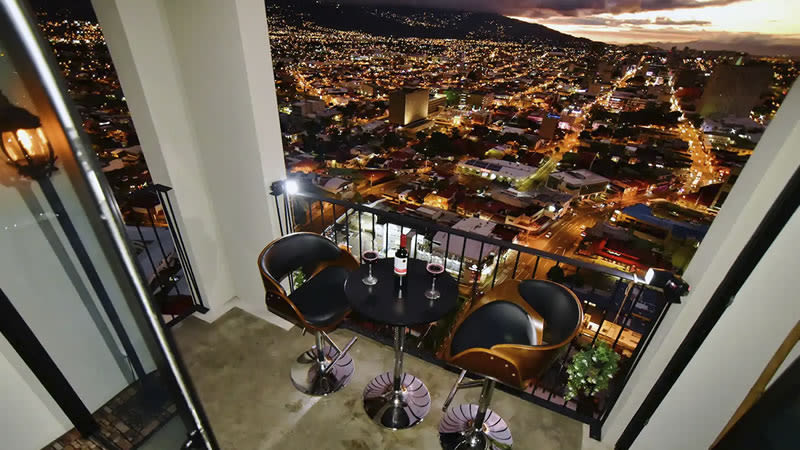 Stay in one of the best Airbnb in San Jose, 27th floor, with 270° panoramic views from your own private balcony! It is located in a gastronomic area of San Jose, with more than 50 restaurants just in the neighborhood, just 4 blocks away from the national museum and the city center.
From San Jose you can go to various areas of Costa Rica, you can easily take a one-day tour and in 90 Minutes will be on the beach or on top of a volcano.
The apartment is fully equipped and the main bed and sofa bed have memory foam covers, so you can get a good night's rest.
Best quirky feature of this apartment? It has a TELESCOPE so you can have a view of all of San José.
Check price & availability on Airbnb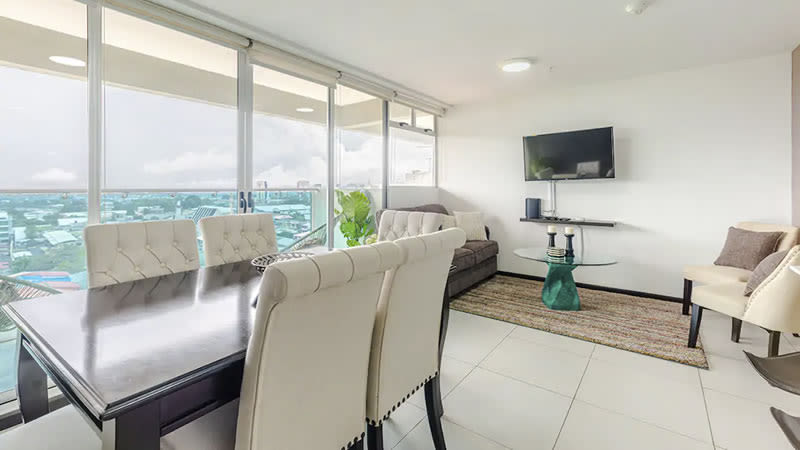 This beautiful apartment in the metropolitan area of San Jose is on the top floor (# 10) of the complex "Ambar Torre de la Sabana" with a spectacular panoramic view of the mountains, the city, and the sunset. Parque Metropolitano de la Sabana is only 300 m away from the apartment.
The building has a lobby with 24-hour security, on the 11th floor is the Rooftop with a spectacular 360-degree view of San Jose and its beautiful mountains, where there are several amenities including an equipped children's area, adult area, gym, sauna and steam room, large terrace for bbq, a lounge for parties, terrace ideal for practicing yoga or functional, and bathrooms. On the third floor is the pool.
The hosts also have 2 underground parking spaces available in case you rent a car and a private warehouse in case you need to leave your suitcases before check-in.
Check price & availability on Airbnb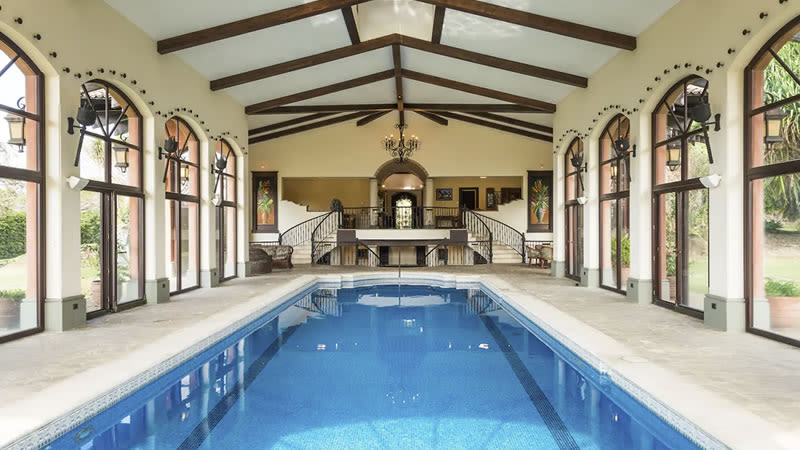 Stay in a luxury Airbnb villa near San Jose, a one of a kind Italian-Styled mansion, nestled among a lush mango-tree forest in gorgeous Santa Ana, only 20min from the airport.
Indoor Pool
5 Bedrooms - 6 Bathrooms
Huge Green Areas
5 min from the highway to beaches & rainforests; 7 min from Escazu and CIMA Hospital
24/7 armed security
The mansion is a true jewel to enjoy the beauty only Costa Rica has to offer. Its green and tropical gardens offer a great ambiance to relax and indulge in the peace and vibe only Costa Rica can provide.
Check price & availability on Airbnb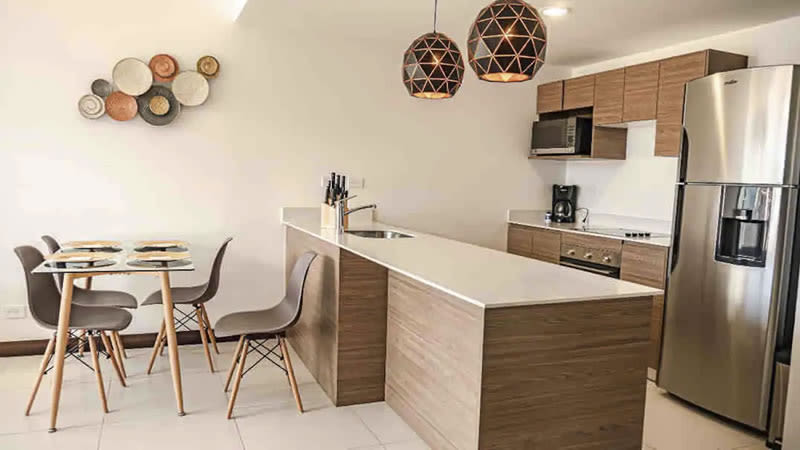 Stay in San Jose in an excellent location that will allow you to taste good cuisine, a warm atmosphere with all the comfort, while also taking advantage o the condominium's amenities.
The building is 300 meters from Sabana Parkland just 100 meters from good restaurants. Due to the location of the apartment, you will enjoy the front of the San José Mountain Valley, spectacular sunsets as well as night views.
As a guest, you can use the acclimatized pool and fitness center.
Check price & availability on Airbnb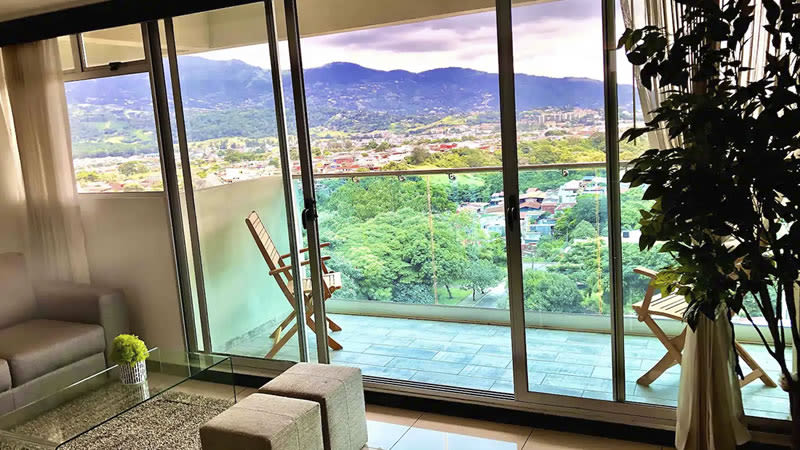 This penthouse apartment is located on the top floor of the complex "Ambar Torre de la Sabana" offering great views of the mountains and San Jose. Sabana Park is just 300 m away from the apartment.
The apartment has an intelligent entry with a digital password to avoid keys, a comfortable desk to work with, a vertical steam iron for easy ironing of shirts and pants, cable and high-speed 100 Mbps Wi-Fi.
The hosts also have underground parking spaces available and space where you can deposit your suitcases if you arrive early.
Check price & availability on Airbnb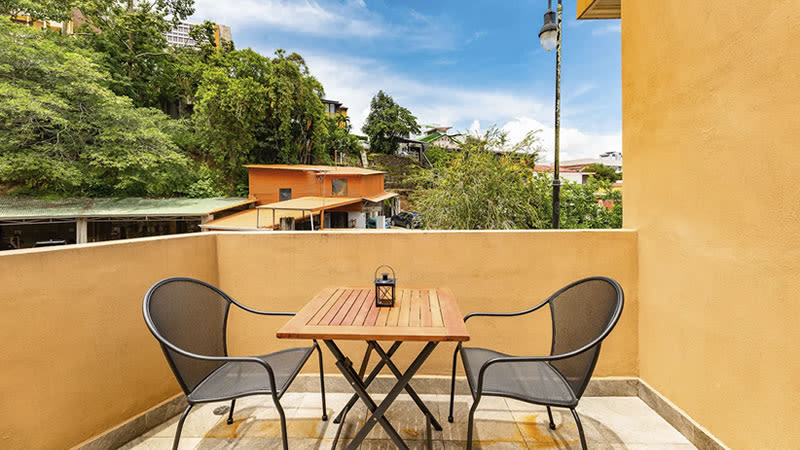 Looking for a budget-friendly Airbnb apartment in San Jose, Costa Rica?
This beautiful apartment with a balcony is located in the historical district of Barrio Amon, Downtown San Jose, a very quiet area being located on a cul de sac, next to the Botanical Garden and Zoo Simon Bolivar.
The apartment has been recently renovated, it is located on the second floor and it has a private ample balcony.
Check price & availability on Airbnb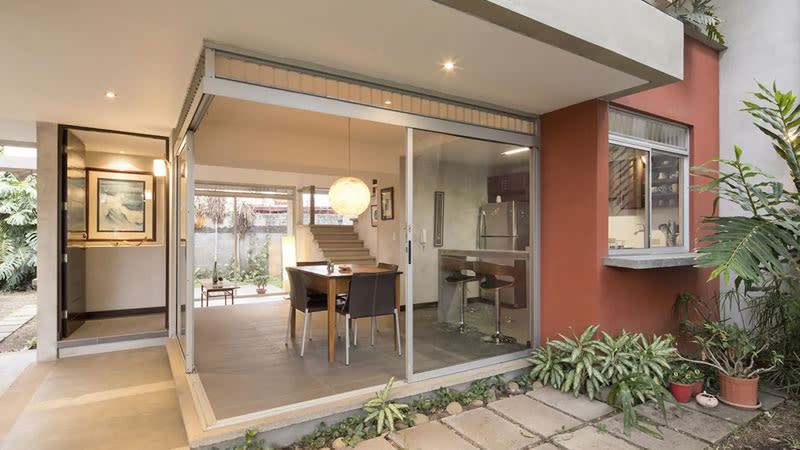 This tropical loft is like an oasis within the city of San Jose. Two story, open plan house, surrounded by gardens. Close to San Jose city center and its main amenities.
The apartment is located in a safe neighborhood, with lots of green space, hammocks, decks, balconies and a roof terrace. This could be the perfect place for your stay in San Jose, ideal for a family vacation.
The bedrooms are located on the second floor. The terrace on the third floor is the perfect location for a sunbath or a night view of the sky.
Check price & availability on Airbnb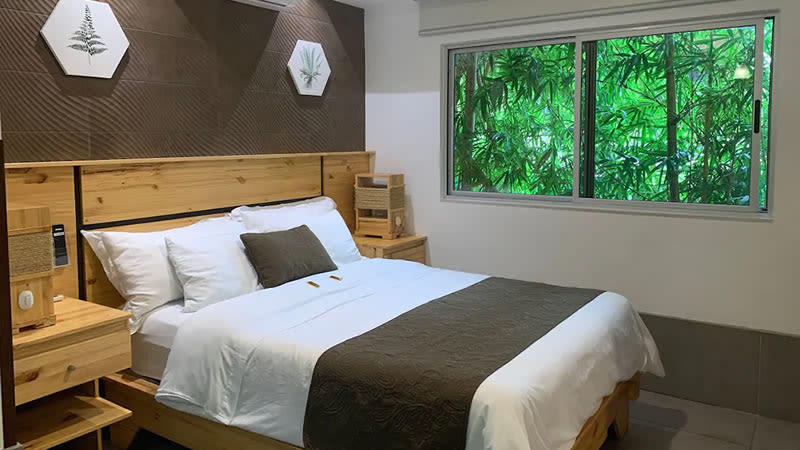 This fully equipped studio is located on a beautiful private property with large garden, near Santa Ana downtown.
The hosts have 7 lofts in total and each loft has 1 queen bed, A/C, cable TV, wireless internet, private bathroom, closet, safe box, equipped kitchen, with refrigerator, kitchen appliances, microwave oven, coffee maker, and small oven. Also a small dining table with 4 chairs and a futon.
The property has a great pool and deck, enabled for the use of the Loft renters.
Check price & availability on Airbnb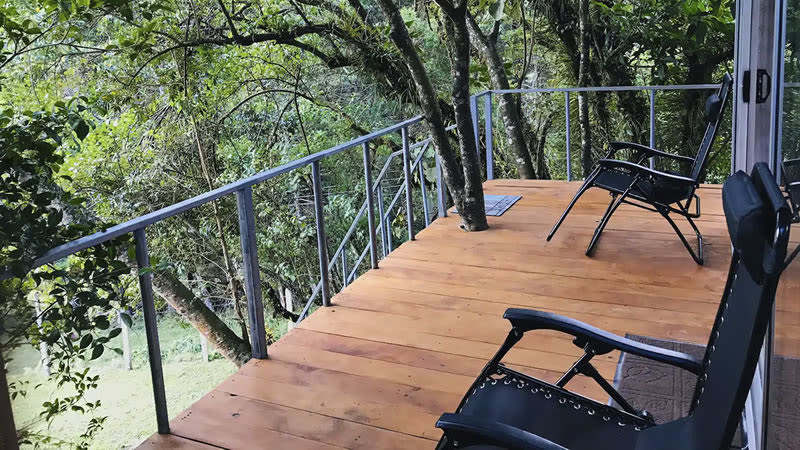 Fulfill your childhood dream and stay in Costa Rica in a treehouse, in an area with unparalleled peace and tranquility. This is truly a unique experience, far away from the noise of the city in the middle of the mountain.
The cabin is ideal to relax, meditate and share with your partner, being an extremely quiet and safe place. It has an equipped kitchen for cooking and all kinds of utensils.
At 700 meters from the property starts the Braulio Carrillo National Park and in just one hour you can get to the Barva Volcano.
Check price & availability on Airbnb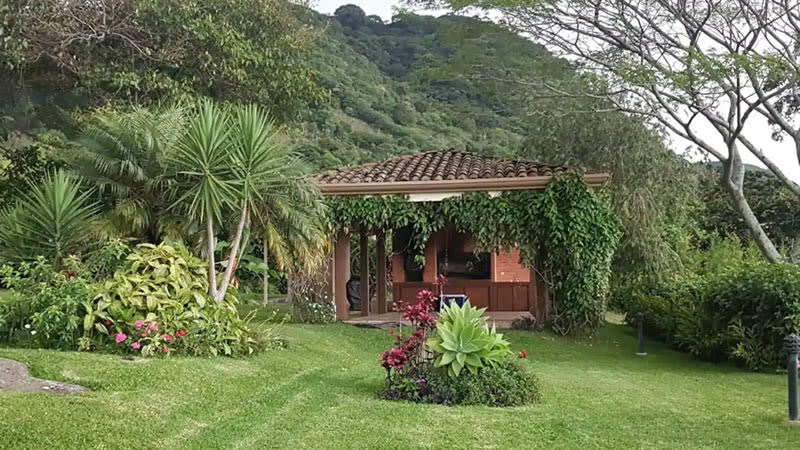 Stay in a unique Airbnb close to San Jose, in the upscale area of Escazú. This was previously the home of a South American Ambassador. This Spanish Colonial-style guest house is surrounded by beautiful flower gardens, exotic fruit trees, a swimming pool.
"Casa Iduna 2" features a king-size bed, flat-screen smart TV, modern bathroom with shower, new kitchenette which features a small refrigerator, microwave oven, and use of a coffee maker.
Check price & availability on Airbnb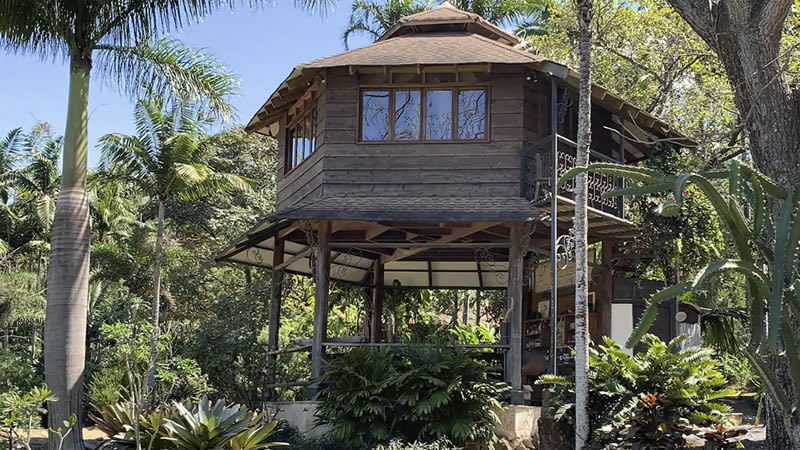 Stay in an Airbnb Treehouse very close to San José, nested in a Costa Rican farm, with a lovely botanical palm tree garden, ideal for a quiet retreat.
Enjoy the lush environment of the property, the eco-friendly lake, and the sounds of our native birds. It's a great place to get off the grid and relax!
Also, conveniently close to the airport- 20 min car ride.
The treehouse has its own private entrance however from the public road, there are two metal gates to cross.
Check price & availability on Airbnb
SEE ALSO