16 BEST Airbnbs in Guanacaste, Costa Rica - Unique villas & condos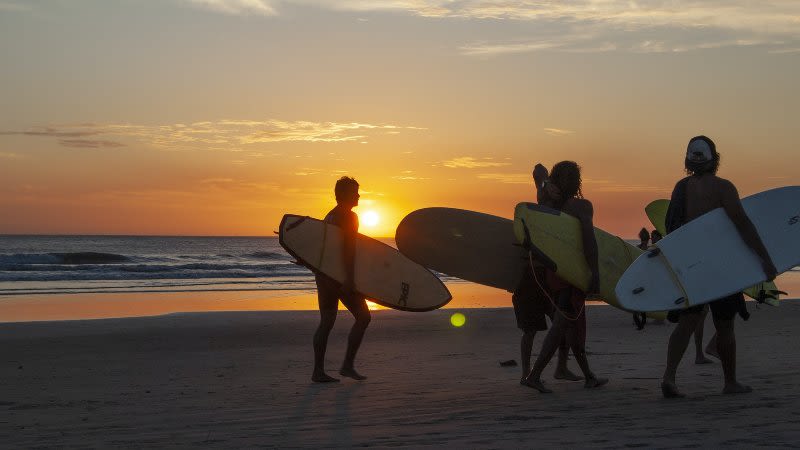 Guanacaste is one of the most visited places in Costa Rica, since it is home to some of the country's most incredible beaches, like Playa Conchal or Playa Negra, in Los Pargos, which is a renowned tourist hot spot, particularly among surfers.
The largest town in the province of Guanacaste is Liberia, where there's also an international airport, that is the closest airport to all the tourist places in this area. The main areas for tourism in Guanacaste are the Papagayo Peninsula, El Coco, Las Catalinas, Flamingo, Conchal, and Tamarindo, which is extremely popular for surfing.
We have selected some of the best Airbnbs in Guanacaste province, like condos, treehouses, or luxury villas with private pools and breathtaking views. These are some of the most unique places to stay in Guanacaste province, spread across the most developed beach towns and areas like Tamarindo, Playa Flamingo, Playa Grande, Playa Hermosa or Los Pargos. These Guanacaste Airbnbs are offered by Superhosts, so you can expect the best hospitality services, cleanliness, and amazing amenities.
Our suggestions for the best Guanacaste Airbnbs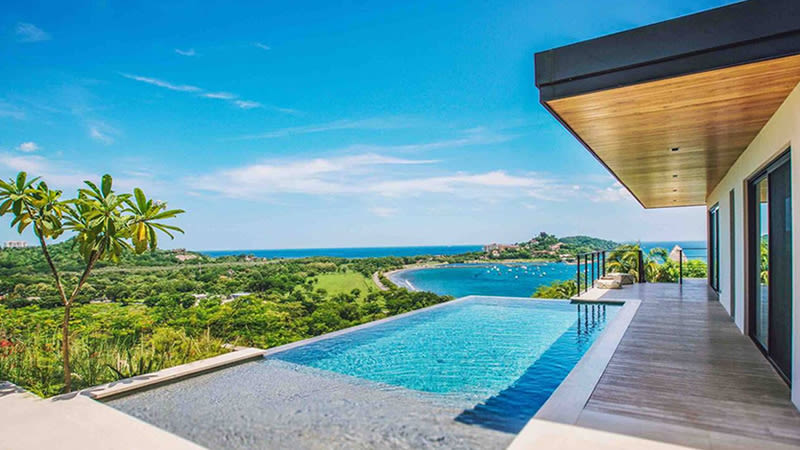 Enjoy an unforgettable vacation in Guanacaste province, Costa Rica, and stay in a brand new Airbnb luxury villa, located in front of Playa Flamingo.
The villa has 3 bedrooms with a king-size bed and bathroom each and a swimming pool with an amazing ocean view.
The spacious living areas can be opened completely towards the private pool.
The town is only a short 5-minute drive from the villa and Playa Conchal is just 10 minutes away.
The housekeeper will come to clean the house 1 time per week.
This amazing Airbnb luxury villa in Playa Flamingo, Guanacaste, has a perfect score based on visitor's reviews, so you can expect top-notch services and amenities.
Check price & availability on Airbnb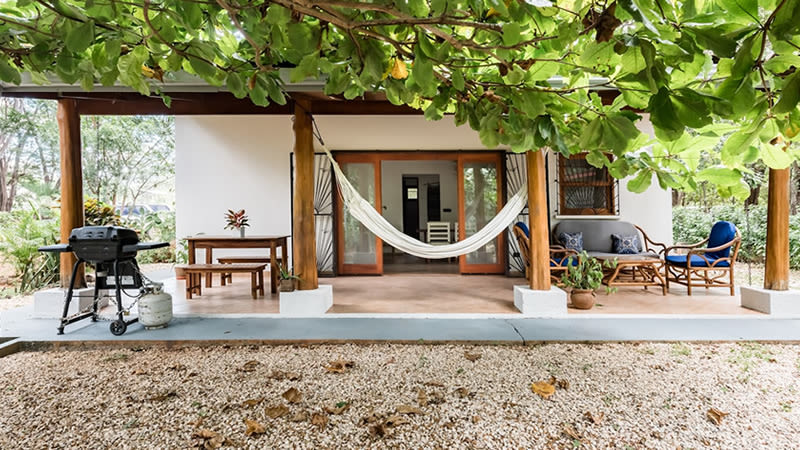 Stay in Tamarindo in this 2 bedroom villa. Connect with nature and relax in the wood-framed terrace armchairs at this tranquil garden getaway surrounded by lush tropical forest and towering ancient trees. Leafy trees play host to a wide variety of colorful, tropical birds and even local howler monkeys.
This cozy house is perfect for family vacations in Guanacaste, due to its privacy and a lovely terrace.
Check price & availability on Airbnb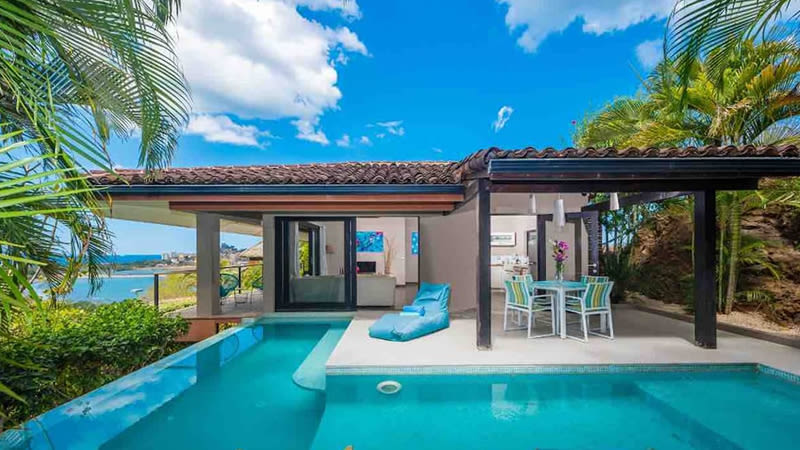 Enjoy the beautiful ocean view and stay in an Airbnb villa with a private infinity pool and terrace, overlooking Playa Flamingo in Guanacaste province.
The villa has 2 bedrooms, 2 1/2 baths and a kitchen, plus a private gate and parking.
The villa is modern and it has beautiful ocean views, plus an incredible swimming pool and also a laundry room.
It is located inside the gated community of COLORES DEL PACIFICO.
This luxury villa is the perfect place to stay for families in Guanacaste, so you can explore the area and also relax and chill while making the most of the infinity pool.
Check price & availability on Airbnb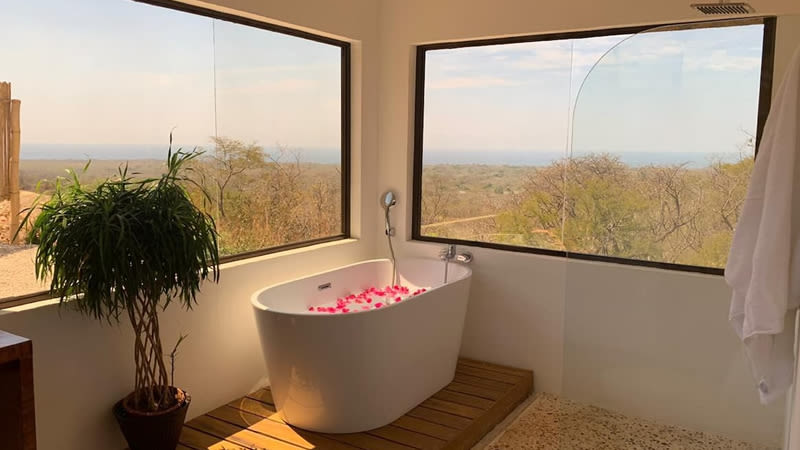 Villa Isabela is a beautiful ocean view property composed of two houses: Casa Flora and Casa Julia. The property is inside a beautiful development called Finca Los Pargos.
The Finca is huge. You can easily see wild animals, like monkeys, deers, exotic birds, iguanas and small mammals. You can either go trekking or and riding mountain bikes around the property.
Villa Isabela is located in Playa Negra Beach, Los Pargos. The property has 15.000m2 surrounded by amazing nature filled with life, and with the best ocean view in the region. Although Villa Isabela is located in a very tranquil area, the village Los Pargos is just 1km away, and there you can find good restaurants, bars, coffee places, groceries, and you can practice yoga, surfing and mountain biking.
From the villa you are just a few minutes away from some of the best attractions in Guanacaste:
5 -7 minutes drive to Playa Negra Beach
12 minutes drive to Avellanas
30 minutes drive to Tamarindo
40 minutes to Marbella
Check price & availability on Airbnb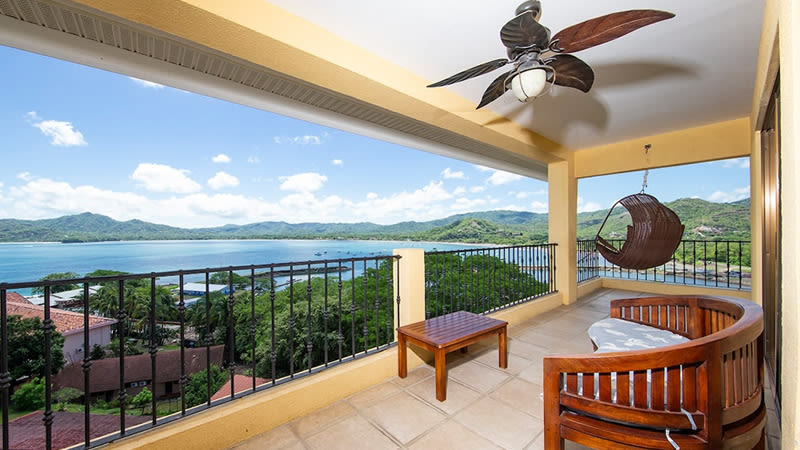 500 Sunset Heights is only a 5-minute walk from one of the most gorgeous white-sand beaches in Costa Rica! Located on the top floor, and with a 75-foot wrap-around balcony, you'll enjoy ocean and mountain views from every room.
Spacious, comfortable and fully equipped, it's literally a home away from home. Sunset Heights is just steps away from Playa Flamingo's amenities and also close to restaurants and nightspots.
500 SUNSET HEIGHTS sits nestled high in the lush scenic hills of Playa Flamingo. With 1700 sq. ft. of luxury floor space, two bedrooms, two bathrooms, two flat-screen cable TV's, a beautifully appointed kitchen, a private laundry room, on-site 24-hour fitness center, free high-speed internet, and two breath-taking ocean view swimming pools, this is one of the best places to stay in Playa Flamingo, Guanacaste.
The building is fully guarded night and day, and for your added protection the Master Bedroom also has a programmable safe in which to keep your passports, extra cash and valuable belongings.
Check price & availability on Airbnb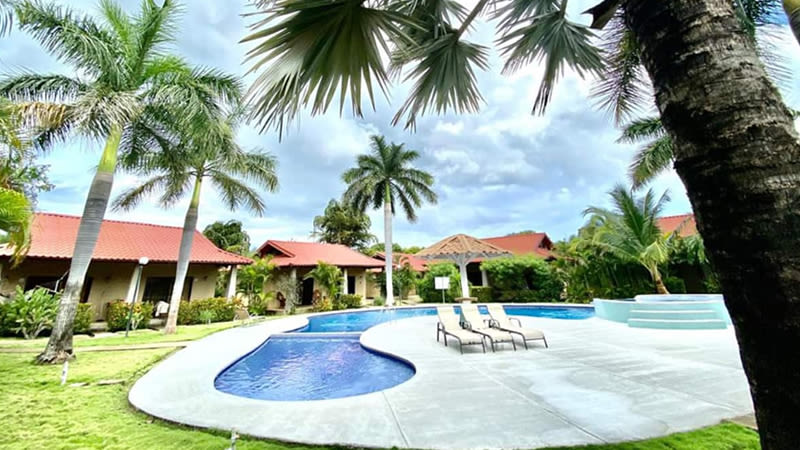 This villa is perfect for a small family looking for a place to spend time exploring the area of Guanacaste.
You have a nice size terrace with an awning that you can use as you like. The villa is located within walking distance to restaurants, stores, minimarkets, and the beach. Villa Claudia is located in a private project with access controlled by private security 24/7.
There are several beautiful beaches located few kilometers away. Some of them have white sand and clear waters, like Penca, Prieta, Sugar, Danta beach. Potrero Beach has volcanic sand, and the famous Playa Conchal is also nearby. Tamarindo, the famous surf town, is only 30 minutes away from driving.
The Liberia International Airport is located 1 hour away
Check price & availability on Airbnb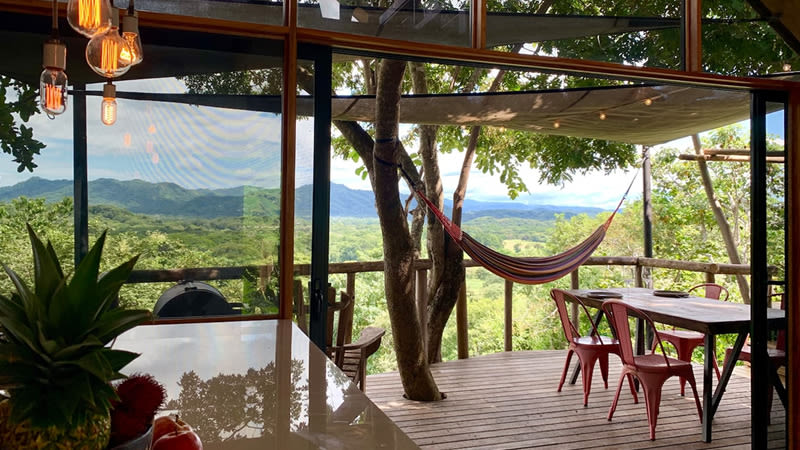 Stay in a unique Airbnb in Guanacaste: a Tree House with a stunning view, located in a quiet area, only 5min away from Playa Grande.
Modern and tropical style, created to live in harmony with the local environment. Designed to offer a constant natural freshness inside.
The treehouse is surrounded by nature and wildlife, so you can unwind and relax on the porch.
Check price & availability on Airbnb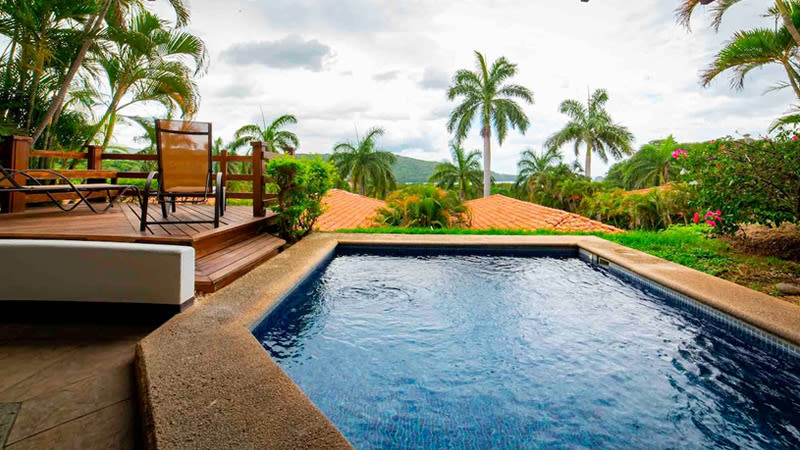 Stay in one of the best Airbnbs in Guanacaste, with raving reviews, a very private modern design condo with an open floorplan, private pool, sundeck, terrace, and BBQ grill. It's perfect for families and couples!
This beautiful ocean view condo is located within a 4-star beach resort located at the north end of Playa Hermosa in the province of Guanacaste. Resort amenities include two pools, a Jacuzzi, two all-inclusive restaurants, a snack bar, beach access (1/2 mile walk from the villa), internal transportation (shuttles run every 10 mins to-and-from the beach to all areas of the resort), entertainment, bar, souvenir shop, convenience store, an ocean-view spa, full guest services and they offer all-inclusive packages for the family if you do not wish to cook during your vacation.
This condo is a great base point to explore the beautiful province of Guanacaste and serves as a great place to spend your last night before flying back home, a perfect romantic retreat for couples.
The condo is also great for family trips as it features three bedrooms, two full bathrooms, a full-sized kitchen, a large terrace, private plunge pool, sunning deck, and offers a breathtaking ocean view.
This is by far the best oceanview condo in Playa Hermosa in its price range and a perfect hub for a family vacation, a romantic getaway, a honeymoon, a bachelor/bachelorette party, or a fun-packed adventure with friends.
Check price & availability on Airbnb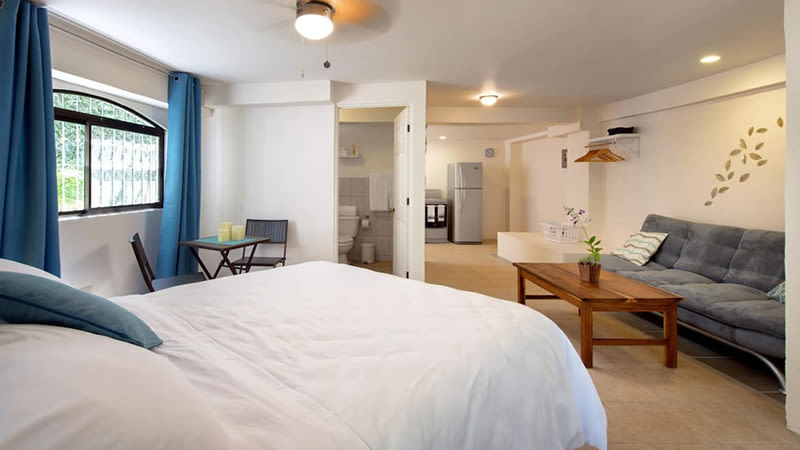 This is a fully equipped studio in a charming Colonial home. The perfect location for your Tamarindo getaway. Just 3 short blocks to the beach and 1 block to supermarkets & nightlife, but tucked away on a quiet street and surrounded by Costa Rica's unique wildlife!
This apartment is perfectly located for your Tamarindo vacation. Casa de Arroz is one of the amazing Colonial-style homes in Tamarindo, and it is ideally located 300 meters (3 blocks) to the beach and literally steps away from grocery stores
The best part is that the house is tucked away on a small hill at the end of a quiet street, just far enough away from the action of town.
This studio is located on the ground floor with easy access to the garden area with a large Barbecue and dinner table as well as patio furniture to relax in.
Explore local foods or take advantage of the fully equipped kitchen and cook for yourself. The studio is stocked with the cooking basics, including salt, pepper, oil, sugar, tea, and delicious Costa Rican coffee.
Check price & availability on Airbnb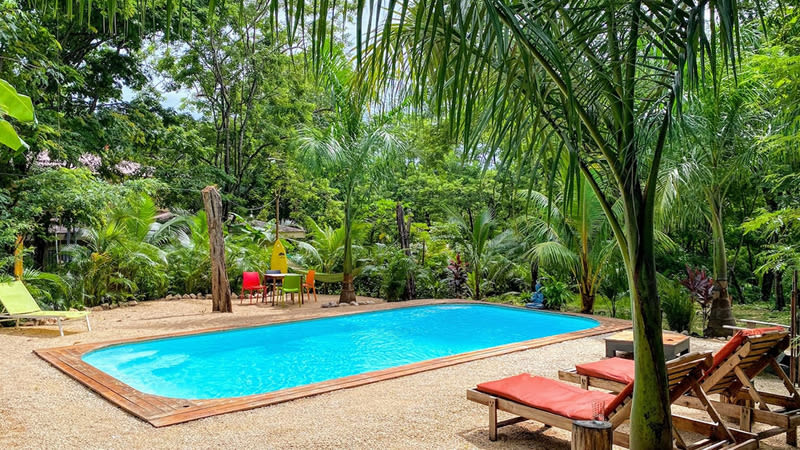 Stay in a beautiful brand new 2 bedroom home. 15-minute walk to one of the most beautiful beaches in the country, Playa Grande and Playa Ventanas.
Located on the edge of the national park, really quiet and peaceful. Close to the beach and restaurants.
Swimming pool shared with 1 other house.
The house is surrounded by a tropical garden, with lots of trees to provide a beautiful setting.
Check price & availability on Airbnb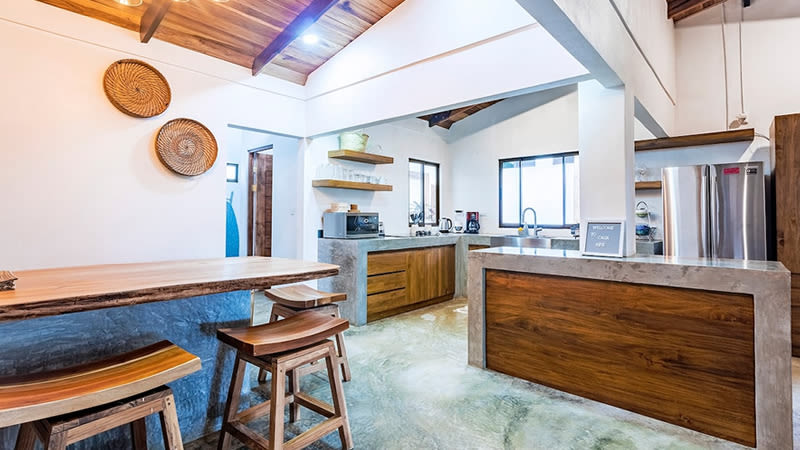 Casa Aire Complex is an Eco-Friendly development with three unique home-styles - Casa - 2 large bedrooms with an independent bathroom, each one sleeps six comfortably with a queen-size sofa bed in the living room, a spacious kitchen area perfect for share with family or friends, laundry area with washer and dryer.
the home-style is insulated for energy efficiency and fully furnished.
Casa Aire has a minimalist concept. In the property there are three different concepts in size, there are a house, an apartment and a studio. Guests have access to the entire property, but the common will be shared with other guests.
Casa Aire is conveniently located 25 minutes away from the Liberia Airport.
Check price & availability on Airbnb
EXPLORE MORE AROUND COSTA RICA