15 BEST Airbnbs in Guayaquil, Ecuador - The Pearl of the Pacific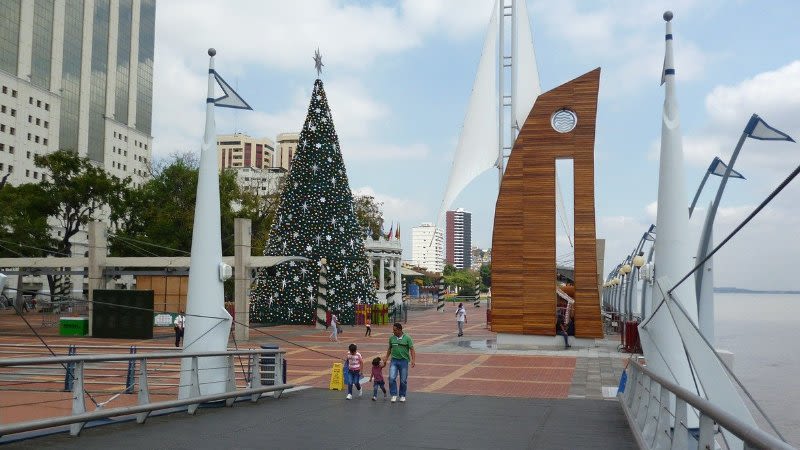 Guayaquil is the second most populated city in Ecuador, with an estimated 2,366,902 inhabitants and a large urban area. Santiago de Guayaquil is also known as the Pearl of the Pacific, being a place of great importance in Ecuador in terms of commerce, finance, culture and entertainment.
Guayaquil is the capital of the Province of Guayas and it is located on the Pacific coast, in the Litoral Region of Ecuador and it's the country's largest port. Guayaquil is also often called "The economic capital of Ecuador" due to the exlarge number of companies, factories, and commercial businesses that exist in the city.
Guayaquil is full of imposing and important commercial buildings, parks converted into gardens, stately mansions, warm and hospitable people, it has an excellent hotel infrastructure, which allows it to satisfy the most demanding needs of its visitors.
The main tourist attractions in Guayaquil are the Cathedral, the Seminary Park, the Cerro Santa Ana, the Barrio las Peñas, the Malecón Simón Bolívar, the Samanes Park and the Historical Park of Guayaquil.
We have selected some of the best Airbnbs in Guayaquil province, from minimalistic studios ideal for solo travelers or couples to large apartments ideal for family stays. You can also find some amazing luxury apartments to rent in Guayaquil if you want a comfortable and unforgettable experience while visiting the city. These are some of the best places to stay in Guayaquil. These Guayaquil Airbnbs are offered by Superhosts, so you can expect the best hospitality services, clean apartments, and in general amazing amenities.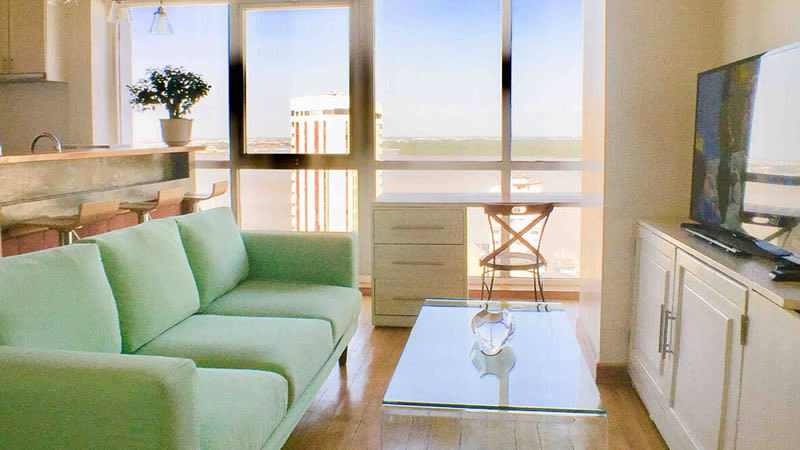 This Airbnb apartment in Guayaquil has been completely renovated recently, with minimalistic decor, hardwood teak floors, amazing views of the city and river, fully equipped kitchen, air-conditioning, pitch-black blackout curtains in the bedroom, rain shower, hot water, washer, dryer, wifi, flat-screen TV, Netflix, best location in the city, within walking distance of major city attractions. Nearby you have many restaurants, bars, shops, supermarkets, parks, and plazas.
The apartment was designed thinking of the utility of every inch and fine luxurious design. Extra high ceilings 10 foot (3 meters) ceilings, extra high 8 foot ( 2.5 meters) doors, all extra fine hard teak wood floors, doors, closets. The apartment has everything a demanding traveler requires for a comfortable stay in Guayaquil.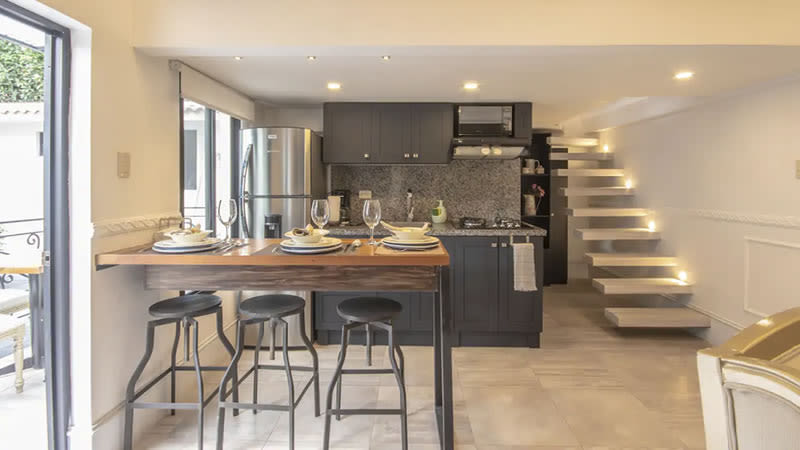 Stay in a beautiful Neo-classic decorated apartment in Guayaquil, where you'll enjoy the comfort of the 21st century.
The apartment has a very nice balcony where you can enjoy a cup of coffee or a glass of wine. The TV is connected to a HEOS amplifier so you will hear high definition sound.
The apartment is a loft with a living room, an area that is for cooking and eating and a bedroom with two beds: 1 queen-size and Standard size. The bathroom keeps the style of all the house, hot water, and a hairdryer is available.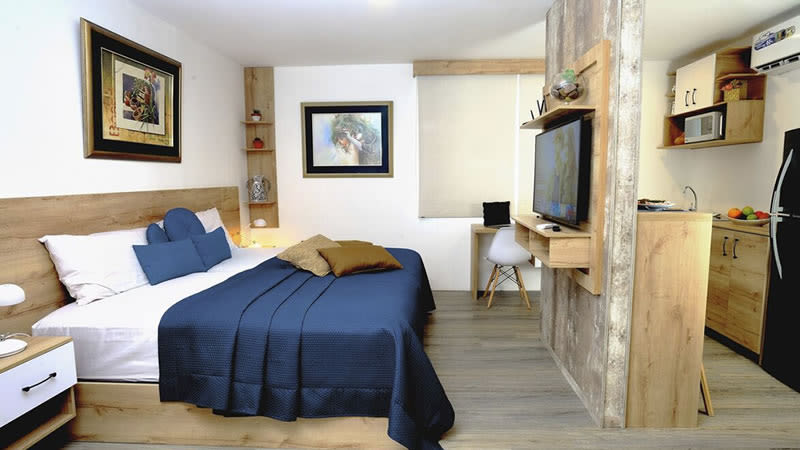 Recently remodeled small studio apartment in one of the best areas of Guayaquil, Ecuador.
Cozy little studio flat with an industrial look. There is a common area outside of the apartment that you can use.
This apartment combines modern luxuries, comfort and convenience to offer you an incomparable experience for an incredible price in one of the best areas of Guayaquil.
The studio has incorporated modern and practical appliances for today's travelers into the exclusive design. Thus, the kitchen is fully equipped with a stove, microwave, crockery, glasses and cutlery of the same quality as a hotel.
If you want to make the most of Guayaquil, you'll want to stay in one of the best places available on Airbnb, and this apartment has everything you need for a pleasant and convenient stay.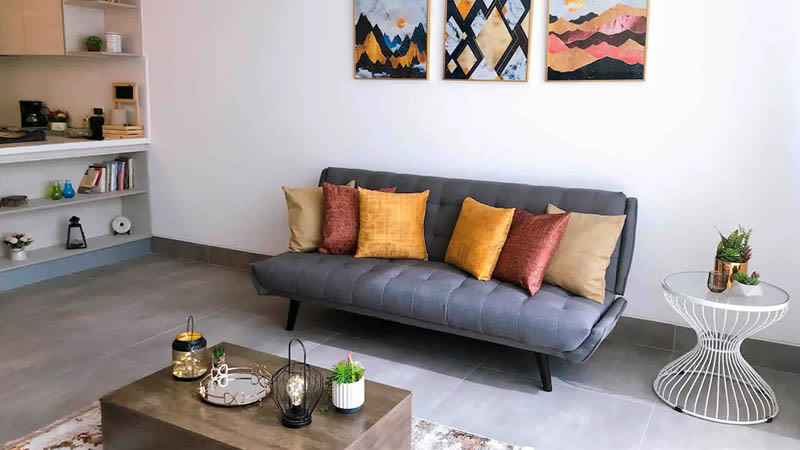 The apartment is located in the best growth and business area of Guayaquil. The Agora 21 building is located in front of the Mall del Sol, which is the most complete shopping center in the city, it has a beautiful square and a spectacular seafood place on the ground floor.
Plus, this apartment is located just 2 minutes from the airport, it is ideal!
Decorated in a minimalist, elegant and delicate style, especially for business and pleasure trips. Luxury finishes in the bathrooms and kitchen will make your stay unforgettable.
It has Smart TVs, 65 "in the living room and 49" in the bedroom; so you can enjoy your favorite series in both spaces.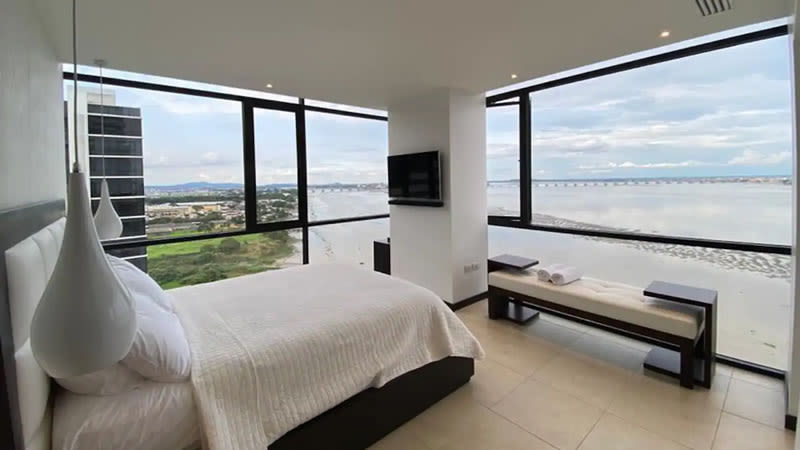 Luxury suite furnished in Bellini 1 building, Puerto Santa Ana, overlooking the Guayas River with one bedroom.
Services included: air conditioning, internet, cable tv, hot water. Extra services: parking inside the building $ 10 per night.
This luxury apartment in Guayaquil offers amazing views of the river, so you can enjoy a drink or a coffee while admiring the views of the Guayas river.
Beautiful suite with private terrace in northern Guayaquil, well-lit, comfortable, and modern spaces. Ideal for couples or business trips. Spectacular view of Guayaquil. It is very close to the main points of the city: airport, land terminal, health centers, gas stations and shopping centers. Ideal for making your stay practical and enjoyable.
The suite is located on the third floor, designed in a modern and minimalist style, with everything you need for a pleasant. It features a living room, dining room, open-style kitchen, a guest bathroom, a private bedroom with bathroom, and a spacious terrace with access from the living room and bedroom, which has a beautiful night view of the city.
All areas have air conditioning for your comfort in the hot afternoons of Guayaquil.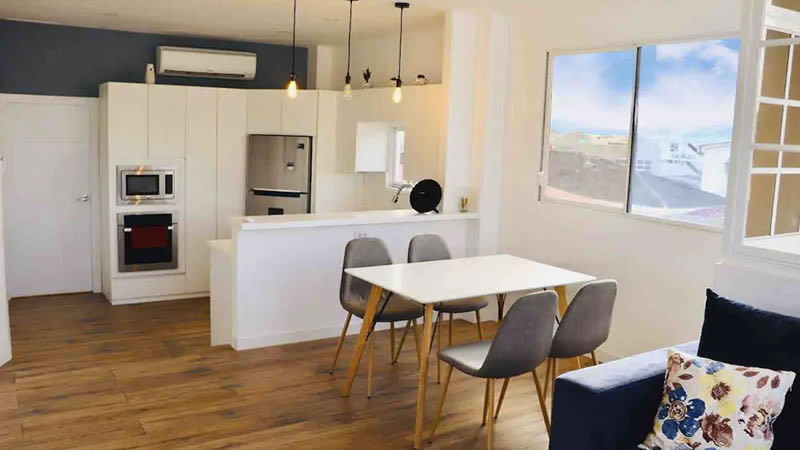 Cozy apartment (top floor) in the heart of Guayaquil 5 min from the airport (2km/ 1mile) and 10 min downtown.
Located in a strategic neighborhood surrounded by supermarkets, malls, parks, banks, cafés & restaurants.
Featuring a modern apartment with a cozy balcony for BBQs. 5 minutes away from the main mall in Guayaquil "Mall del Sol".
All amenities are included, such as A/C, wifi, etc. Fully equipped kitchen + water dispenser & coffee, plus private parking!
The apartment has a private entrance. You will love this modern top-floor apartment. Perfect for tourists and business travelers for up to 4 guests with a queen bed and a queen-size sofa bed!
Air Conditioning in all rooms. Super comfy couch with tv to chill at night while watching movies or sports. Tv cable and Netflix are available.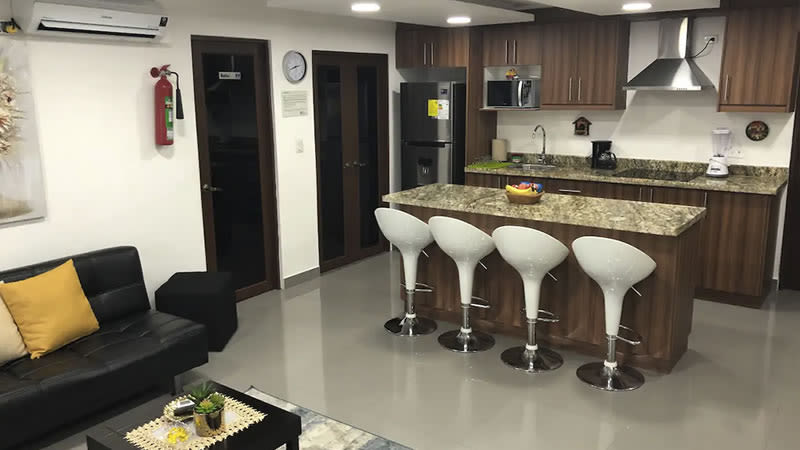 The apartment is large, ideal for families visiting Guayaquil. You will have 2 bedrooms and 2.5 baths, so it is ideal for groups of friends or families with kids who need space. It is very close to the main points of the city: airport, land terminal, health centers, gas stations and shopping centers.
It has two very cozy rooms with a double bed, private bathroom, wardrobe and wake in each.
The apartment is on the ground floor. The beds are queen-size, top-notch.
The kitchen is equipped with the necessary appliances, it also has cutlery and crockery for 4 people, glasses, jugs, knife, spoon and spoon, as well as a pot, pan, blender, coffee maker, microwave, chopping board, juicer and salad bowl. All in excellent condition and clean. It also has a washer-dryer.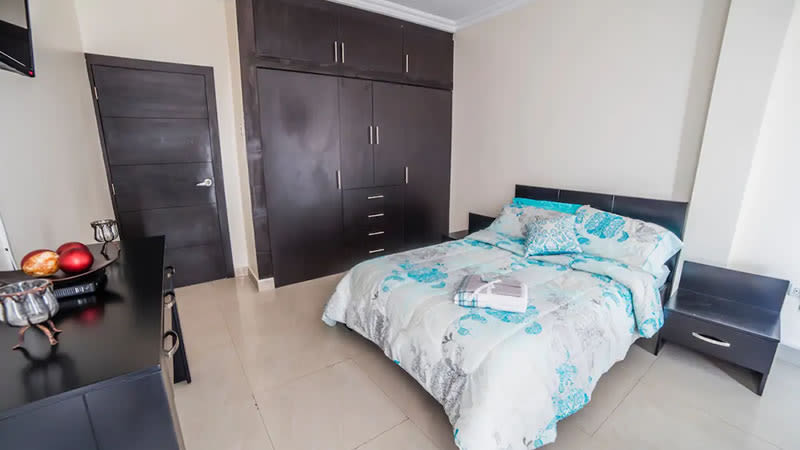 This Airbnb in Guayaquil is within walking distance of the main shopping malls, hospitals, stores and parks. Easy access to downtown and public transport. 10 minutes drive from the airport. 12 min drive to the main bus station. Great for couples, families and business travelers.
This is a brand new fully furnished one-bedroom apartment, on the second floor of our home (ground floor = 1st floor). You'll have direct access to the apartment. The whole house has recently been renovated.
The apartment has a nice spacious living room, an open kitchen, one separate bedroom, one bathroom and a sofa bed in the living room.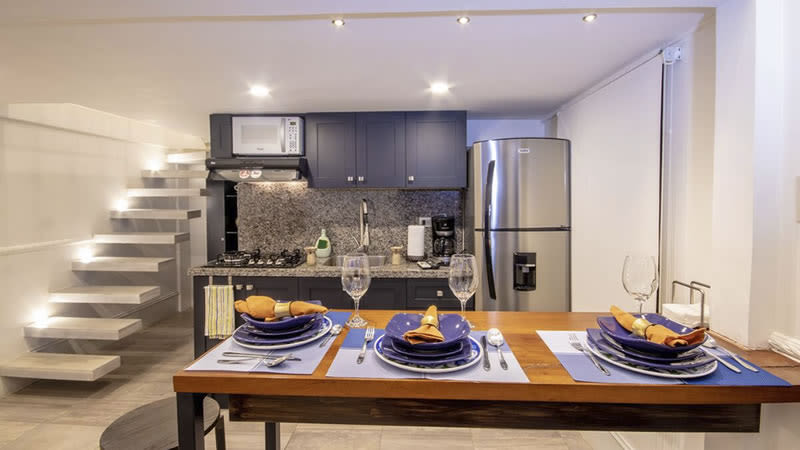 This loft apartment is decorated in a Neo-Classic style. The apartment has floating stairs, two beds, one with two and a half seats and the other with two seats. It has a large TV in the living room and another in the bedroom.
The TVs have NETFLIX, Directv (with the GOLD package) and are connected to a Denon amplifier brand HEOS model. You can also enjoy your favorite music via apps like DEEZER or Tunein.
TRAVEL TO MORE PLACES IN ECUADOR