11 Best Things To Do in Villajoyosa - Visit Costa Blanca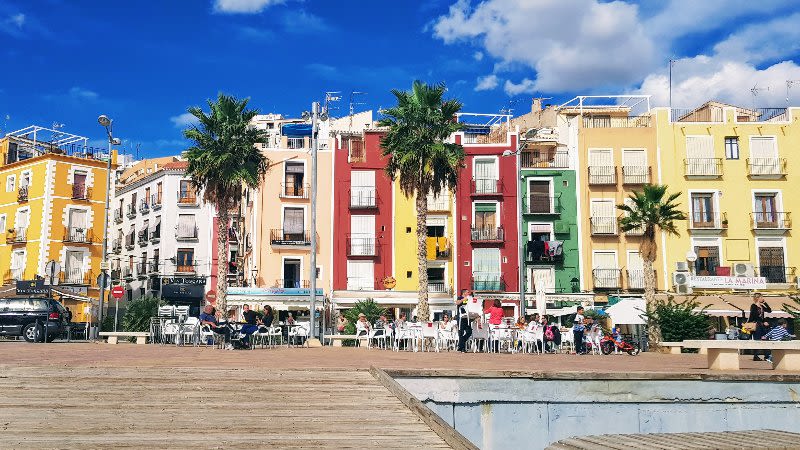 VillaJoyosa is a lovely coastal town in the Province of Alicante, on the southeast coast of Spain, part of the popular tourist destination known as Costa Blanca.
In the region, the town is known as only La Vila and easily reachable either by car or by public transport from either Alicante, Benidorm or other towns between them, which are situated on the route of the Alicante TRAM.
What to do in Villajoyosa - Best places to visit, beaches and attractions
Villajoyosa is a great destination for a beach destination on Costa Blanca, as you have a beautiful central beach, a long promenade and easy access to other places to visit in the Alicante province.
1. Villajoyosa beach - Central beach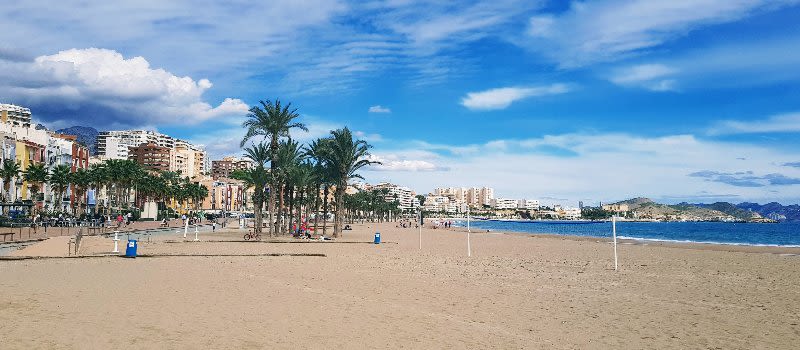 This is the main beach of La Vila Joiosa, situated close to the city center and with easy access to lovely terraces, restaurants and bars.
It's a really long and clean beach, with many areas where you can find a quiet spot to spend the day if this is what you want. On one end of the beach, you'll find tall palm trees, sunbeds and umbrellas, plus a small playground for kids.
2. Valor Chocolate Museum
Valor is Spain's most famous chocolate and the company has been in business since 1881.
Villajoyosa is the birthplace of the Valor Chocolate and in 1998 they opened the chocolate museum, a place where they do tours of the factory and where you can see a vast collection of machinery used in the chocolate making industry.
The chocolate factory tour is free and there are 2 English tours per day and a few others in Spanish. The English tours start at 11 am and 4 pm and during high season you should arrive earlier to get your ticket from the ticket machine, as it can be pretty busy and the tours are limited at 50 people each.
You'll be able to sample some of the varieties of chocolate they produce in the factory (as much as you can eat) and at the end of the tour, you can buy some to take home as souvenirs.
3. Clavileño Chocolate Museum
As you can see, chocolate is a recurrent theme in Villajoyosa and it's a heaven destination for people who have a sweet tooth.
Clavileno is another local brand of chocolate and they have a small museum, with some exhibits, which you can visit on your own (there's no actual tour). Of course, you can also taste and then buy some chocolates at the end.
4. The colorful painted houses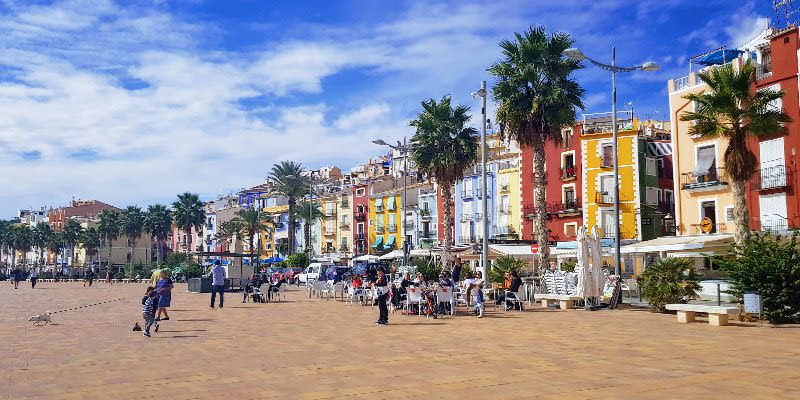 The colorful houses (casas pintadas) next to the promenade are probably the first thing you see when you look up pictures of Villajoyosa online.
These beautifully painted houses are the iconic symbol of La Vila Joiosa and the legend says that the houses were each painted in different bright colors, so that the fishermen would see and recognize their house when they were out at sea.
If you visit Villajoyosa on a day trip during your Costa Blanca holiday and you arrive here by car, you should know that you can park close the houses and the promenade, either in the free car park near the end of the beach and the breakwater or in the underground parking situated on Av. Jose Maria Esquerdo Zaragoza.
5. The promenade in Villajoyosa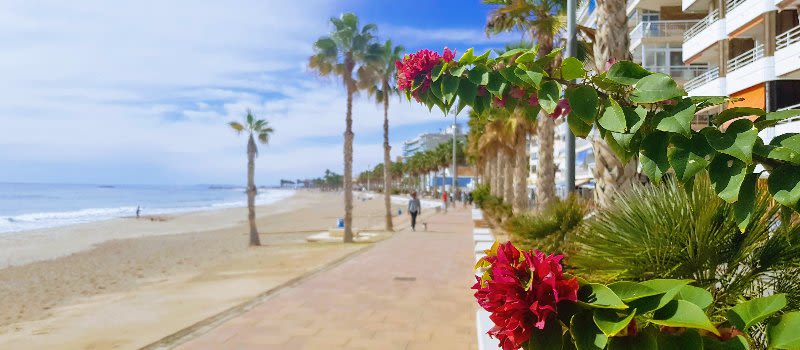 The town's promenade is really beautiful, with fascinating views of the sea on one side and colorful buildings on the other side. Take your time to walk from one end to the other and you can even stop at one of the many bars along the way.
6. Paradise beach
This is another large beach, further away from the town center, but still easily accessible. There is a large parking right by the beach, although it can get full quickly during the summer months.
Playa El Paraiso is made up from a mix of sand and pebbles and since it's further away from town it means that it's quieter than Villajoyosa beach (Central beach) and with a more chilled vibe.
Playa El Paraiso in Villajoyosa is a good choice even for people staying in Benidorm, who are looking to escape the busy and noisy beaches in their resort, as it's only 10 minutes away by car to this beach from Benidorm.
7. Playa El Torres
This is the third main beach in Villajoyosa and the smallest of the three; again, it's more of a stone beach, rather than a sandy beach, but the views and the natural settings compensate for this inconvenience.
There is a beautiful seaside trail from where you get amazing views of the surrounding landscape, there are trees right next to the beach and the atmosphere, in general, is much more relaxed than on a town beach.
It's perfect if you're looking for a quiet place, with natural shade from the trees; there's still a beach bar in the area, so you still have easy access to cold drinks and cooked food if you fancy having lunch on the beach.
8. Racó del Conill (naturist beach in Villajoyosa)
This is a small cove and a lovely nudist beach.
There's parking close to the beach, a chiringuito (small beach bar) and the cove is well protected by huge rocks, with plenty of vegetation nearby. So if you're looking for a naturist beach around Villajoyosa, Raco del Conill is the best choice.
9. Playa El Bon Nou
Playa El Bon Nou is located on one end of the town, after Playa El Paraiso, in the Urbanizacion Montiboli.
Compared to the previous ones, this beach is really small and sheltered from the wind. There is a small beach bar and a recreation area with benches and tables close to the beach, so you can eat a packed lunch if you decide to bring one with you.
10. Vilamuseu
Vilamuseu displays an interesting collection of local pieces of archeology and you can spend easily 1 to 2 hours looking at all the exhibits.
Tickets cost only 3€ per person, but you can visit the museum for free on Sundays (it's also free for people over 65, pensioners, children up to 7 years and people with disabilities).
Visiting the museums might also be a good idea if you happen to be in Villajoyosa on a rainy day and you're looking for something to do indoors.
11. Fiesta de Moros y Cristianos in Villajoyosa
Moros y Cristianos is the largest event happening in Villajoyosa throughout the year and it's something you shouldn't miss if you're planning a summer holiday in the Costa Blanca region. The whole idea of the event is to recreate the Moorish attack on Villajoyosa from back in 1538.
The Fiesta de Moros y Cristianos (Moors and Christians) is celebrated at the end of July and although there are similar events at different times of the year in other places in the Valencian Community, the celebration in Villajoyosa and the one in Alcoy are the most popular and most interesting of them all.
The unique characteristic of the event in Villajoyosa is the desembarco (beach landing), where a small fleet with costumed Moors arrive on the town beach and attack a sand fortress (which is a replica of an old existing fortress).
We really recommend doing a day trip to Villajoyosa if you're in the region during the time when this event takes place, as it's a really grand fiesta, which has been declared an Event of International Tourist Interest since 2003.