7 BEST Things To Do in Altea - Alicante Province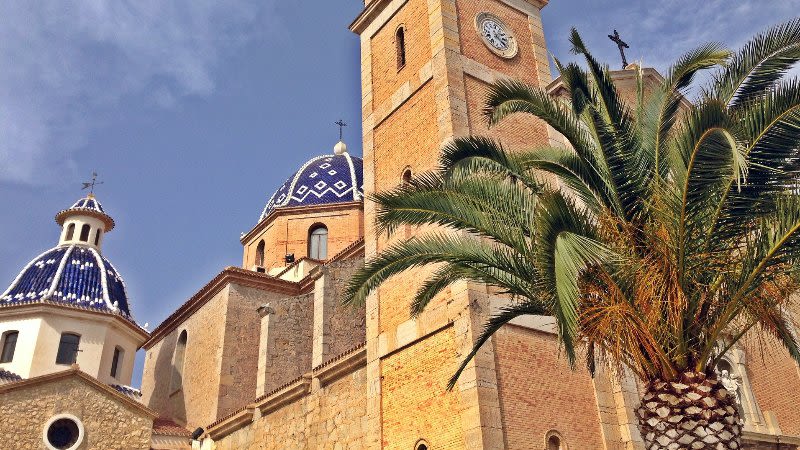 Altea is a picturesque town in the province of Alicante and a very popular tourist destination in the Costa Blanca region of Spain.
Altea's economy is nowadays based on the tourism industry: with its charming white houses, narrow streets and great restaurants, Altea attracts a large number of visitors each year, who come to soak up the sun on the pretty Costa Blanca of Spain.
Many people visit Altea on a day trip from Benidorm or Alicante, as it's really easy to get here using the Alicante TRAM, which is the best way to move around the coast of Alicante. Trains run frequently, tickets have reasonable prices and you don't have to worry about finding a parking place, which can be quite challenging especially during the peak summer season.
What to do in Altea - Best places to visit and attractions
The town of Altea is overlooking the sea, offering a lot of idyllic views of the blue water in the distance, as the perfect backdrop for your holiday photos.
1. Altea Promenade
What visit to a town situated by the Mediterranean sea would be complete without a walk on the promenade?
Altea's promenade is full of bars and restaurants and it's a really buzzing place, especially during the summer months. Here you can enjoy lovely and fresh seafood, with a view of the sea and a cold beer in hand, which is the epitome of relaxation and the main reason why people visit Spain.
2. Visit the Old Town of Altea (Casco Antiguo)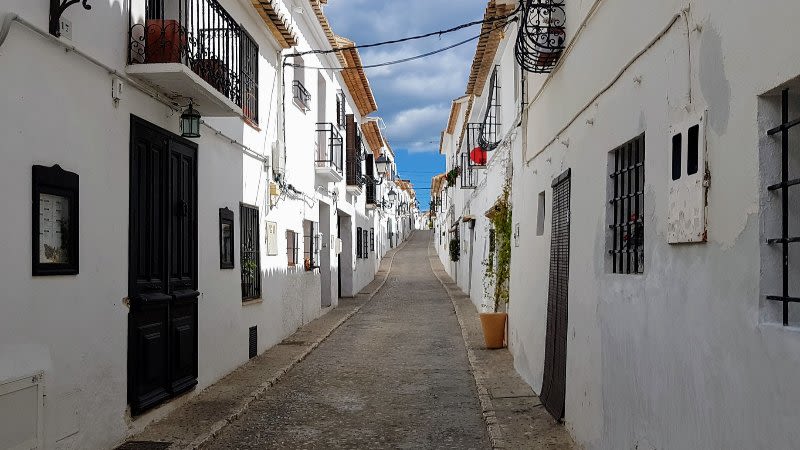 The Old Town of Altea is like a dream come true for photographers. With its cobbled stone streets, white houses, charming windows decorated with colorful flowers, Altea's old town is a place where you'll want to get lost (at least for a few good hours).
The towers of the Church of Nuestra Señora del Consuelo will be in most of the iconic images you'll see of Altea's Old Town, as they offer a pleasant contrast against the all-white walls and the pale blue sky that you get to see on most days in this region.
If you really want to explore Altea without feeling rushed, we recommend allocating an entire day to visiting this quaint little town, which is considered to be one of the best places to visit in Costa Blanca and also one of the prettiest small towns in Spain.
3. Playa de La Roda
This is the most popular beach in Altea, also known under the name of Playa de Altea. It's mostly made up of rocks, so it's not comfortable to sit on if you don't have a beach chair.
Playa La Roda is the busiest beach in Altea, since this is the closest beach to the city center and it's easily accessible either on foot, by car or by public transport (the station is only a few minutes away).
4. Other beaches in Altea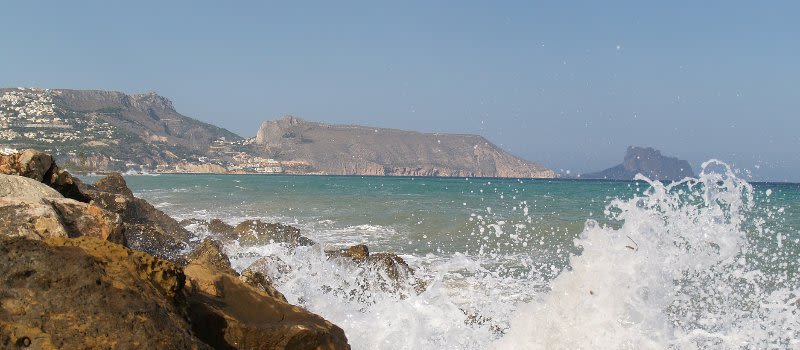 The beaches in Altea are rocky, not sandy, which is why they aren't as popular as the beaches in other nearby resorts like Benidorm or Calpe.
Even so, you'll still find a lot of beaches in the area, which can be a nice place to hang out for a day if you want to escape the large crowds from places like Playa Levante or Playa de Poniente in Benidorm.
Here's a list of all the other beaches in Altea:
Playa La Olla
L'espigo Beach
Playa del Cap Negret
Punta del Mascarat
Playa El Mascarat
Playa de Cap Blanch
5. Church Square - Plaza de la Iglesia
Since we've already mentioned the Church of Nuestra Señora del Consuelo, we recommend walking up to the church and spending some time in the square next to it, which is another typical place for Spain.
In Plaza de la Iglesia you will find some lovely terraces, where you can rest for a bit and have a drink. after walking up all the way from the coastal promenade.
Afterward, you can even visit the inside of Church, which is equally as pretty as the outside.
6. Altea Market
When: every Tuesday, from 08:00 to 14:00 h
Where: Camino del Algar 03590 Altea/ Calle Ingeniero Munoz 03590 Altea
This is a pretty large weekly market, organized every Tuesday, which offers a mix of gastronomic products, clothing items and also souvenirs.
Many visitors also travel from Benidorm to Altea on Tuesdays only to come to this market to do some shopping. We mostly recommend the fruits and vegetable market, where you can find tasty local produce, much better than what you can find in supermarkets.
7. Plaza del Ayuntamiento de Altea
Located just outside of the Old Town, this square isn't really a typical tourist attraction, instead, it's a good place to have a coffee and rest for a bit after all the walking you've done to get to this point.
Plaza del Ayuntamiento (Town Hall Square) might not be the prettiest place in Altea, but it's a popular spot for locals to have a drink or a snack, so it's not only a place geared towards tourists. There are several small coffee shops and also the Tourist Information Office is located here, in case you want to get more information from them about what you can do in Altea during your visit.