12 BEST Things To Do in Benidorm - Alicante Province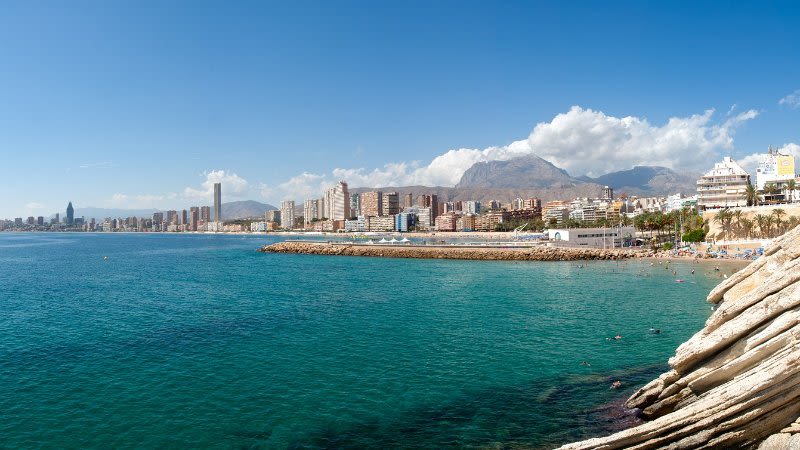 Benidorm is probably one of the most well known tourist destinations in Spain. Loved by some, hated by others, Benidorm definitely has a reputation of being ground zero for nightlife in the Costa Blanca region.
If there's one main thing for which Benidorm has always been critiqued that is its ugly tall buildings, situated right by the beach, ruining a perfect landscape of sea and mountains. But once you get over the looks and focus on what the resort actually has to offer, you will discover that Benidorm can be a pleasant place for a holiday, if you set off with realistic expectations.
Benidorm can be quite a busy resort, and it is especially busy during the summer months when the kids are on school holiday and families come over for a much-needed beach holiday under the Spanish sun.
During the other months of the year, Benidorm is quieter and less crowded, but still gets a lot of visitors, even during the colder seasons, since the region is well known for its mild winters, with pleasant temperatures compared to what the rest of Europe is facing.
What to do in Benidorm - Best places to visit and attractions
The reason why Benidorm is such a popular beach destination in Costa Blanca is the multitude of things that you can do while you're here.
There are lots of bars and nightclubs for those who come here for the nightlife; there are great beaches with all the amenities for those seeking to just relax on the beach and get a tan; and then, of course, there are all the theme parks that make Benidorm such a great destination for families traveling with kids.
The beaches in Benidorm
There are 3 beaches in Benidorm and 2 of them are quite large and ready to accommodate all the visitors who come here to enjoy the sun and the sea.
1. Levante Beach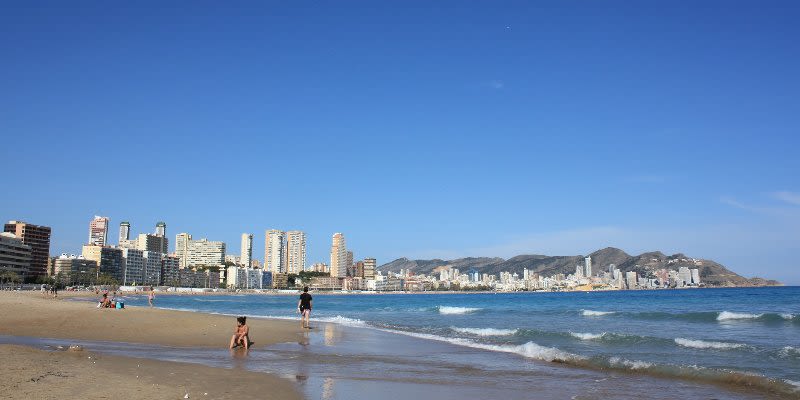 Levante beach is the most popular beach in Benidorm and it has all you can wish for from an urban beach: fine sand, sunbeds with umbrellas, clean turquoise water, a beautiful promenade in front and lots of bars and restaurants nearby to choose from.
It does get crowded especially in July and August, but this is understandable since these are the warmest months and everyone wants to enjoy a hot beach holiday when they come to Costa Blanca.
2. Poniente Beach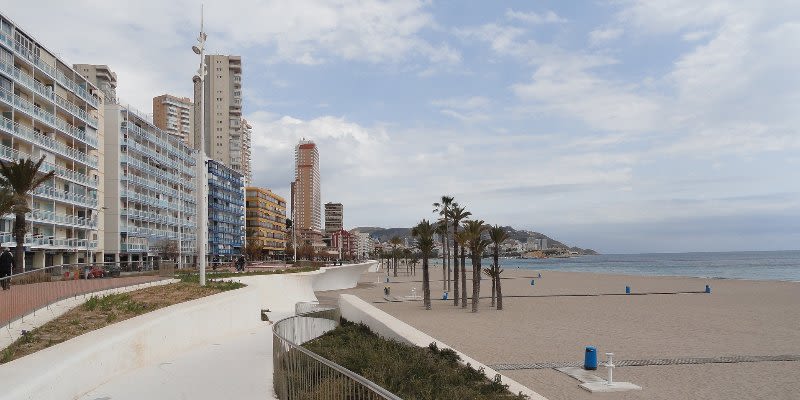 Poniente Beach is another grand beach in Benidorm, but much quieter than PLaya Levante.
We think that Poniente beach is better for families with children, who may want to escape all the noise and agitation that is characteristic to the previous beach.
In 2019, the price for sunbeds at Poniente Beach was of 5 Euros each and parasols also cost 5 Euros.
This is an accessible beach for wheelchair users and there are lifeguards on site.
The water is again of beautiful turquoise color, with moderate surf, but make sure to be careful when swimming here, as the undercurrents can be quite strong.
3. Mal Pas Beach
This is a really small beach, compared to the other two beaches in Benidorm.
It sits right between Playa Levante and Playa Poniente, in a small cove, with calm waters.
4. Benidorm Old Town
Before being the lively resort that it is today, Benidorm used to be a small fishermen's village, and what's left of it is now part of the Old Town (Casco Antiguo).
Also, don't miss a visit to Street Santo Domingo, also known as Tapas Alley. It is a street filled with restaurants which serve tapas (small bites and sandwiches), which are typical for Spain.
This is a really fun way to experience local food and also have a great time, as these places are usually full of energy and good atmosphere.
Family activities in Benidorm - visit the amusement park, animal park and water parks
Some destinations have a great ZOO for the kids...others might have a fun amusement park, while others have a water park where you can spend the day enjoying the slides. But Benidorm has it all in one place, an ideal place for an easy and fun holiday abroad with the kids.
5. Terra Natura - Zoo
Terra Natura is a beautiful animal park, with species from several continents, from Asia to Europe and the Americas.
You can also go on the ZOO Experience a free guided tour where you get to learn more insider details about strange animals like poisonous insects, elephants, tigers and jaguars.
Terra Natura is also involved in saving endangered species from extinction, like the Asian elephant, Asian lion and the Sumatra tiger.
1-day entrance ticket to the Terra Natura Theme Park
Free cancellation up to 24 hours before activity starts
6. Aqua Natura
Aqua Natura is a great water park for kids, with several attractions built especially for the little ones, like Chapoteo to NERÓ KALÓ and Adventure Island. There is even a section where parents can go on slides with their children, for a really fun family time and a memorable day out during your holiday to Benidorm.
Infant and toddlers have their dedicated space, called The Little Turtles Pool, for ages 0 to 4 (recommended), which is an enclosed area with splash pool, where they can cool off during those hot summer days, while the grown-ups can take a much-needed break.
1-day entrance ticket to the Aqua Natura Theme Park
Free cancellation up to 24 hours before activity starts
You also have the option to get a combined ticket for both parks Terra Natura and Aqua Natura at a reduced price
With the combined 2-day ticket you can enjoy the parks on 2 consecutive days (one day at each park)
Free cancellation up to 24 hours before activity starts
7. Terra Mítica
Terra Mitica is the famous amusement park in Benidorm, decorated with ancient civilizations in mind: from Rome to Egypt or Greece, you can experience it all in one place.
All three areas have attractions for all ages, so each member of the family will get to experience the ultimate adrenaline rush, suitable for its age group.
8. Mundomar
Mundomar is a fun animal park located right in Benidorm, ideal for families with children, as the little ones will love seeing all the animals and swimming with sea lions or have an encounter with dolphins.
There are some shows which are really worth seeing, plus the park is really modern and with nice amenities for the animals.
9. Aqualandia
One of the first attractions in the Benidorm area, Aqualandia opened in 1985 and is still going strong. You have over 20 attractions to choose from, just be prepared for long queues during the summer months, so waiting times will be long and it may be frustrating at times.
If you visit in June, September or October you might have a nicer experience overall.
10.Balcón del Mediterráneo
This viewpoint offers the best views towards both Poniente beach and Levante beach and it's one of the symbols of Benidorm, a go to place for all visitors who spend their holiday here.
Unfortunately, in summer 2019 there was construction work done in the area (renovating and excavating) and so at the moment, this wonderful viewpoint is not accessible to the public. We will update this page when it is open again.
At sunset, the views from Balcon del Mediterraneo are simply gorgeous and this is probably the most romantic place where you can watch the sunset in Benidorm with your loved one.
11. Visit Altea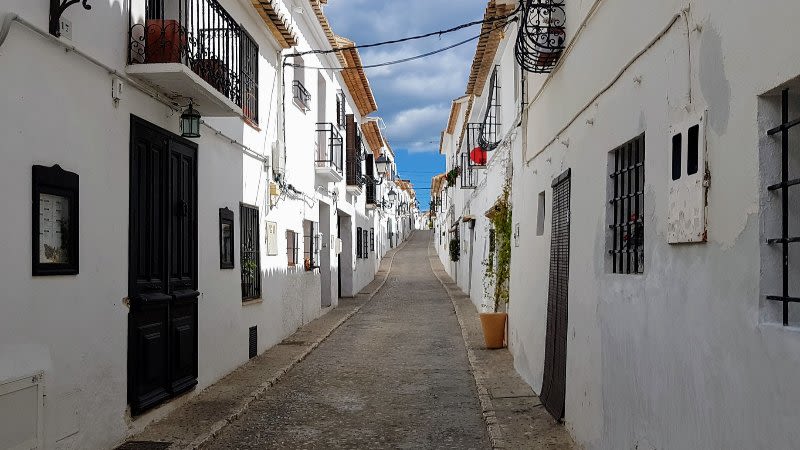 Altea is a beautiful and charming small town, also in Costa Blanca, easily reachable from Benidorm using the Alicante TRAM.
You can make it into a day trip for fun explorations, as there are many beautiful places to see in Altea, starting with a walk through the whitewashed old town and ending the day with a drink on the promenade.
12. A day in Alicante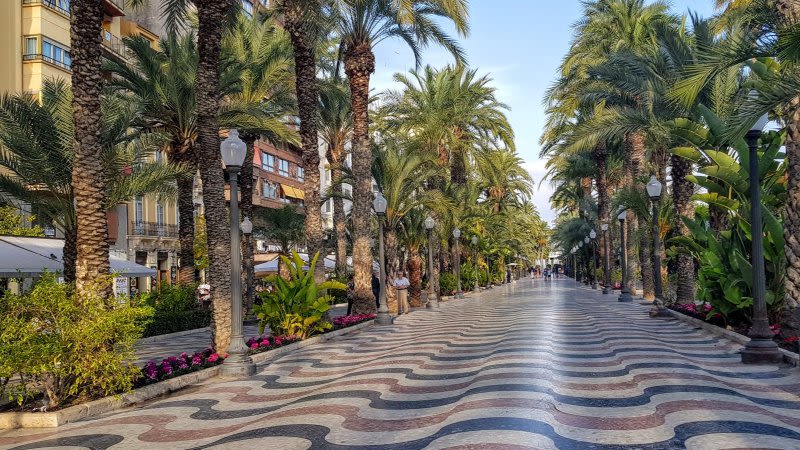 Alicante is the capital of the province of Alicante and one of the more modern large cities on the Spanish coast.
Although lots of people land at the airport in Alicante, not many of them stay for a visit. We recommend visiting Alicante at least for a day, to see the exquisite Explanada de Espana, the marina and to go up to Castle of Santa Barbara for a breathtaking view.
You can also use the Alicante TRAM to get here, so it's an easy and quick trip that you can do while you're staying in Benidorm.