Oktoberfest Calpe 2019 - Largest Beer Festival in Costa Blanca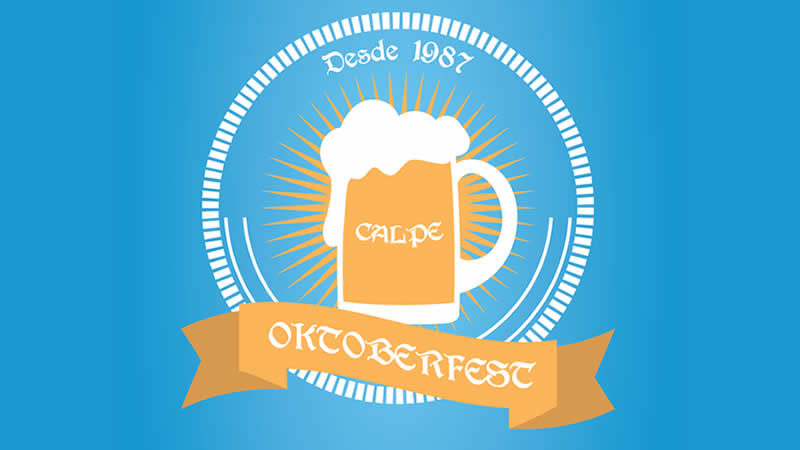 Calpe is the host of the largest Beer Festival in Costa Blanca, which happens every year usually at the beginning of the month of October.
Calpe is also a popular tourist destination in Costa Blanca and we recommend at least a day trip here, even if you're spending your holiday in another town or resort in the area.
Dates for Oktoberfest in Calpe 2019: 2nd – 13th October (Beer Festival in Calpe)
Organized by the Carnival Club of Calpe (Club Creativo de Calpe)
You can reserve a table either by email, phone or online:
Weekends are the busiest times, so it is advisable to book a table if you plan to attend.
The tent usually opens at 18:00h each day and the live music will be on one hour later, usually from 19:00h.
Oktoberfest has been celebrated in Calpe since 1987 and it's a really popular celebration nowadays, gathering over 10 000 people in the tent during the duration of the event.
Schedule of Oktoberfest Calpe 2019
Wednesday, 2 October
At 20:00h - Opening of the Festival. (Barrel tapping tradition officiated by the mayor)
Farewell of last year's Beer Festival Queen and Coronation of the 2019 Beer Festival Queen.
Thursday, 3 October
Oktoberfest Nonstop - Bavarian Music and international hits with The Steinsbergersa and fun competitions
Friday, 4 October
Music with The Steinsbergers and Denise - Hits from the last 20 years of Beer Festival
Saturday, 5 October
Music with The Steinsbergers - Oktoberfest Party
Sunday, 6 October
Afternoon, 11:00h - 15:00h Bavarian Lunch with traditional music and food.
Oktoberfest Night - Party with The Steinsbergers.
Monday, 7 October
International Costumes Competition with The Steinsbergers. There will be prizes for the three most beautiful costumes.
Tuesday, 8 October
Concert of Musical Requests with The Steinsbergers and a Night of Hits Songs with Denise.
Wednesday, 9 October
Hits from the last 20 years of Beer Festival with the Steinsbergers and fun competitions
Thursday, 10 October
Happy Beer Day! - Price of a Jarra (large beer - 0,5 l) will be only 3,50 €. Music with DJ One
Friday, 11 October
Zicke Zacke Heu Heu Heu - Music with The Steinsbergers.
Saturday, 12 October
Oktoberfest with The Steinsbergers and afterward music hits of the 70s, 80s, and 90s with the charming Denise.
Sunday, 13 October
Lunch from 11:00h until the end of the festival at 18:00h - All the food will have a reduced price (while stocks last) and with music and entertainment with DJ One and others.
The Beer Festival is a really popular event in Calpe and we thoroughly recommend it if you love the Oktoberfest atmosphere and spirit, but you also prefer the warm Spanish weather, even in autumn.
Here's a glimpse of the Oktoberfest celebration in 2017: