La Tomatina 2020 - The Crazy Tomato Fight Close To Valencia (Spain)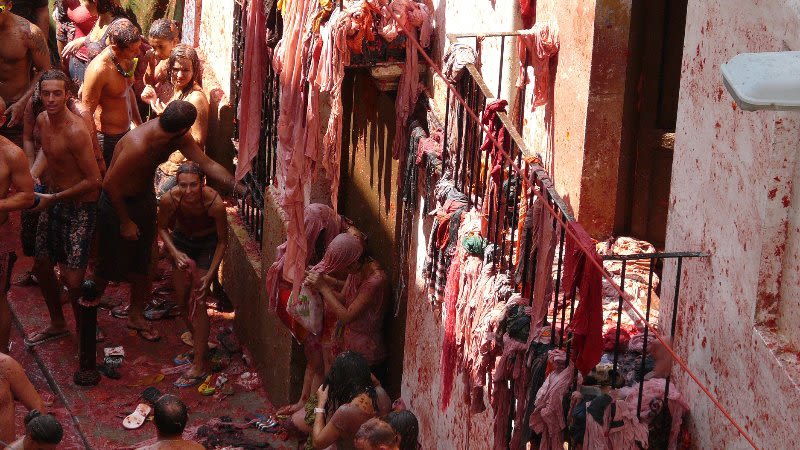 One of the most well known events in Spain, La Tomatina is celebrated each year at the end of August and it attracts a great number of tourists in the small town of Buñol, close to Valencia.
La Tomatina 2020 in Buñol, Valencian Community (Spain): August 26
Location: the town square of Buñol, in the Valencian Community
Date: Last Wednesday of August, every year
Time: starts at 8 am and lasts all day long, throughout the entire town
History of La Tomatina
This bizarre festival began in 1945, with a spontaneous vegetable fight, between residents of the town, when some kids snuck into the middle of a parade that took place at that time.
The fight was started again next year by the same boys and although the authorities tried to "kill" the event, it grew in popularity and it was declared finally declared an official local event. But this did not happen before a few fights and controversies between locals and the police, who wanted to stop this event.
The funny part of the history of La Tomatina is the year when, while the event was still forbidden, the locals organized a giant funeral for a tomato, with a funeral band playing funeral songs, while everyone was marching around in a sad face. The people finally succeeded to make their event a reality and La Tomatina now grew into a huge event, attracting thousands of people each year for many different countries.
So what is happening during this tomato fight near Valencia?
People start gathering in the town square early in the morning, at around 9 am, although the tomato fight starts later.
There is something served at breakfast in the square, or you can buy something for yourself while you wait and watch the preparations and the crowds arriving ready for the fight.
The tomatoes are brought by trucks, at around 11 am.
La Tomatina officially starts when the first truck appears and the people in it begin to throw tomatoes at the crowds. After a while, the truck stops and the tomatoes are unloaded, so everyone tries to grab as much as they can.
There are also people with hoses who throw water into the crowd, to prepare them for the fight. Also people from balconies will throw buckets of water, so look up as well if you plan to participate.
Once the tomato fight starts everyone begins to throw tomatoes around, so be prepared to get messy if you are in the middle of the action.
Our advice if you plan to attend La Tomatina: wear old clothes, something you wouldn't miss if it's totally ruined.
A ticket that includes entrance to La Tomatina festival and also the fiesta held the night before on Tuesday costs 35 Euros and you can buy it online. You can also buy other types of packages, which can also include transport and food, so browse around to see which type of package suits your needs.
Learn more about another unusual event: The flour fight Els Enfarinats in Spain (also close to Valencia).
In our modern times, one might wonder about the morality of a food fight, as it seems like such a waste of resources. But while it might seem like a frivolous event and even unethical, we believe that we must also keep in mind the fact that this festival has its roots in another era and that traditions are important in the Spanish culture.