La Almoina Archaeological Center in Valencia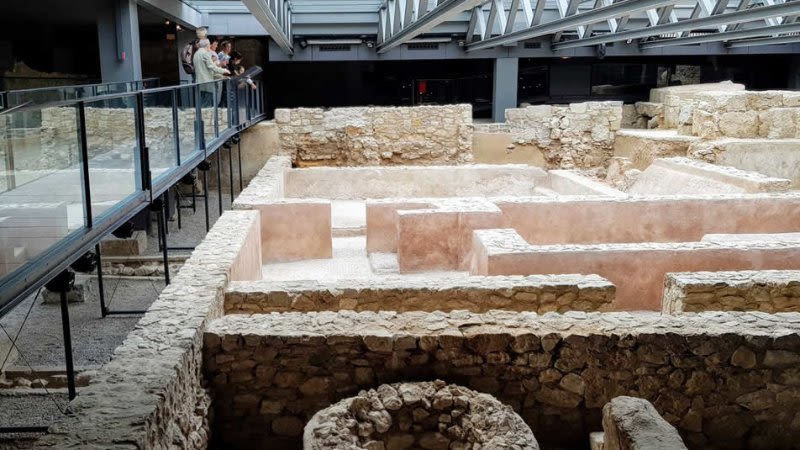 La Almoina Museum is located very close to the Valencia Cathedral and it's a place where you can see the remains of the old Roman, Visigoth and Arab cities. The ruins take you through the old streets and the Alcazar, the baths, forum and many other buildings, all located in the underground of what is now the modern town of Valencia.
What you can see at La Almoina Archaeological Center in Valencia
Besides the remains of the ancient buildings, you can see a scale model reconstruction and you can also learn more about the history of the city and what happened through the ages.
Hidden beneath the Valencia we know today, lays this hidden treasure that offers a visit through time, from the foundation of the city to the medieval period, providing a glimpse of how life in Valencia was back then.
Periods of the archaeological museum:
Roman republic
Roman empire
Visigoth
Islamic
Late middle ages
Impressions from our visit to La Almoina Archaeological Museum
We visited The Almoina during a long weekend in Valencia and we went there on a Sunday when the entry was free.
The visit does not take along, maybe around 30 minutes, but it provides interesting information about the city.
If you are passionate about history, then a visit here is a must.
If you are coming on a weekend you can plan your visit on a Sunday when it is free, or if you are visiting during the weekdays, we recommend that you buy the 3 day pass for museums in Valencia, called a Bono, which costs only 6 Euros. The Bono pass grants you entry to a long list of museums and attractions in Valencia, over the course of 3 days.
USEFUL INFORMATION
Opening hours
Monday to Saturday, from 10 am to 7 pm
Sundays and bank holidays, 10 am to 2 pm
Ticket price
Single ticket: 2 Euros.
Sundays and bank holidays: FREE ENTRY
Bono: entry is included in the 3 days pass for museums in Valencia. The pass (Bono) costs 6 Euros and can be bought at any of the municipal museums in Valencia included in the offer.
Address
Plaça de Dècim Juni Brut, s/n, 46003 Valencia, Spain
How to get there
Bus: 4, 8, 9, 11, 16, 28, 70, 71 (get off at the stop Placa de la Reina)