16 BEST Airbnbs in Ecuador - Unique places to stay in Ecuador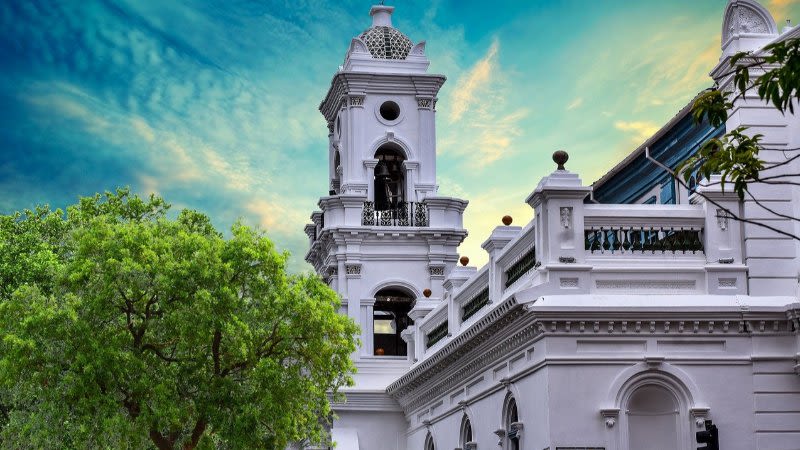 Ecuador is an incredibly attractive destination if you're looking to see diverse landscapes, from lush forests to beautiful secluded beaches, volcanoes and lots and lots of species of birds. Did you know that Ecuador is home to around 4500 species of birds, which makes it a perfect place to visit for birdwatching?
Some of the most popular places to visit in Ecuador are Quito, where you will most likely arrive if you can by airplane, Banos, Cuenca, Guayaquil and the Galápagos Island.
We have selected some of the best Airbnbs in Ecuador, from modern apartments in downtown Quito, to comfortable houses or villas, with outdoor space so you explore the green areas around Banos. You can also find some great luxury villas on Airbnb in Ecuador on the Pacific coast, which are great for a beach vacation. These are some of the best places to stay in Ecuador. These Ecuador Airbnbs are offered by Superhosts, so you can expect the best hospitality services, clean apartments, and in general amazing amenities.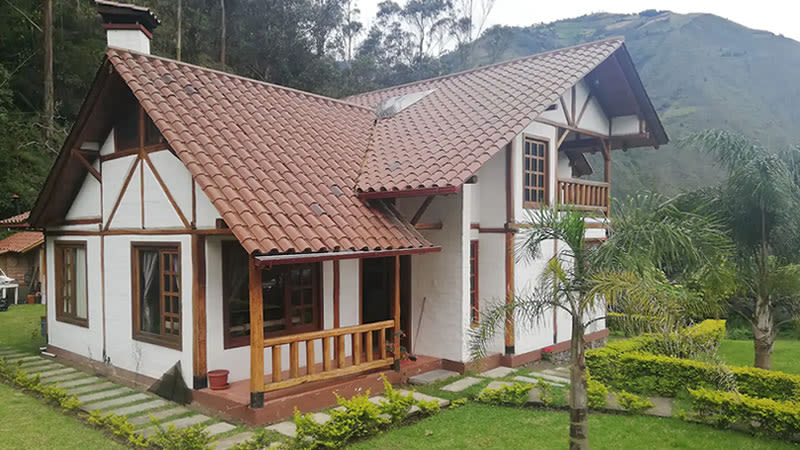 This lovely 2 bedroom family home is near a eucalyptus forest a few meters from the El Salado hot spring spa with a view of the Tungurahua volcano. The house has a yard with a green area, a space for barbecues and a wood oven.
The house is located in a peaceful location with different species of birds and a privileged view of the Tungurahua volcano.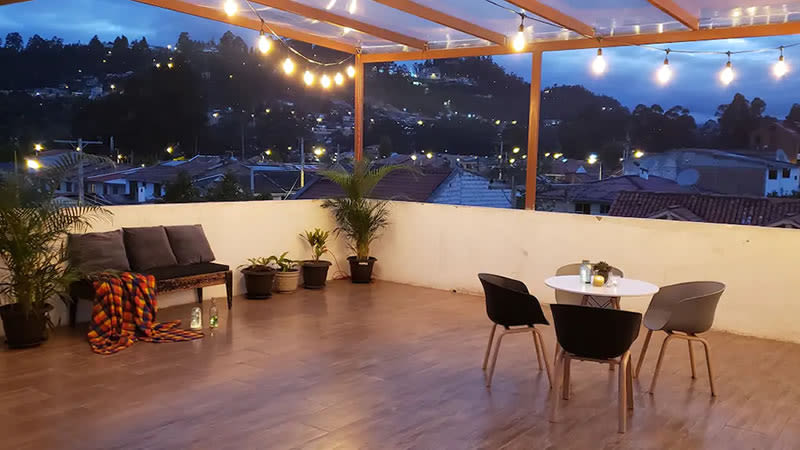 Relax in a cozy space full of comfort with a private Jacuzzi and a spectacular room with a home theater and rest in a luxurious bed in a quiet, pleasant and safe environment.
This Airbnb apartment in Cuenca has 2 rooms and 1 sofa bed, Smart TV, Fast Wifi, Netflix kitchen equipped with all the essential elements, close to the center, minutes from the main parks and shopping centers. Electric fireplace. Washer and dryer so you don't need to leave the place for doing laundry.
It is 15 minutes from the Airport and Transport Terminal.
Modern dining room with extendable system and a super comfortable 3-seater bed. From the terrace, you can enjoy lovely views of the city of Cuenca.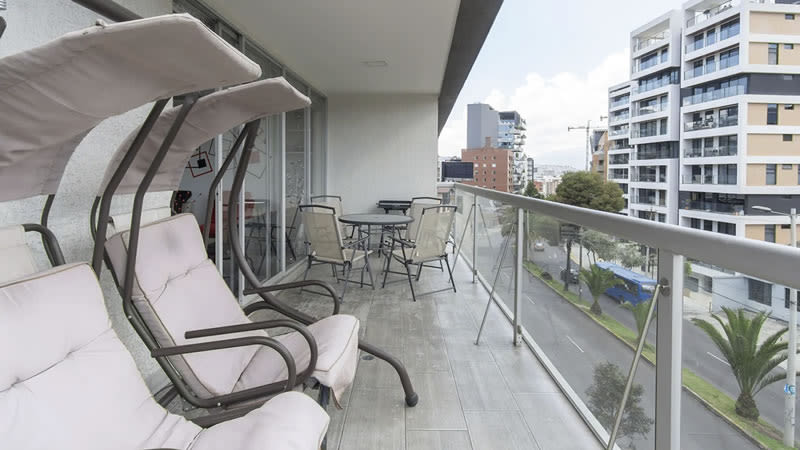 Stay in Quito in a premium luxury Airbnb apartment, in the business center area. This apartment is in a great building with lots of amenities like:
Fully equipped gym
Terraces
Kids area
Hydromassage, Sauna
Swimming Pool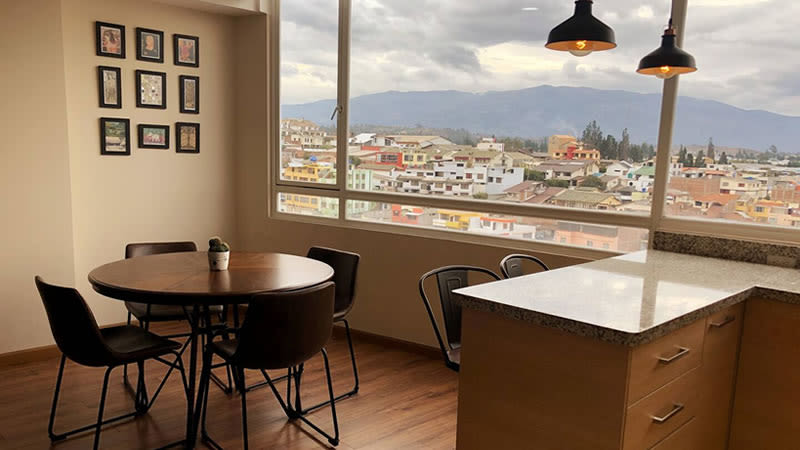 This Airbnb apartment in Riobamba is located in one of the best areas of the city. While you have breakfast you can admire the best landscapes of Riobamba like Chimbororazo, Tungurahua and El Altar. The place is newly furnished and has all the services for a pleasant stay.
The building is one of the biggest buildings in the city, so you will have an amazing view of the whole city.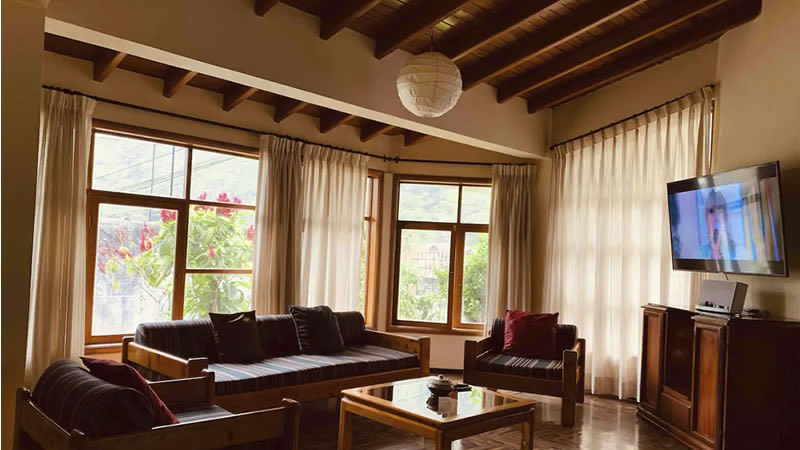 Stay in Banos in a holiday house that has 4 bedrooms, a living room, a kitchen, a garage, green areas, ultra-fast fiber-optic wifi internet, hot water, coffee maker, sheets and towels. The apartment is located two blocks from the center of the city.
The house is very spacious and comfortable, it has the necessary amenities to make your stay as pleasant as possible. Guests have the privacy they require (no people outside their reservation enter) and they can request the host's help for anything they need.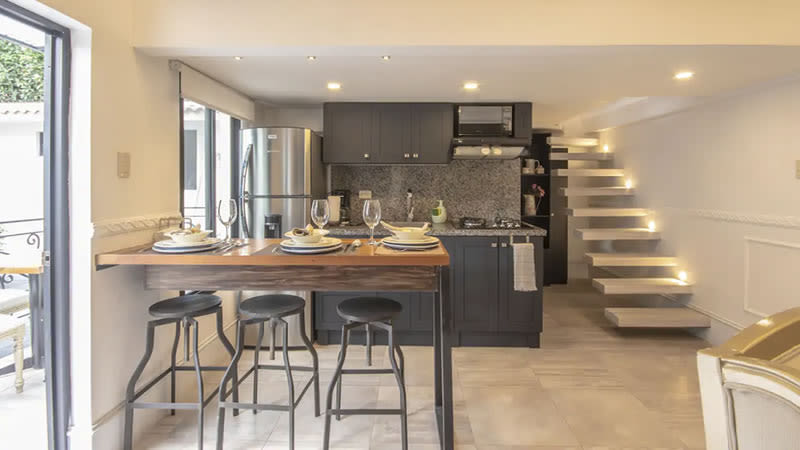 Stay in a beautiful Neo-classic decorated apartment in Guayaquil, where you'll enjoy the comfort of the 21st century.
The apartment has a very nice balcony where you can enjoy a cup of coffee or a glass of wine. The TV is connected to a HEOS amplifier so you will hear high definition sound.
The apartment is a loft with a living room, an area that is for cooking and eating and a bedroom with two beds: 1 queen-size and Standard size. The bathroom keeps the style of all the house, hot water, and a hairdryer is available.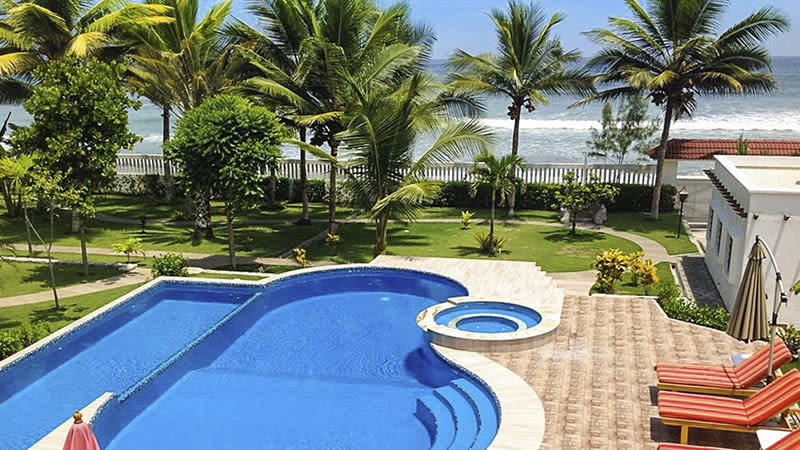 Stay in a stunning 5000 sq m Airbnb property in Ecuador, located on the Pacific coast, with a yard that features fruit trees, a pool & a spa. 24-hour guard and security on site.
This is probably the most beautiful well-kept property in the area. The boathouse has 2 bedrooms, 1 King & 2 bunks, small kitchen, living room, patio on beach, bathroom, a/c, WiFi.
The grounds of the house are well maintained, so you will enjoy a luxurious vacation if you decide to stay in this amazing Airbnb in Ecuador.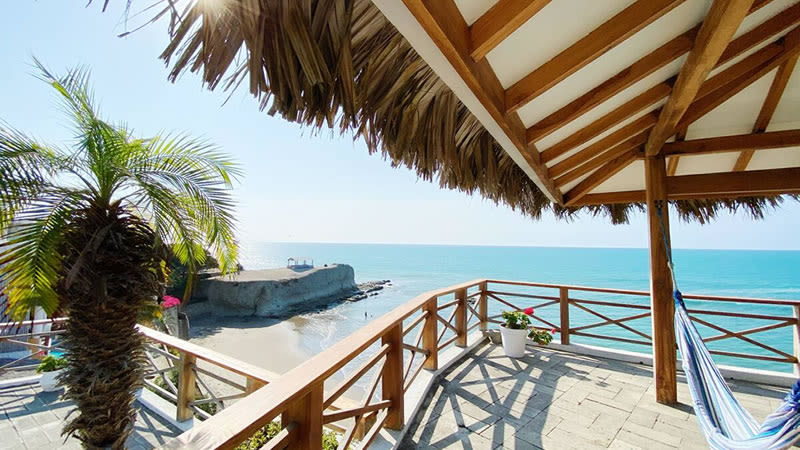 If you want to escape for a relaxing getaway with family or friends, this villa is for you! You will surely fall in love with this cozy villa by the ocean, with the most breathtaking views of an exclusive, beautiful beach. Enjoy an open terrace with a coastal breeze, laying in hammocks or fixing yourself a cocktail from the bar.
The villa is only 25 minutes away from the city of Salinas and 45 minutes away from the colorful town of Montañita. It is located in the famous Ruta del Sol.
Stay in this unique Airbnb on the Ecuadorian coast, with awe-inspiring views and quiet seashores. Right from the terrace, you can go down the staircase that leads straight to the sands of a calm, yet versatile beach, with rocks that form small fish ponds on one side, and a gentle, serene open ocean on the other. This all makes your stay a truly unique, fantastic experience.
The villa has four rooms: Two in the main house and two in the annex, all with air conditioning and each with a full bathroom. The villa also has an inviting porch, a rustic dining room, a comfy living room and a sizeable kitchen, which comes with a service room.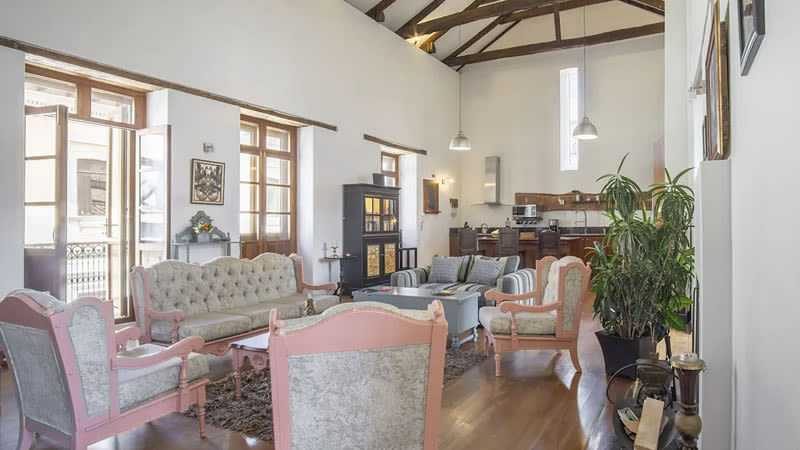 This colonial house was tastefully restored by renowned architects and artists of Quito, retaining the style and recovering key period pieces, like their stone columns, wooden beams, stone courtyard, even redeemed details paint walls and wood among others. While this Loft is equipped with all the amenities you could provide a splendid stay for our guests. Undoubtedly this is a magical place that will perfectly complement its way through the historic center of Quito.
Guests can enjoy:
50-inch television with Netflix service.
SONOS audio system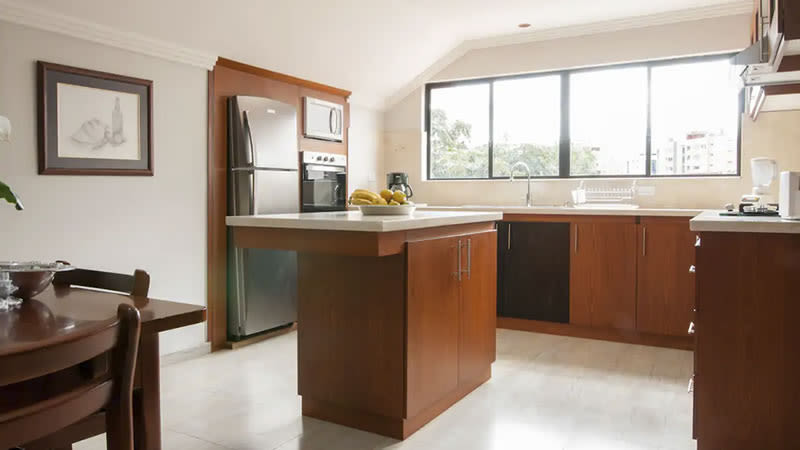 Comfy 2 bedroom apartment located in one of the best districts in Cuenca, walking distance from old downtown, restaurants, bars, and landmarks, parks, bus stops, supermarket. Very safe to walk around. It offers unlimited access to WiFi, hot water, in-house laundry.
The apartment has 2 bedrooms, 2 full bathrooms, a fully equipped kitchen, laundry room, living room, dining room, and a balcony. The garage is available under request.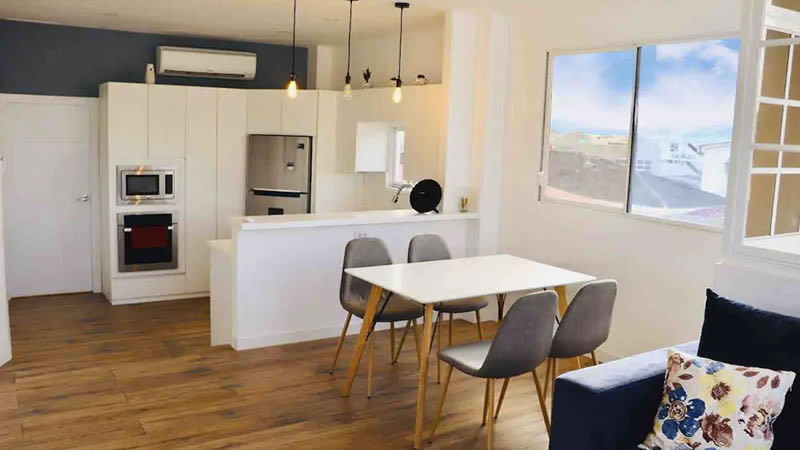 Cozy apartment (top floor) in the heart of Guayaquil 5 min from the airport (2km/ 1mile) and 10 min downtown. Located in a strategic neighborhood surrounded by supermarkets, malls, parks, banks, cafés & restaurants.
Featuring a modern apartment with a cozy balcony for BBQs. 5 minutes away from the main mall in Guayaquil "Mall del Sol".
All amenities are included, such as A/C, wifi, etc. Fully equipped kitchen + water dispenser & coffee, plus private parking!
The apartment has a private entrance. You will love this modern top-floor apartment. Perfect for tourists and business travelers for up to 4 guests with a queen bed and a queen-size sofa bed!
EXPLORE MORE PLACES IN ECUADOR
What places should you visit in Ecuador?
Don't miss the Galapagos Islands, the area of Banos, Cajas National Park, Yasuni National Park, and stop for a few days in the cities of Cuenca or Quito. In the large cities of Ecuador, you can usually find apartments with optic fiber, which means high-speed internet, so they are great for digital nomads. You will find many affordable Airbnb in Ecuador, especially in the capital of Quito, and in the cities of Cuenca, Riobamba and Guayaquil.