19 BEST Things To Do in Wroclaw
Wroclaw is situated only 3 hours away from Krakow and for many visitors it is just a weekend destination, although the city has a lot to offer in terms of places to visit.
Wroclaw is ideal for a romantic couple's break but it's also a great choice for families traveling with children, as you have many interesting activities for the little ones, including a botanical garden and a nice ZOO.
How To Get To Wroclaw
By car: Wroclaw is well connected in terms of infrastructure. You can easily rent a car and arrive from Krakow in 3 hours, Warsaw in 3,5 hours and Dresden (Germany) in 3 hours.
By airplane: Wroclaw Airport is situated just 13 km away from the city center and you can find cheap flights from many European cities. Look for flights using Momondo and you can even find flights starting at 10 Euros from London, Brussels or Oslo.
By public transport: train is an option and also Flixbus.
Where To Stay In Wroclaw
Save money in Wroclaw by staying at an Airbnb!
Get $40 OFF your first Airbnb reservation when you create a new account and you book an apartment for the first time!
Since Wroclaw is a city best discovered on foot, we recommend that you look for accommodation in the Old Town, close to most popular attractions and bars and restaurants. The pedestrian area, museums and parks will all be within a few minutes walking distance and it's definitely the best location to set base while visiting.
We stayed in a studio apartment just outside the Old Town, as we were traveling by car and we needed a place to park. The place is no longer available on Airbnb, but you can find many great options at really affordable prices.
What To Do In Wroclaw & Places To Visit
1. The Old Town
From the market square you should take your time to explore the rest of the Old Town.
You can simply admire the beautiful architecture or you can also visit some of the most important attractions in Wroclaw like St. Elizabeth's Church (the highest church in town) or admire the statue of Aleksander Fredro (a known writer).
2. Dwarf Hunting in Wroclaw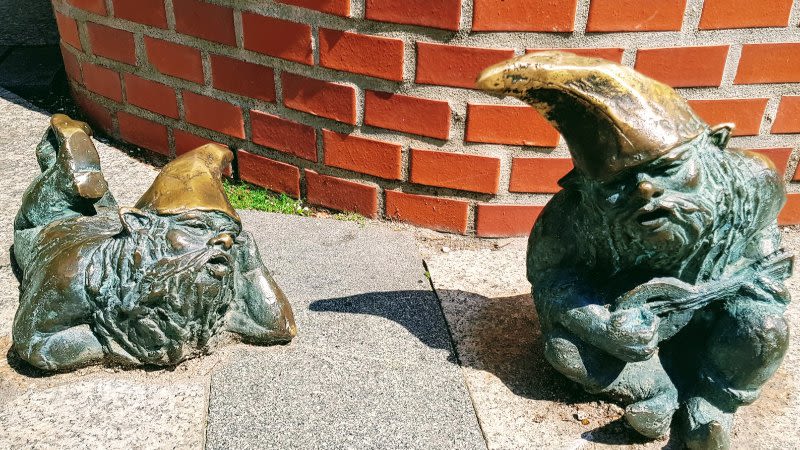 While walking through the Old Town you may notice some small bronze statues, known as the dwarves of Wroclaw. In total there are over 300 dwarf statues and you can also get a map of where you can find them all. But the best thing to do is to try and find them yourself and see how many you can discover by the end of your stay in Wroclaw.
Although for tourists nowadays "hunting" for dwarves is mostly a fun activity, the statues appeared as a symbol of the Orange Alternative movement, an anti-authoritarianism that used satire and irony as way of expression.
The dwarves are situated all over Wroclaw, not only in the Old Town (you can find them also inside some of the places that you can visit).
3. Rynek Market Square
The market square is the heart of the city and should be the starting point of our explorations in Wroclaw. Founded in the 13th century, it is one of the largest squares in Poland and its beautiful buildings have needed a lot of restoration work after being devastated during World War II.
Most big events in Wroclaw take place in the market square, like New Year's Eve celebration, Christmas market and other concerts. Also, the square is home to many restaurants and cafes and it is also buzzing and vibrant, a good place to enjoy a morning coffee and just watch the world go by.
4. Old Town Hall
It is one of the most emblematic buildings in town and nowadays it is also home to the City Museum of Wroclaw, so you can actually go in and visit. The Old Town Hall is a Gothic style building and it was built over the course of 250 years, so it's an impressive piece of history in itself.
The side of the building with the astronomical clock is probably the most attractive and Instagrammable side of the building.
Entrance to the City of Wroclaw Museum is free.
5. Wroclaw Market Hall
Piaskowa 17, 50-359
After all that walking around Wroclaw Old Town, you may want to grab something to eat.
You can head over to the Wroclaw Market Hall where you can find authentic Polish Cuisine and maybe try some pierogis for lunch.
The market is open Monday to Saturday, from 8 AM to 6:30 PM.
You can also buy fresh local produce if you want to cook something at your Airbnb.
6. St. Mary Magdalene Church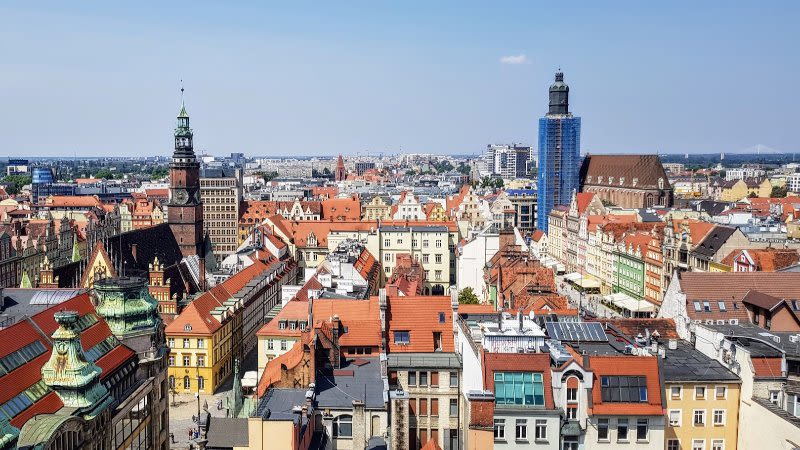 Szewska 10, 50-122 Wrocław, Poland
We visited this church and then decided to climb the 243 steps to the tower, from where we got an amazing view over the Old Town and the city of Wroclaw in general.
The two church towers are connected by a bridge and you can go out on that platform to admire the view.
7. Ostrów Tumski (Cathedral Island)
Just like the name suggests it, you can find a church at almost every corner and out of all, the Cathedral of St. John the Baptist is probably the most important and well known.
It is easy to get to Ostrów Tumski even from the Old Town. You have to head in the direction of the river, cross one of the many bridges and you will discover a pleasant area where you can walk in piece, while admiring this picturesque area with quaint old streets.
8. Cathedral of St. John the Baptist
Another emblematic church in Wroclaw, that you can visit and then also climb to the tower and admire the view.
It costs a bit more than the previous church mentioned by us and it is also more crowded and popular, so we skipped the tower here and we only climbed in the other one.
9. Centennial Hall
Wystawowa 1, 51-618
This structure was built to commemorate the 100th anniversary of the defeat of Napoleon at the Battle of Leipzig, and it was a very expensive building at that time in 1913.
It was renovated in 2009 and it is now a UNESCO World Heritage Site and in the evenings you can see a projection light show on its imposing dome.
10. Panorama of the Battle of Racławice
Jana Ewangelisty Purkyniego 11, 50-155
The Battle of Racławice is of special importance to the Polish people. This battle took place on April 4th 1794 and it resulted in the victory of Poland over Russia.
The painting is something impressive, measuring 15 x 114 m and it is situated in a rotunda where you get a 360 view of this massive work of art.
11. Wroclaw University Museum
The museum is situated in the main building of the university, where you can see various collections dedicated to the university's past.
The building itself can be considered as a piece of art and you can admire the Mathematical Tower, the Baroque Hall and the Music Hall, which is an astonishing room and one of the jewels that you must see in Wroclaw.
12. Royal Palace
Visit a historical museum situated in a historical building, where you can also see an exhibit called "1000 years of Wroclaw", dedicated to the town's past. The Palace has undergone massive reconstruction works after being severely damaged during World War II.
This building is also part of the City Museum of Wroclaw.
Entrance to the permanent exhibition is free.
13. City Boats
If you want to take a break from visiting museums and walking, you can head over to the river where you can take a ride in one of the solar catamarans.
Of course this service is subject to weather conditions, so if you want to try this experience, best to visit Wroclaw in late spring or summer. From the boats you get to see the city from another perspective and since they are using solar energy they are not contributing to the pollution of the river, which is always a good thing.
14. Szczytnicki Park
This is a massive park, which features an impressive Japanese garden. This park has been rebuilt several times, just like many other points of interest in Wroclaw, after being destroyed during the wars.
Nowadays it is the largest park in Wroclaw and also the most appreciated by locals and tourists alike. Come here to relax or to escape the hustle and bustle of the city center. Lots of old trees, bridges, lakes and playgrounds for kids.
15. Wyspa Słodowa Park
Situated only a few steps away from Cathedral Island, on another island in the middle of the river, this small park can be the perfect place to chill and relax after a day of walking and discovering Wroclaw.
This place is popular with students and it's a really nice vibe here when the weather is good and locals come to enjoy the sun and the nice views. From the Old Town it takes only a few minutes to get here, so it's a quick way to escape the noise and the crowds on a busy weekend day.
16. Multimedia Fountain
Wystawowa 1, 51-618
The multimedia fountain has been inaugurated in 2009 and it is one of the main attractions in Wroclaw during the warm summer nights. It has an amazing show with 800 programmable lights and it attracts many locals, as well as tourists.
The Multimedia Fountain is functional between May and September, depending on weather conditions. There are daytime shows between 10 AM and 5 PM at the start of every hour and night shows from 6 PM to 9:40 PM.
Places To Visit With The Kids In Wroclaw
17. The Botanical Garden
When you are in Ostrów Tumski you can also head over to the Botanical Garden, the second oldest of its kind in all of Poland.
It is best to visit the garden in summer, when you can see many flowers in bloom. The garden is divided in different regions and areas and it can prove to be a way to relax and recharge your batteries.
The Botanical Garden is maintained by the University of Wroclaw and it is really beautiful and most visitors are impressed by what they discover here.
18. Wroclaw ZOO
You may be surprised to learn that the zoo in Wroclaw is not only the largest, but also the oldest and most visited in all Poland.
This zoo has almost 1400 species and their number increases each year, with the addition of new animals.
Visiting the zoo is a great thing to do with the kids in Wroclaw and it can be a full day out which the children will remember for a long time.
19. Kolejkowo - Miniature Model Railway
If you want to see the largest railway model in Poland, you've come to the right place! As you might have already seen, Wroclaw is a destination that excels in terms of attractions and things to do and Kolejkowo can be one of the many highlights of your trip, especially if you a fan of model trains or if you are traveling with kids.
Kolejkowo is located in one of the oldest railway stations in Wrocław, less than 1 km away from Wrocław Market Square, so you can easily come here on foot if you stay in the Old Town.
Best Time To Visit Wroclaw
Best months to visit Wroclaw: June, July and August
Warmest month of the year: July
Coldest month of the year: January
Month with most precipitation days: July
If you want to enjoy Wroclaw on warm weather and be able to walk around the parks comfortably, we recommend that you visit during the summer months.
Between Mid May and August the weather should be warm and sunny, with long days and average high temperatures that range between 22.2°C (72 F) and 24.3°C (75.7 F). The summer heat also comes with a higher risk of rains, since June and July are the months with the largest amounts of precipitation over the course of the year.
Still, summer is the most popular time to visit and the city will be more crowded, especially during the weekends, when people from Poland come here for short weekend breaks.
Besides summer, we also recommend a visit in December during the holiday season, to participate in the Wroclaw Christmas Market, one of the most charming events of its kind in Poland.