10 Best Airbnbs in Zanzibar: Unique Beachfront Places to Stay (Tanzania)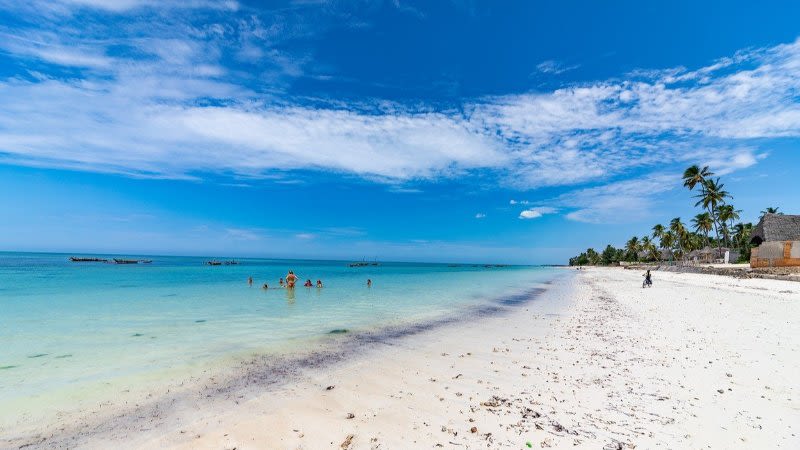 Looking for the best places on Airbnb in Zanzibar? If you're planning an exotic holiday on the tropical island of Zanzibar, then you should know that the months of July and August are the ones with the least amount of precipitation, although the destination is very popular during the winter months of the Northern hemisphere, when lots of Europeans are looking to escape the low temperatures and the snow back home.
Zanzibar is home to lots of amazing beaches, which is the main reason why visitors come to relax on the island, sometimes before or after going on safari in one of the National Parks in Tanzania.
Of course, there are some great hotels and resorts in Zanzibar, but if you're looking for something more private or you're looking to stay in Zanzibar for longer than one or two weeks, you can look for an apartment, a bungalow or a villa, depending on your budget and how much space you need.
We have selected some of the best apartments and villas in Zanzibar, available to rent on Airbnb from reliable hosts (with Superhost status on Airbnb). All the places on our list also have Wi-Fi, which can be useful if you plan to work remotely from Zanzibar during your stay.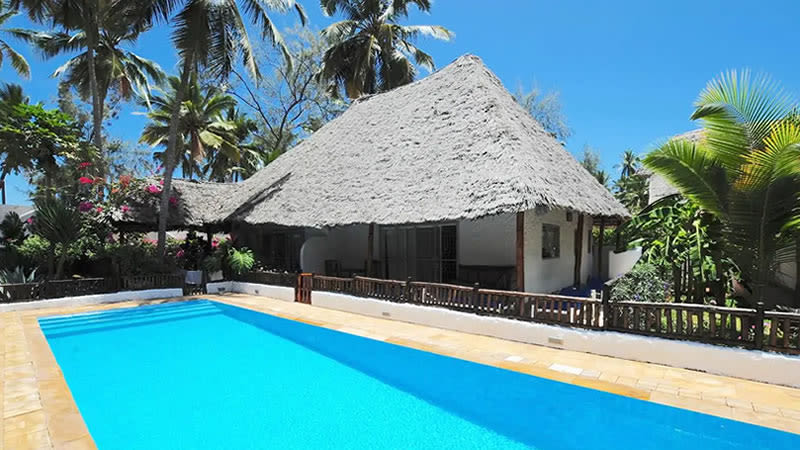 Villa Furaha is part of a group of 5 bungalows, build around a swimming pool. Each bungalow is a privately owned house, with its own entrance and private outside sitting area. Only Villa Furaha is a holiday home, the other 4 bungalows belong to Italian residents, working and living on Zanzibar island. The swimming pool is the only shared area.
The bungalow is located only 10 meters away from the beautiful Indian Ocean.
Check price & availability on Airbnb
This unique, exclusive hideaway is for travelers who are looking for high comfort and a place to stay in Zanzibar that is private and located in a relaxed surrounding. The villa is tastefully designed with an oriental style interior, build by local craftsmen. The property is located right on the beach, surrounded by a tropical garden and offering a fantastic view of the crystal blue Indian Ocean.
This is a large villa, perfect for family holidays in Zanzibar, offering 4 bedrooms and 3 bathrooms.
If you are looking for a luxury villa in Zanzibar with some local charm as well, this might be the perfect place for you.
Check price & availability on Airbnb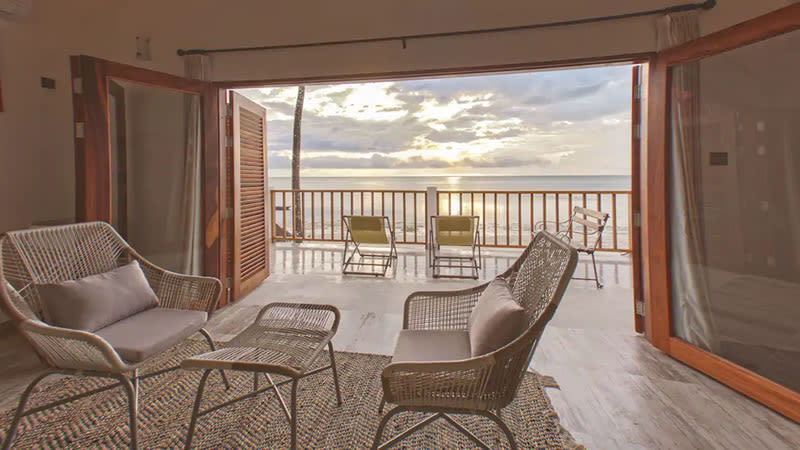 Asali beach house is a four-bedroom house on the beach with a breathtaking view of the Indian ocean in the peaceful village of Jambiani. Views of the white sandy beach can be enjoyed from every room in the house. Guests will also enjoy a swimming pool in the comfort of their own private courtyard. Services include a house manager, daily cleaning, chef, laundry, free WiFi, and airport transfer.
Paje, the world-renowned spot for kite surfing, is only 2 km from the house.
Check price & availability on Airbnb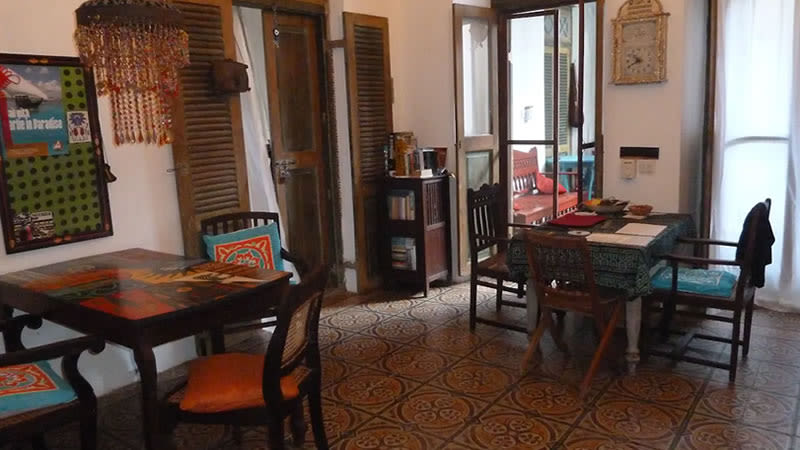 The apartment, 1st floor, is situated in the lively Stone Town. It is nicely decorated and furnished. All doors and windows have mosquito netting.
It has a kitchen/living room with a gas cooker and oven, boiler, fridge and microwave.
Two balconies, one inside and one looking out over lively Gizenga street. Staying here will be a real cultural experience, experience the local way of life in the capital of Zanzibar.
Check price & availability on Airbnb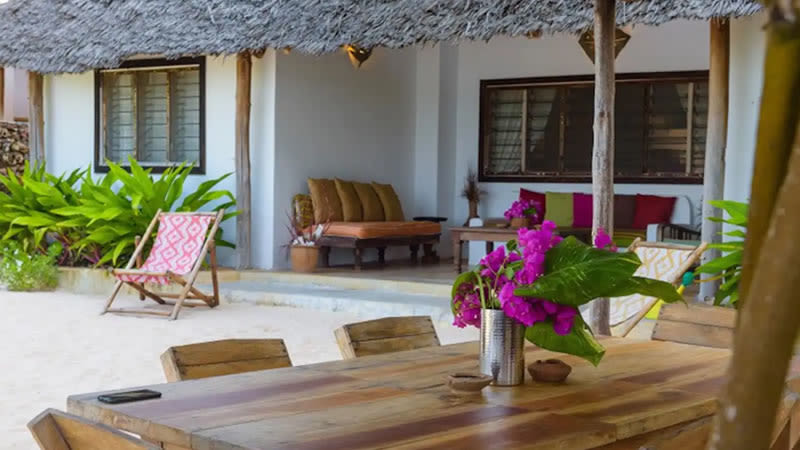 The villa is situated directly on one of the most beautiful beaches in the world.
The front veranda faces a small private beach with sunbeds and a gazebo. The back of the house is a service space for your barbecue and laundry.
The villa can accommodate up to 6 people, so it is ideal for families or groups of friends travelling to Zanzibar.
This beach house has great reviews from all people who have stayed here until now and it has a top location, right on a fabulous beach, with white sand and turquoise water.
Check price & availability on Airbnb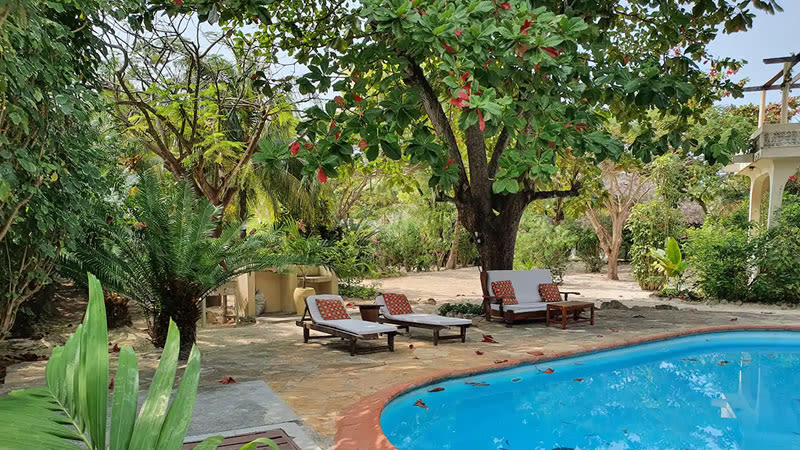 A cottage in the heart of a tropical garden with a kitchenette and bathroom. It offers full privacy and access to a pool, as well as wifi and a free laundry service. This space is a delight for a couple looking for a home away from home and calm.
The price includes wifi, laundry and cleaning services.
This cozy cottage is in a lush garden with a swimming pool, only moments away from the beautiful east coast beach in Paje. The exotic surroundings and birdlife offer tranquility and a retreat from the buzz on the beach.
An additional mattress can be added for children.
Check price & availability on Airbnb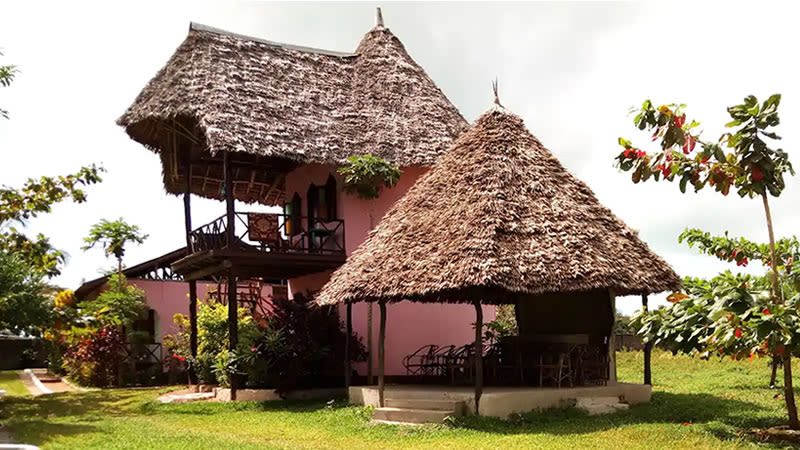 Large bungalow located in a peaceful place, furnished in a style specific to Zanzibar, the bed has a mosquito net, plus a spacious bathroom with shower.
At SAZANI BUNGALOWS, you will enjoy the great view of the very beautiful garden. In the daytime, you can take a short walk to the wonderful private beach. During the evening you will see many fireflies and many stars.
This Airbnb bungalow comes at a really affordable price, with a great quality-price ratio, so it is ideal for those looking for a budget-friendly holiday in Zanzibar.
Check price & availability on Airbnb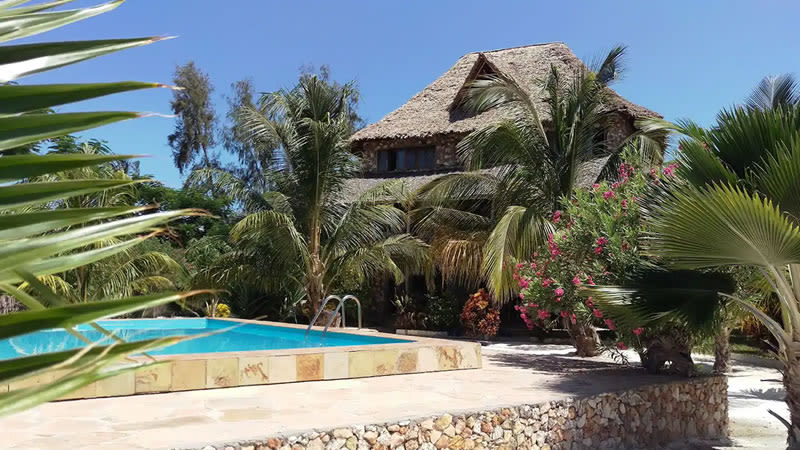 The cozy one-bedroom apartment offers a living area with scenic views over the whole beach bay, a fully equipped kitchen on the second floor and one en suite bedroom (with tailor-made king-size beds, mosquito nets, air conditioning and ceiling fans). On the ground floor, you have access to the terrace, which leads into the lush garden with pool.
The Kimurimuri Villa features a total of three separate apartments. Thus, facilities will have to be shared with fellow guests. However, the property is very private and spacious.
The lush tropical garden invites guests to relax and to do simply nothing. The deepwater pool is an excellent place to have a dip to cool down, relax with family, or simply unwind in the peaceful surroundings.
Check price & availability on Airbnb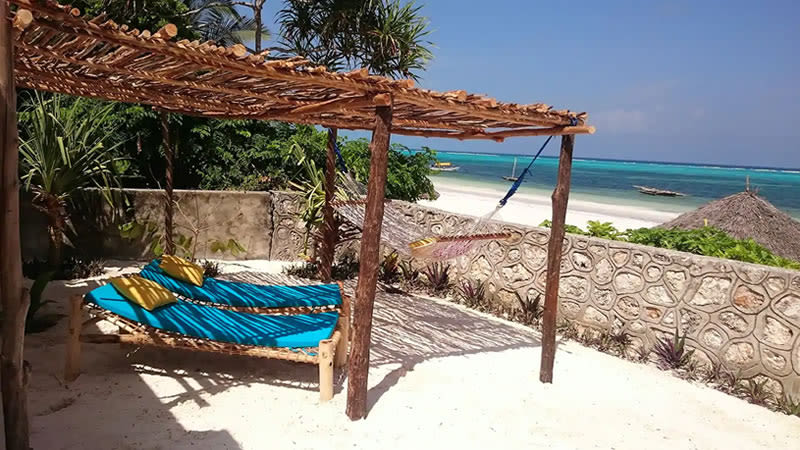 Self-contained villa, self-catering, two spacious bedrooms featuring AC and ocean view, two bathrooms, open plan living rooms and fully equipped kitchen. Private area with a porch overlooking the Indian ocean, the main attraction for visitors in Zanzibar. Many spots to relax, coach on the veranda, hammock, sunbeds on the beach.
2 big en-suite bedrooms with wardrobes, ceiling fans, air-conditioning, mosquito nets
Private beach with sunbeds and umbrella on public beach
Equipped kitchen
Outdoor grill
Parking spac
Outdoor open shower
Check price & availability on Airbnb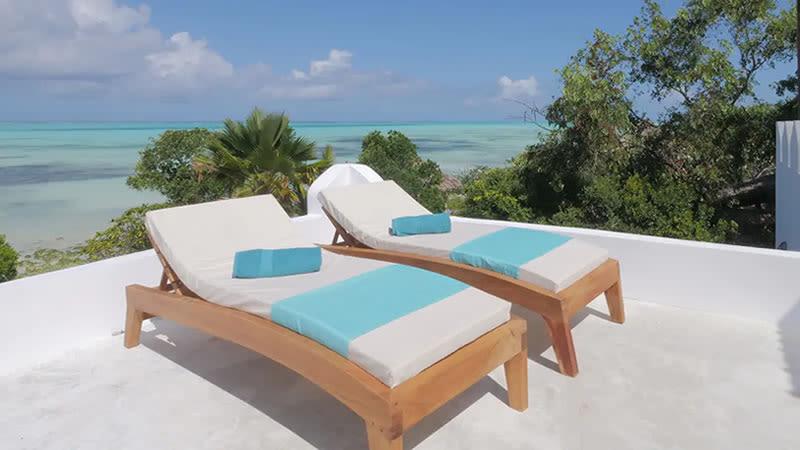 Recently built loft apartment facing one of the most beautiful beaches in Zanzibar. The apartment is situated within walking distance from many local and international Restaurants & Bars.
The Loft includes 1 Super King Size bed, modern kitchen, bathroom and 2 balconies of 40 sqm. Private access.
Check price & availability on Airbnb
SEE ALSO