13 Best Airbnbs in St. Barts - Unique rentals in Saint Barthélemy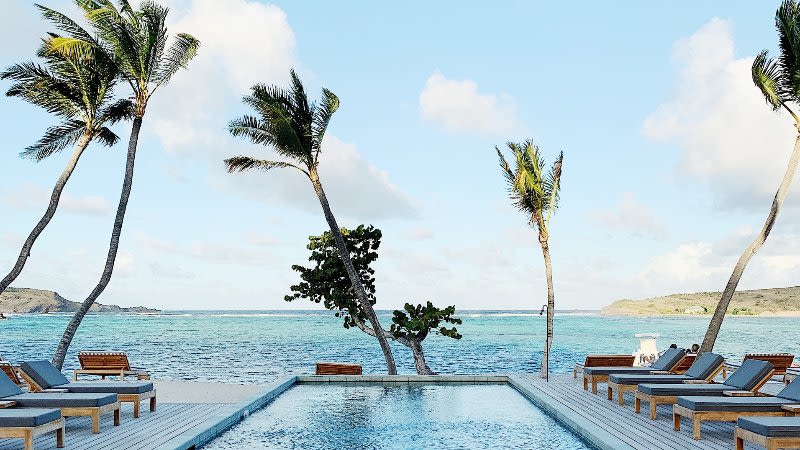 St. Barts is a tropical paradise in the Caribbean, perfect for warm vacations during the winter months. If you're looking for the best Airbnb in St. Barts we've put together a list of the best villas and apartments, perfect for a getaway in the sun.
St. Barts, also known as Saint Barthélemy, is part of the Leeward Islands in the Lesser Antilles. It covers an area of ​​21 km2 (24 km2 with its islets), it is located between the island of Saint Martin and the islands of St Kitts and Nevis (Saint Christophe and Niévès) to the southwest and the island of Barbuda to the south -East. Saint Barthélemy is situated 25 km east of Saint Martin and 200 km northwest of Guadeloupe.
As an overseas collectivity of France, the currency in St. Barts is the Euro (€).
Saint Barthélemy is actually an archipelago, which include several islets: Chevreau Island, Coco Island, Fourchue Island, Frégate Island, Tortoise Island, Le Boulanger Island, Les Grenadins, Pain-de-Sucre, Pelée Island, Petit-Jean Island, Toc Vert Island.
The capital of St. Barts is Gustavia, a charming little town with colorful wooden houses and red roofs that climb above the hillsides and follow the contours of the harbor. You can take a walk along the shore, from where you can admire some of the most luxurious yachts in the world. The streets of Gustavia are the perfect representation of an authentic Caribbean town, with its typical small huts built from stone and wood, also mixed with the air of a French town located in the tropics.
We have selected some of the best apartments and villas in St. Barts, available to rent on Airbnb. These are some of the most unique places to stay in St. Barts, available for private rental from reliable hosts (with Superhost status on Airbnb). This means that these places are rented by hosts who have great reviews, they offer exquisite services and lots of amenities, that will guarantee a perfect stay in St. Barts.
Our recommendations for the best Saint Barthélemy Airbnbs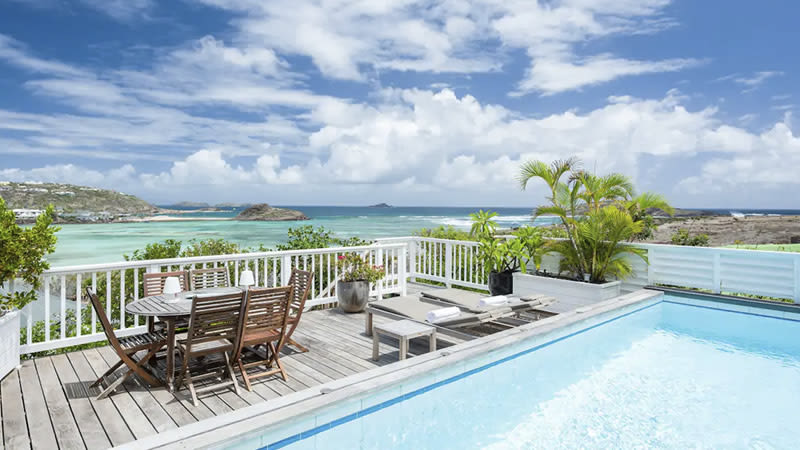 Experience true relaxation in a luxurious home in St. Barts with an amazing ocean view. This home is surrounded by a majestic natural decor and you can admire the views from all around. Find yourself immersed in nature, an ideal retreat for honeymooners & friends, a superb ocean home in St Barth.
This spacious, ideally located ocean home offers a stay beyond your imagination. Considering the facilities of this place, this St. Barts villa is perfect for honeymooners. The villa has a spacious living room and an outdoor deck, a small but equipped kitchen and a bedroom fit for couples.
Check price & availability on Airbnb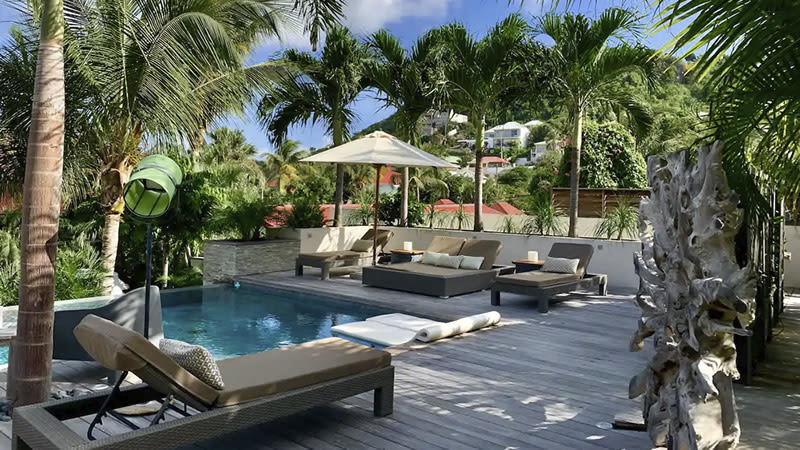 This charming cottage is located next to the host's house, set in a paradisiac tropical garden. You can access the swimming pool, soak up the sun and relax. Located 5 minutes' walk from the beach.
The Ohana 2 cottage is fully equipped, bathroom with walk-in shower, fitted kitchen opening onto the lounge area, mezzanine bedroom with Queen bed, private outdoor terrace and access to the swimming pool. This is one of the nicest cottages for couples in St. Barts.
Check price & availability on Airbnb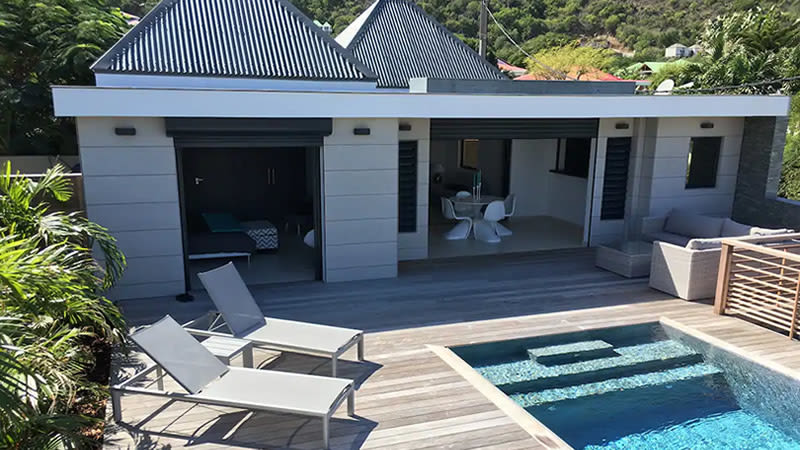 A new contemporary villa in St. Barts, with an infinity mirror pool, is ideal for honeymoon couples. It is located a 5-minute walk to Grand cul de Sac and Petit Cul de Sac beaches.
Villa Alpha is a one-bedroom villa composed of a living room with a home cinema system 5.1 Bose. The outdoor terrace is the perfect place for relaxation, fitted with garden furniture and deckchairs, so you can fully enjoy the sunny weather in St. Barts.
Check price & availability on Airbnb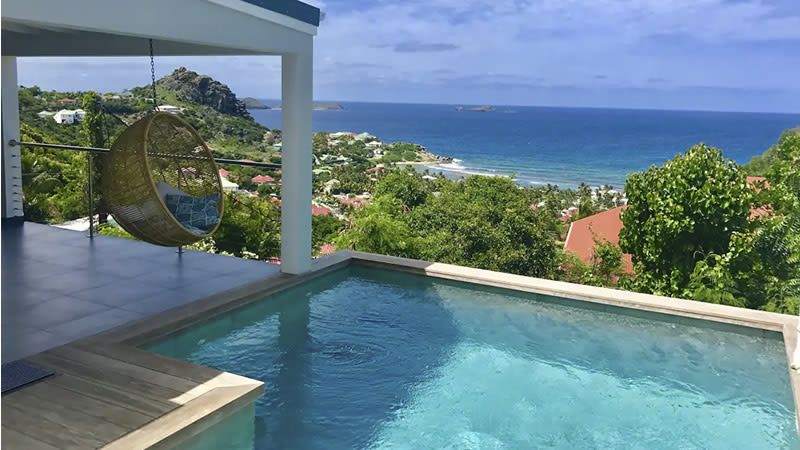 RIDE is a 2017 villa located on the hilltop of Anse des Cayes offering a beautiful sea view. It is certainly one of the best Airbnb villas in St. Barts, located only 5 min driving from the beach in Gustavia, the island's capital.
It offers quiet and privacy while remaining close to everything. The villa can welcome 4 guests in 2 bedrooms, each one having its own private massive bathroom. The villa is also accessible to people with REDUCED MOBILITY thanks to its one level access.
Check price & availability on Airbnb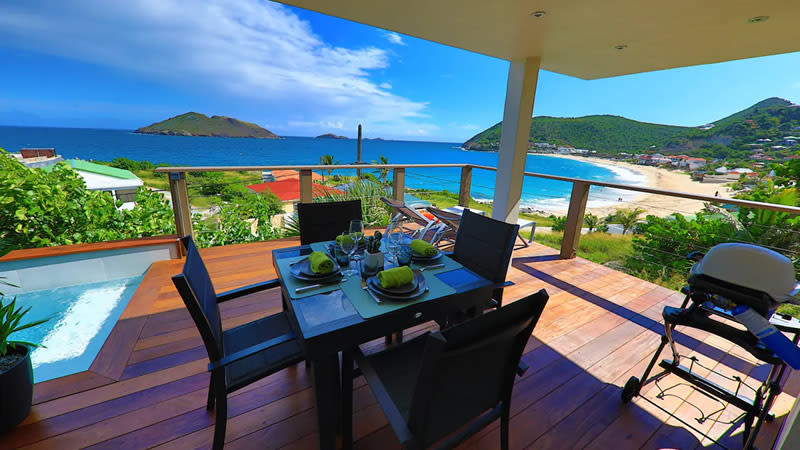 ETOILE DU NORD is located opposite a beautiful beach, Plage des Flamands and you can enjoy the stunning views of the beach from your own private terrace.
The villa is modern, functional, ideal for couples, as well as families with children who will appreciate the independence of the second bedroom located on the lower level.
The beach is right across the road, so if you decide to stay in this amazing Airbnb in Saint Barthelemy you will always be just 2 minutes away from the beach.
Check price & availability on Airbnb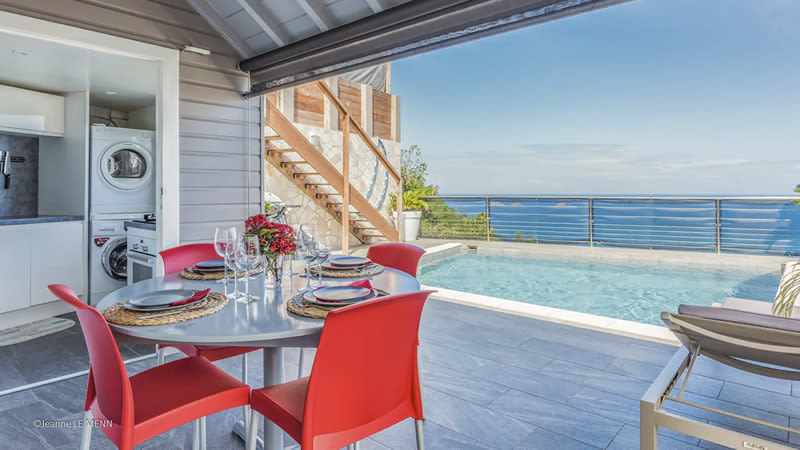 Spend your vacation at Villa les Ramiers, one of the top Airbnbs in Saint Barthelemy, where the sun accompanies you from sunrise and throughout the day.
The villa is independent, not overlooked, the kitchen is overlooking the pool, and you'll also have a top-deck to enjoy the sun and a large bedroom overlooking the covered patio.
Located on the heights, it has breathtaking views of the sea. Private parking available next to the Villa.
Check price & availability on Airbnb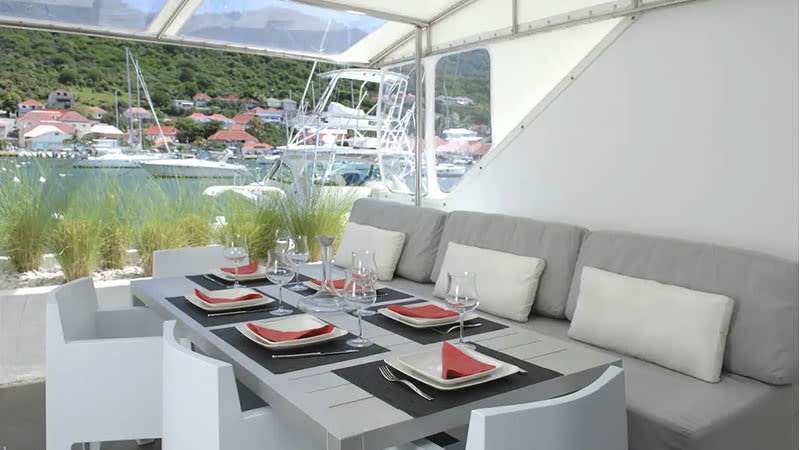 The villa has a covered terrace with a nautical feel and it is literally located 'in the harbor'.
Guests can dine and relax while watching the yachts glide into port. The contemporary decor is carried through to the European-style. The bedrooms are privately situated into the tri-level configuration. This is the best villa in Gustavia for those who prefer to be in the city, with only a short walk necessary to get to most restaurants, shops and the popular Shell Beach.
Check price & availability on Airbnb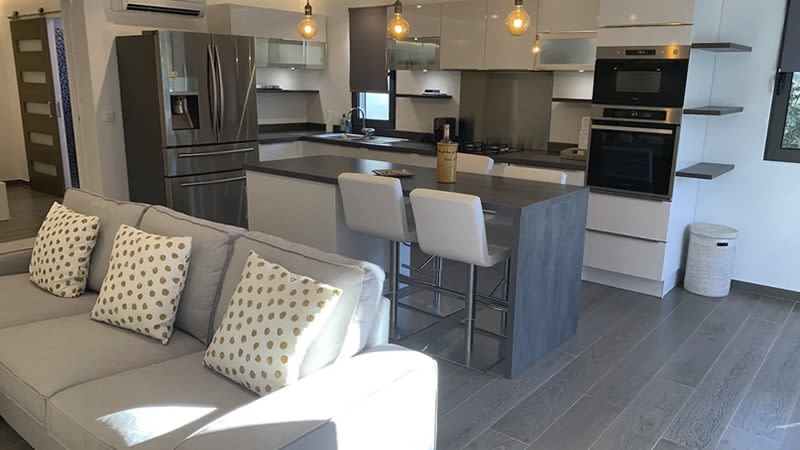 Beautiful new apartment of 60m² located in Camaruche, a very central area of St. Barts, located just 1-minute drive to Lorient Beach and 15 minutes away from Gustavia.
The ground floor apartment has private parking, an open living room and kitchen, a separate bedroom with a large dressing room, bathroom with a shower and toilet. Wifi. This is a fully equipped and very functional apartment, a great place to stay for couples in St. Barts.
Check price & availability on Airbnb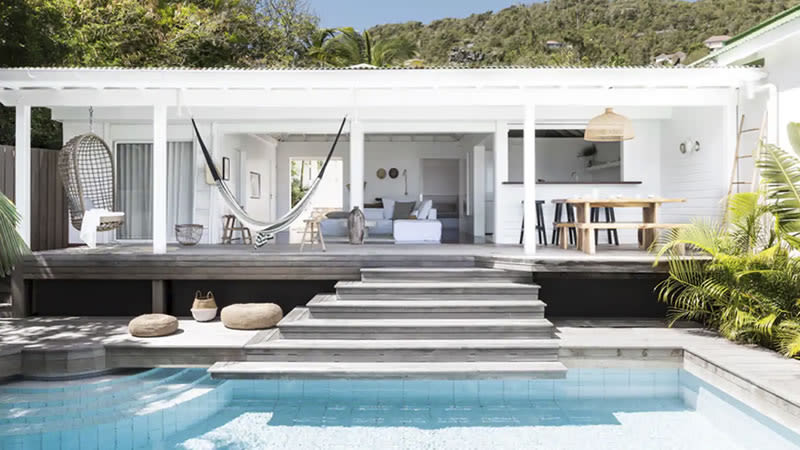 Villa Palmier is a stunning 2 bedroom, 2 bathrooms newly renovated Airbnb villa in Anse Des Cayes, one of the best areas of St. Barts. It is a designer's dream villa, having just been featured in the July/August issue of Elle Decor France. With ocean views from every room, a constant sea breeze blowing throughout, and your own private pool, it's the perfect beach retreat.
Personal touches and attention to detail are found throughout the house, starting with the softest linens and the spacious open-air kitchen featuring a Lacanche range. The neighborhood of Anse Des Cayes is conveniently located, less than a 5-minute drive to Gustavia, St-Jean, and Flamands.
The exterior of this unique Airbnb villa in St. Barts has a stunning view looking out onto the lush bay of Anse de Cayes, one of the island's surfing beaches.
Check price & availability on Airbnb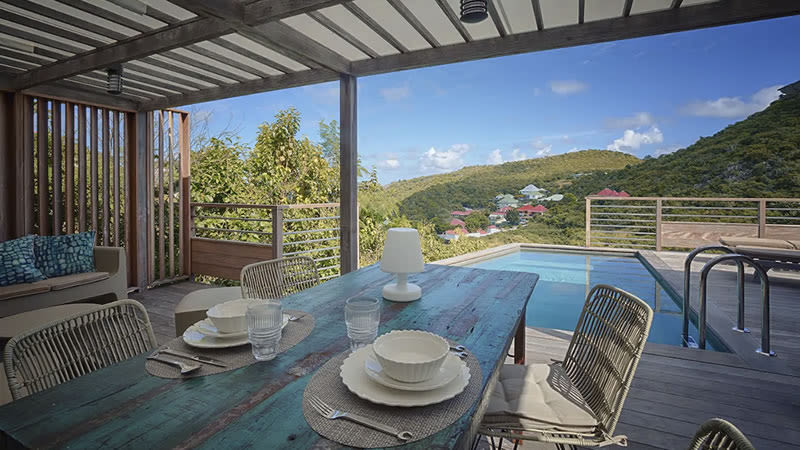 A beautiful sea view welcomes you to Villa Ti Lama. This one-bedroom villa is composed of two very nicely decorated units, perfect for private couple's holidays in Saint Barthelemy.
The large room is air-conditioned and independent. The poolside terrace with the sea view calls for rest and relaxation.
The hotel Cheval Blanc, St Barth, is located a few hundred meters from the villa Ti Lama and you also have quick access to some of the top restaurants on the island.
Check price & availability on Airbnb
SEE ALSO
FAQ about where to stay in St. Barts (Saint Barthélemy)
Where is St. Barts island located?
St. Barts is a popular island for luxury vacations in the Caribbean Sea, in the Lesser Antilles, close to the island of Saint Martin.
Which are the most popular areas to stay in St. Barts?
If you're wondering where to stay in St. Barts, you should know that some of the most popular areas are Anse de Cayes, Grand-Cul-de-Sac and also Gustavia, the island's capital.
Should you stay in an Airbnb in St. Barts?
Renting a private villa in St. Barts is quite popular and the best way to ensure a private and relaxing vacation on this luxurious tropical island. There are a lot of luxury villas in St. Barts and the island is still developing, due to the high demand for private rentals.