13 Best Airbnbs in Punta Cana, Dominican Republic (Villas & Apartments)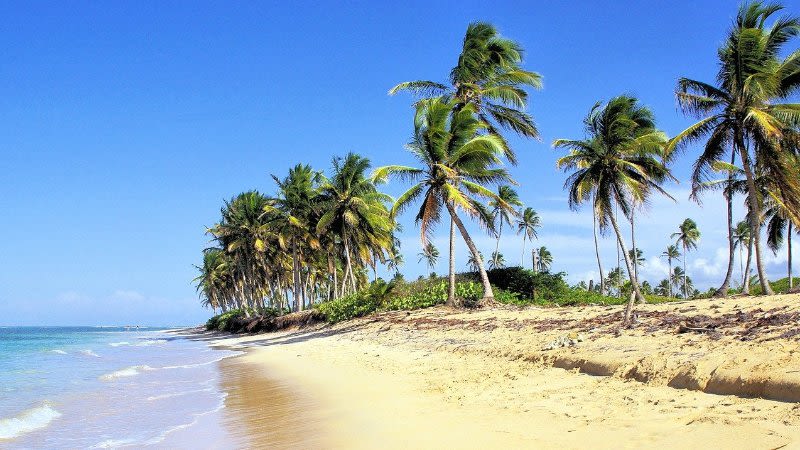 Punta Cana is the best place in the Dominican Republic for an exotic vacation, where you can enjoy white sandy beaches and the wonderful water of the Caribbean Sea. If you want to stay somewhere private, away from the crowded resorts, see our list below for the best Airbnb villas in Punta Cana.
La Altagracia is the most popular province in the Dominican Republic in terms of tourism, with Bávaro and Punta Cana being the favorites among international visitors in the country.
We have selected some of the best apartments and villas to rent in Punta Cana, available on Airbnb. These are some of the most unique places to stay in the Dominican Republic, close to the best beaches, with amazing views of the Caribbean sea and offering a great variety of facilities. These Punta Cana Airbnbs are offered by Superhosts, so you can expect the best hospitality services, cleanliness and amazing amenities.
Our suggestions for the best Punta Cana Airbnbs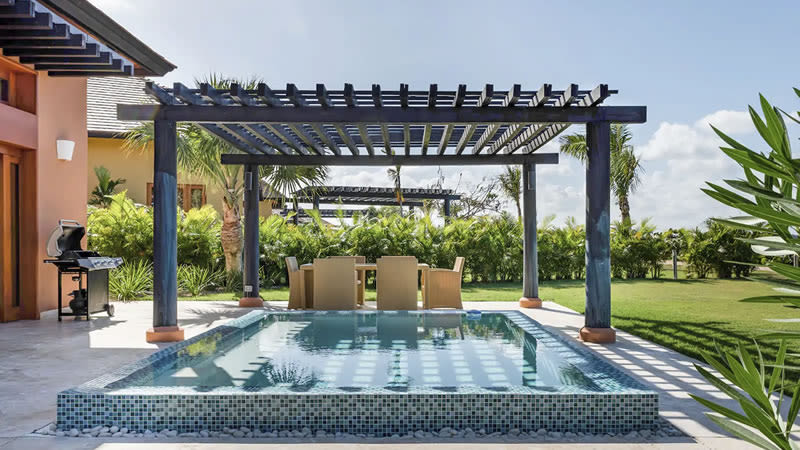 This stand-alone bungalow has its own private world, set in a verdant garden of native greenery. You can enjoy the morning breeze on the terrace and you can take a dip in the pool when you want to cool down.
This Airbnb rental is ideally located close to many sites, attractions, the airport and the community is very safe.
Check price & availability on Airbnb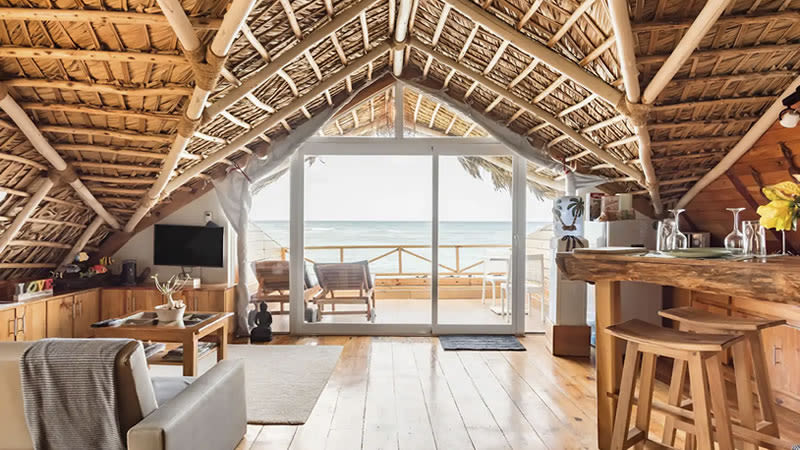 Get back to basics in a grass-roofed hut surrounded by palm trees and the fine sand of the Caribbean.
Spend days sunbathing on the deck, mesmerized by the endless blue horizon. Interior furnishings are mostly locally crafted and perfectly compliment the bohemian off-grid vibe.
The hosts will give you extensive information about the house, Punta Cana and the Dominican Republic in general. Varied breakfast is included in the price. This is one of the best Airbnbs in the Punta Cana area, with many raving reviews and a gorgeous view of the Caribbean sea.
Check price & availability on Airbnb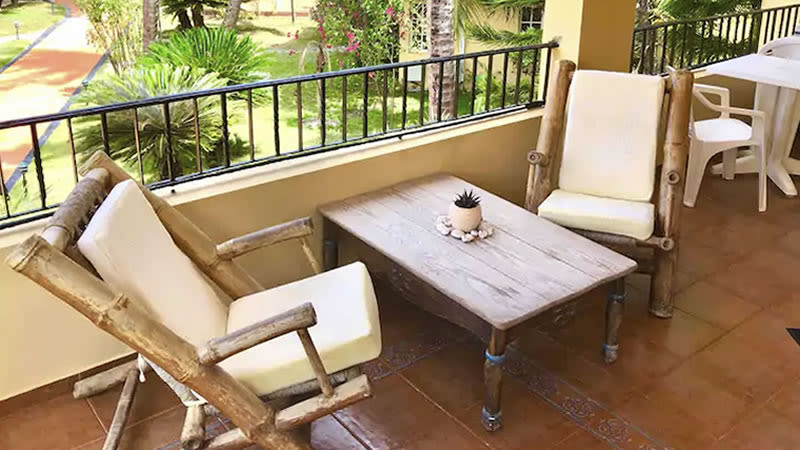 If you are looking for a clean, quiet and convenient beachfront apartment on Bavaro beach - Punta Cana, this is your destination.
1 Bedroom, 1 bathroom apartment with a beautiful view to a tropical garden. The complex is directly on the beach with its own private access to the private beach.
22 steps walking out of your front door and your feet will be in the sand. This great Airbnb apartment in Punta Cana also offers 2 major perks: private beach chairs and umbrellas exclusively only for guests.
Private beach
Free chairs and umbrellas
Maid service
Check price & availability on Airbnb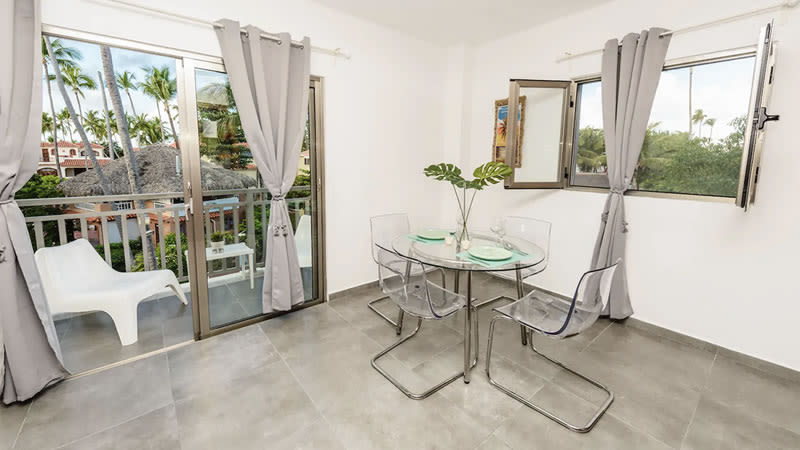 The apartment is modern and cozy, it has access to a private exotic beach in Punta Cana, where you also have included the sun loungers and umbrellas.
Inside the complex, there are restaurants, bars, a mini-market and an excursion office. The price also includes a welcome pack with bottles of water, coffee, among other amenities, plus in the apartment, there is high-speed Wi-Fi and cable TV. You will have a large balcony with beautiful views of the residential area.
The residential area is quite safe and is surrounded by beautiful gardens.
Check price & availability on Airbnb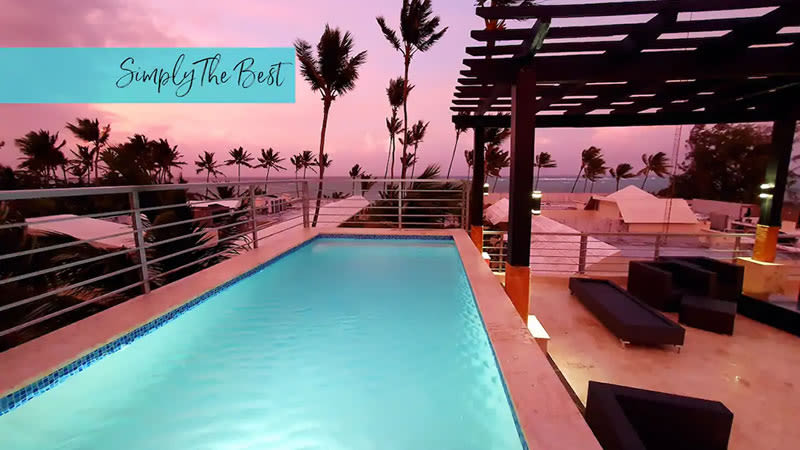 Stay in Punta Cana in an Airbnb luxury penthouse, located on the beach and offering a breathtaking ocean view. The penthouse also has its own private pool.
Building Name: Chateau del Mar
Nice white beach sand
It's less than 1-minute walking distance from the beach
Free Internet Wi-Fi
It's 20 minutes from the airport and 5 minutes walking from the supermarkets and restaurants.
Check price & availability on Airbnb
The apartment is huge and has access to a private beach where you will have chaise lounges and umbrellas.
The apartment is very quiet, huge and cozy. The whole place has 114.3 m2 / 1230 ft2 and is equipped with everything. The beach is a few steps from the apartment and the hosts include umbrellas and sunbeds for you to enjoy Punta Cana to the fullest!
Check price & availability on Airbnb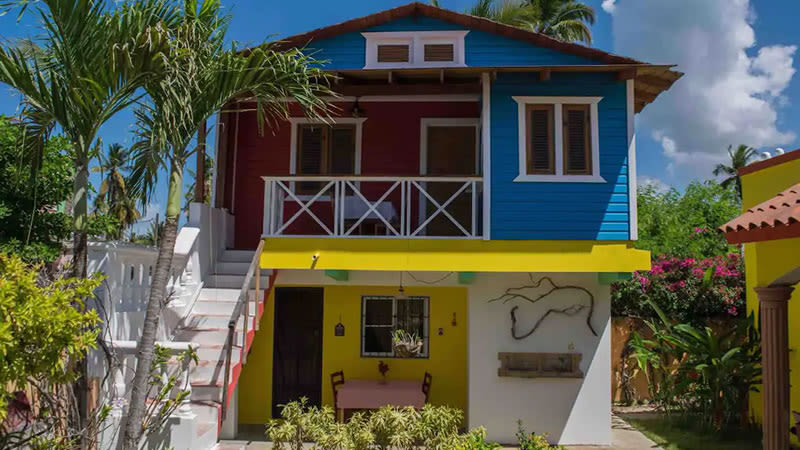 Small studio in a tropical garden family environment, located just 5 min walking distance from the beach and 1 minute from the restaurants and bars.
This studio has all the comfort, a private bathroom, hot water, queen bed, SMART TV.
This Punta Cana Airbnb is actually part of a family house, being a small bungalow ideal for couples. You can enjoy the garden and the kitchen is fully equipped with a stove toaster fridge, coffee maker, microwave, blinder and washing machine.
This small guesthouse is also a very affordable Airbnb in Punta Cana, perfect for visitors who are looking for a budget place to stay, while still being a few minutes away from the beach.
Check price & availability on Airbnb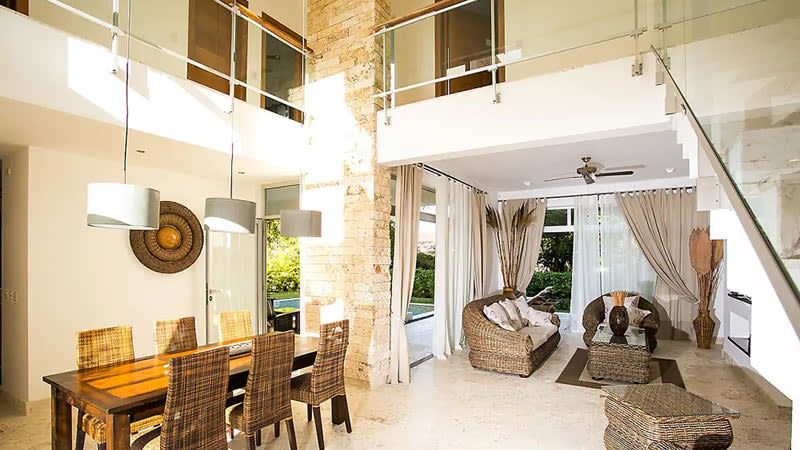 If you're searching for the best luxury Airbnb in Punta Cana, take a look at Villa Drago, a luxury home, decorated with a tropical theme, the perfect place for accommodation and pleasant rest in Punta Cana Village.
Located in a private community with 24 h. security, the villa is within walking distance of the supermarket, shopping, parks, playground, tennis courts, restaurants and just a few min drive from the airport, 5 min drive to the golf course, beach bars, private access beaches, and Ecological Reserve with natural lagoons.
Check price & availability on Airbnb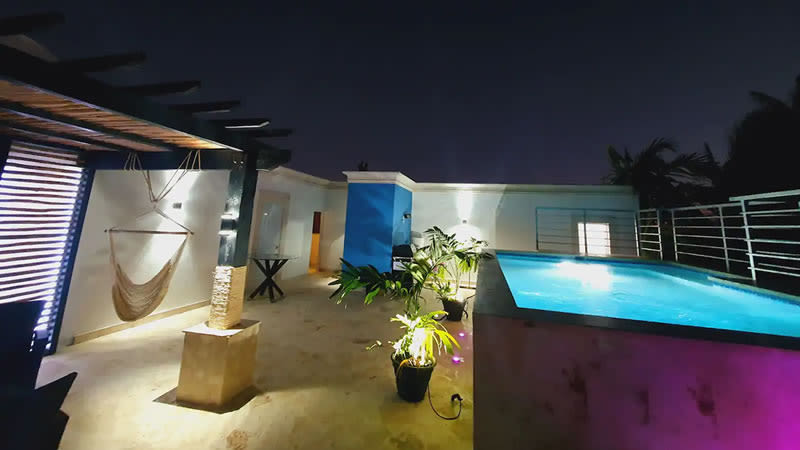 Spend your vacation in the Dominican Republic in this two-bedroom penthouse, a beautiful residence located 1 minute's walk from the beach.
This Airbnb apartment is located in Punta Cana (Bávaro) and as a penthouse, it has 2 stories that you will enjoy: the upper floor has a large and private terrace with your own private pool, BBQ area, sun deck with loungers with a beautiful pergola, surrounded by coconut trees, while the lower floor has 2 bedrooms, 2.5 bathrooms, good internet connection, dining area, fully equipped kitchen. It is within walking distance are shops, cafes, restaurants, pharmacies, SPA.
Check price & availability on Airbnb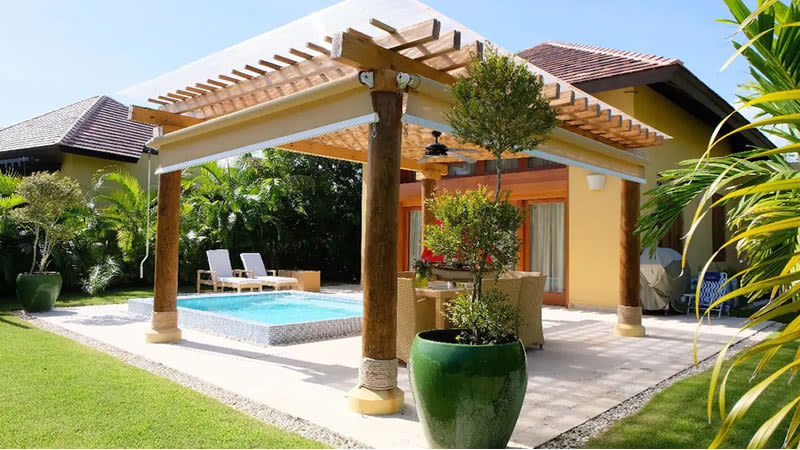 Stay in an elegant villa in Cap Cana, comfortable and in great condition, ideal for couples since it has a one-bedroom, private pool, jacuzzi and outdoor shower.
This villa is ideal for romantic vacations in the Dominican Republic, with an open design and just spacious enough for couples. It is located 5 minutes from beautiful beaches and a few minutes from the Punta Cana International Airport. Excellent to spend a spectacular vacation in a Paradisiac place; enjoying good food, beaches and a good atmosphere.
Check price & availability on Airbnb
SEE ALSO