15 BEST Things To Do in Plovdiv - Bulgaria's Second Largest City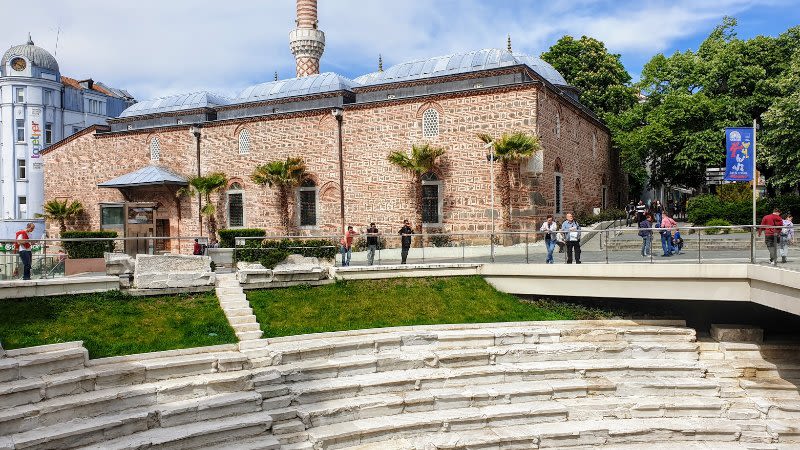 We visited Plovdiv during a family trip for Easter 2019 and we had a wonderful time discovering the city's vibrant atmosphere, even on Easter Sunday, when we expected everything to be closed and the town to be empty and quiet.
My partner and I became interested in visiting Plovdiv after we read that it was European Capital of Culture in 2019 (along with Matera in Italy) and so we quickly decided to spend a few days in the region during the Orthodox Easter Holiday. Bulgaria is an Orthodox Christian country, so it was also a chance for us to see a bit of the local traditions associated with this religious event.
We have visited Bulgaria many times and although we've enjoyed discovering cities like Stara Zagora and Veliko Tarnovo, we weren't expecting to love Plovdiv so much. We found a youthful city (despite its long history), still unknown as a travel destination, but with a lot of potential.
How To Get To Plovdiv
Plovdiv Airport: the city has a small airport, but there aren't many flight options. Low cost company Ryanair has some flights to Plovdiv from UK, Italy and Belgium, but the reality is that you won't have many options in terms of flying directly to Plovdiv.
By car from Sofia: Sofia is less than 2 hours away from Plovdiv and you can rent a car and explore on your own if you want.
Day tour from Sofia: There is a great full-day tour of Plovdiv and Assen's Fortress from Sofia, which will take you to visit the best sights in Plovdiv and then you will continue your trip to Asenovgrad, where you will visit one of Bulgaria's most important fortresses.
Where To Stay In Plovdiv
We recommend that you look for accommodation in the city center or close to the neighborhood Kapana if you are planning to party in Bulgaria's second-largest city.
Plovdiv is also becoming a popular destination for digital nomads, so in this case, an apartment across the river from the city center might be a better option. There are quite a few co-working spaces in Plovdiv today but the most popular ones are Otsreshta and Biz Labs HQ. We have a list of the best Airbnbs in Plovdiv, all offering free and fast Wi-Fi, plus great services and amenities, since they are offered by recognized Superhosts on the platform.
What To Do During A Weekend City Break in Plovdiv
Plovdiv is a great destination for a city break, as you can easily discover its most important attractions in just 2 days, if this is all the time you have.
You can spend some your time visiting some of the most important cultural attractions related to Plovdiv's history (like the Roman Forum or the Regional Ethnographic Museum), you can simply wander around the streets aimlessly discovering the cool street art, or you can do a pub crawl during the day and then party all night long in Kapana's many night clubs.
Day Trips From Plovdiv
If you are staying in Plovdiv for more than 2 days you have a lot of options for day trips in the region.
Koprivshtitsa - a small historic town situated 90 km away from Plovdiv.
Asenovgrad - just 20 km North of Plovdiv, where you can visit the ruins of Assen's Fortress and then go to Bachkovo Monastery, the second largest monastery in Bulgaria.
Rila National Park - 100 km away from Plovdiv, you have the largest national park in Bulgaria, where you can hike Musala Peak, the highest summit in the Balkan Peninsula or you can do the famous Seven Rila Lakes hike, where you go around 7 amazing glacial lakes (recommended only during the summer months).
What To Do in Plovdiv
1. Walk on Plovdiv's main pedestrian street - Knyaz Alexander I
Discover Plovdiv on foot by walking on the main street which is 1,7 km long. It is full of shops, bars, ice cream parlors and also full of buildings dating from the 19th century, which make for an interesting stroll.
Take a dive into ancient history: Plovdiv is Europe's oldest inhabited city
Plovdiv is not only Bulgaria's second largest city, but it is also the oldest city still inhabited in Europe and it is considered to be the 6th oldest city in the world, dating back around 6000 years.
This makes Plovdiv the ideal holiday destination for history buffs, but even if you are not into history, you will still be charmed by the unique combination of old architecture and youthful vibe that the city has.
Best Places To Visit in Plovdiv
2. Ancient Roman Theater of Plovdiv (Forum of Philippopolis)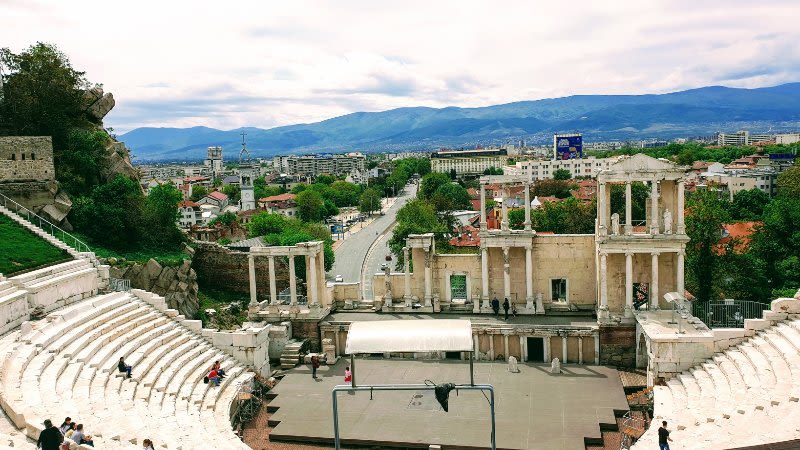 The Roman Theater in Plovdiv is one of the city's main attractions and one of the best preserved theaters in the world. It is still used as a venue for concerts or events, especially during the summer months. One of the must see places in Plovdiv.
You can also buy a combined ticket for 15 BGN, which will give you access to 5 of the city's main attractions, including the Roman Forum.
3. East Gate of Philippopolis
4000 Hadzhi Hasan Mahala
There were 3 entrances to the cold city of Plovdiv and the East gate is one of them. Nowadays there are only a few remains in the area, so not much to see really. But if you happen to be in the area, you can check out this place for a few minutes, just for the fact that those stones have thousands of years of history behind them.
4. Small Basilica
This old basilica shows the amazing skills of the mosaic builders in ancient Philippopolis. The ruins of the basilica were discovered in 1988, when workers were excavating in the area in order to build an apartment complex. An extensive restoration process followed and the Basilica was opened to the public in 2014.
Discover The Architectural Treasures Inside Plovdiv's Old Town
5. Balabanov House
This is one of the most iconic buildings in the Old Town, with a representative architecture for the city. The house that you see today is a reconstruction from the '70s, since the original house was actually demolished in the 1930s.
Inside Balabanov House it displays an exhibition of Bulgarian art.
6. Stepan Hindlyan House
This is one of the few symmetrical houses in the city, still preserved in its original condition. It is situated only a few steps away from Balabanov House and it is considered to be the most impressive house in Old Town Plovdiv.
7. Get lost of the cobbled stone streets of Plovdiv's Old Town
The best thing about Old Town Plovdiv is not inside any building, but out on the streets, where you can see the contrast of the old architecture and the modern buzzing society of today.
We enjoyed walking on the narrow streets and we were pleased to see that most of the buildings had been renovated to their former glory. It makes for a pleasant stroll, especially in spring and summer, when the place comes to life with visitors and nature is in full bloom.
Explore The Cultural Attractions in Plovdiv
In 2019, Plovdiv shares the title of European Capital of Culture with the city of Matera in Italy. The city has long prepared for this moment and there are some interesting museums that you can visit, which will also help you gain a better understanding of the city's past.
8. Regional Natural History Museum
This is an interesting place to visit if you are traveling to Plovdiv with kids. They have many expositions, which include: invertebrates, an aquarium, terrarium, planetarium, butterflies, botany, minerals and much more.
Tickets aren't that expensive and the attraction is perfect for kids of all ages.
9. Regional Ethnographic Museum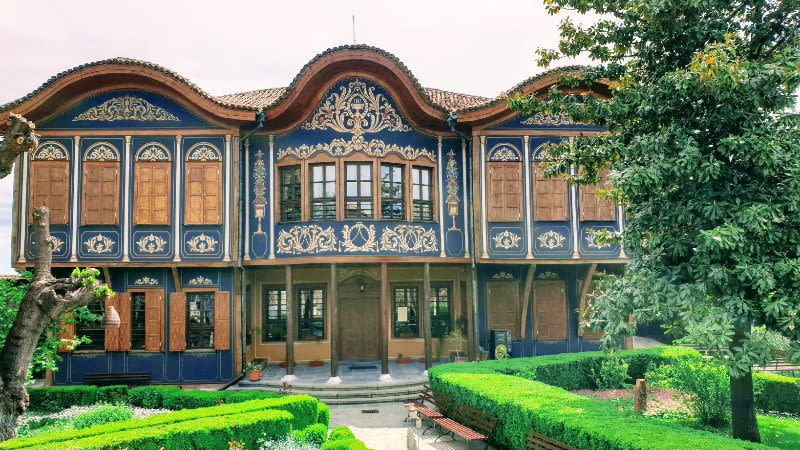 This museum is located in the Old Town, in the former house of a wealthy merchant from the city. It now displays 6 different exhibitions in 6 rooms.
The building itself is wonderfully restored and even if you don't go in to visit, you must go and see the exterior of the building, which is one of the most iconic places in Plovdiv and also one of the most photographed houses in the Old Town.
10. Garden of Tsar Simeon
A beautifully renovated park, which located right next to the city center on the pedestrian street. You can find benches to rest after a day of walking and you can also find playgrounds for kids.
There is also a Multimedia fountain (with lights and music), but it is only working in summer. We visited at the beginning of May and the fountain wasn't functional yet for the season.
11. Danov Hill
From the Garden of Tsar Simeon we went to climb Danov Hill, a protected area named after the mayor who decided to preserve the space and keep it as a green area inside the city. You get lovely views over Plovdiv and towards Nebet Hill and the Roman Theater.
12. Statue of Alyosha
The Alyosha monument is 11 m tall and it stands as a reminder of the lives lost during the Russian occupation of Bulgaria. The monument of Alyosha is situated on top of Bunarjik Hill and it is one of the popular places to do for young people in Plovdiv.
13. Ancient Fortress Nebet Hill
In case you've noticed, Plovdiv has many hills. In fact, the city was built on seven hills, but nowadays there are only six. So if you want to explore them all, there is a lot of climbing involved, which is not bad given the delicious food that you can sample in this region of Bulgaria.
Nebet Hill is a popular spot for watching the sunset in Plovdiv. The views are spectacular and although it is a bit of a walk to go all the way to the top, the views you are rewarded with are worth the effort.
14. KAPANA Neighborhood - The Place To Be For The Best Nightlife in Plovdiv
This is a recently renovated neighborhood in Plovdiv and it is home to many bars, pubs and clubs, which make it the perfect spot to visit in the evenings.
The name Kapana translates as "The Trap" and it refers to the intricate labyrinth of streets, where it is easy to get lost and become "trapped". Or at least it was, back in the days when we did not have Google Maps, Waze and other apps that can easily help you navigate a city.
There are many trendy bars and night clubs in Kapana and although it feels touristy and has a hipster vibe we still recommend that you pay a visit and enjoy some time chilling at a terrace during the day.
Cat and Mouse Craft Beer Bar is a popular bar serving artisan beer, with an interesting decor and an even more interesting menu.
15. Check out the cool street art in downtown Plovdiv
We loved the city's many painted murals, as it provides interesting backdrops for photo shoots. So if you are searching for the most Instagrammable places in Plovdiv, walk around the streets and "hunt" for these cool murals.
Plovdiv is not yet a popular tourist destination, so you still have chances to discover new places, that are not so massively photographed and shared on Instagram, Facebook or social media in general.
Plovdiv In A Day - What Not To Miss
If you only have one day to visit Plovdiv, then these are the most important 5 places that shouldn't be missed:
The Ancient Roman Theater
A walk through the Old Town - MUST SEE the building of the Regional Ethnographic Museum
Rest in the Gardens of Tsar Simeon
The Ancient Roman Stadium, with the Mosque in the background, right in the heart of Plovdiv
Have lunch and a drink in Kapana, the trendy neighborhood where all the cool bars are located
Best Time To Visit Plovdiv
The best time to visit the city of Plovdiv is from late spring until early autumn.
Best months to visit: May, June, September.
We consider these to be the best months to visit because the weather is warm, bun not too hot, so you will be able to explore all day long.
But if you are also planning to combine a visit to Plovdiv with some hiking trips in the Rhodope Mountains or Rila Mountains, both situated nearby, then we advise to come in July or August, as this increases your chances for good weather in the mountains as well.