16 Free Things To Do in Lisbon - Discover Portugal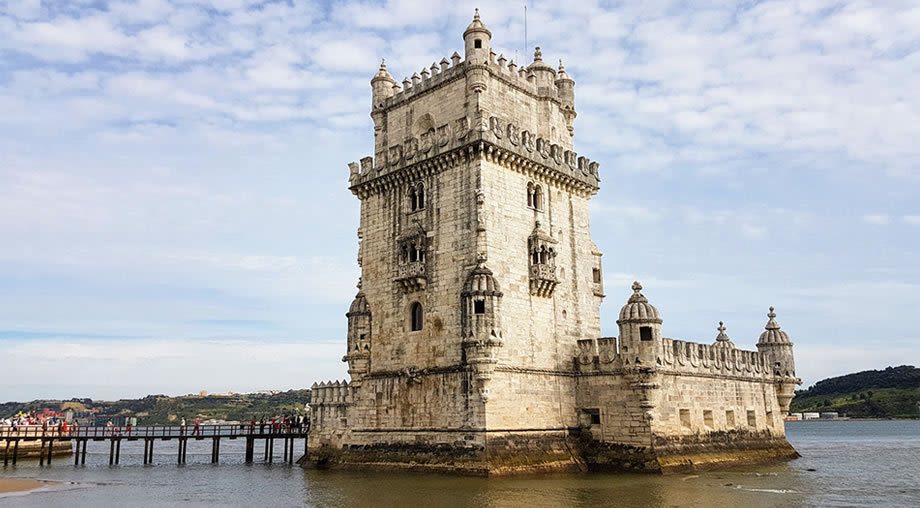 Lisbon is a great city to wander through the streets and discover its beauty and architecture, but if you want to visit museums and attractions, most of them have an entry fee that varies between a couple of euros to 10-15 euros or even more.
What to do in Lisbon for free
If you want to visit Lisbon on a budget and save some money while still getting to see some of the interesting sites, go through our list below of the best free things to do in Lisbon.
In any case, Lisbon is a city best enjoyed by walking its narrow streets on foot, admiring the architecture and taking in the views from the many miradouros (viewpoints). A trip to Lisbon doesn't have to break the bank if you plan ahead and organize your vacation based on some of the info you can find below in our article.
Free Museums in Lisbon
Many of Lisbon's museums and historic sites are free to visit on the first Sunday of the month.
So if you're in Lisbon on that day you can skip paying the ticket, but be prepared to for long queues.
Here are the most popular sites:
1. Belem Tower & Jeronimos Monastery
Free 1st Sunday of each month
Belem Tower and the Jeronimos Monastery are 2 of Lisbon's landmarks and everyone wants to visit, but the combined ticket for both costs 12 €. If you're planning to visit on the free day, our tip is to get there as early as possible, so you avoid the ridiculously long lines that form later in the day. Bonus, when others will be waiting to go in, you will have already finished visiting and you can enjoy one of the pasteis de nata from the famous Pasteis de Belem factory in the neighborhood.
2. Calouste Gulbenkian Museum
Free every Sunday from 2PM
Founder's Collection: Av. de Berna 45A
Modern Collection: Rua Dr. Nicolau de Bettencourt
This is an art museum, full of old European coins, paintings and islamic and oriental decorative art. The modern collection offers an introduction to the history of Portugal over the last century and the objects displayed are often changed and renewed, in order to reflect the ever-changing world of art.
3. National Museum of Antique Art
Free 1st Sunday of each month
Address: Rua das Janelas Verdes
At the National Museum of Antique Art you can see many painting collections (from Portuguese artists and other European painters), as well as other types of collections, from furniture, ceramics, textiles, to glasses and silverware.
4. Museu Nacional do Azulejo – Lisbon's Museum of Ceramics
Free 1st Sunday of each month
So as you see, if you're lucky to be in Lisbon on the first Sunday of the month, you can dedicate this day for visiting museums and attractions and it will save you a lot of money in entry fees.
5. MUDE – Design and Fashion Museum – Free Museum in Lisbon
2019 Update: The museum building is still temporarily closed for works of integral rehabilitation.
Address: Rua Augusta, 24
This is a famous design museum ideal for design enthusiasts and students alike. It hosts businessman Francisco Capelo's fashion collection made up of 1200 couture pieces and pieces from many more designers like Yves Saint Laurent or Jean Paul Gaultier.
It is situated in the Pombaline district close to Rua dos Correeiros Archaeological Nucleus Free Tour, so you have two free activities in Lisbon on the same street, just a few minutes away from each other.
Notice: While the works take place in order to renovate the building, the museum will continue to have an exhibition program in the city and in the country, called MUDE OUTSIDE.
6. Berardo Collection Museum
Address: Praca do Imperio, 1449-003 – Belem district
This used to be a free museum in Lisbon for the last 10 years, but starting May 2017 it has an entry fee of 5 Euros.
It remains free to visit on Saturdays, so you could spend a few hours here admiring the modern and contemporary art. You will find here a diverse collection, from many well known artists, plus the building itself is a piece of art.
7. Museum of the Orient – Museo de Oriente
Free on Fridays between 6 PM and 10 PM
Av. Brasília, Doca de Alcântara (Norte), Lisbon
This museum was opened in Lisbon in 2008 and it celebrates the intricate history that the Portuguese people have with the Orient, thanks to their past full of exploration and discoveries. Here you will find thousands of art pieces as well as documents, plus the Kwok On collection, considered the top of its genre at a European scale.
You can visit the Museum of the Orient (Oriente Museu) for free every Friday, from 18:00 to 22:00 hours (6 PM to 10 PM).
Free Tours in Lisbon
8. Rua dos Correeiros Archaeological Nucleus Free Tour
Address: Rua Augusta, 96 - Lisbon
During the early 1990s, the Millenium bank had started digging in the area in order to build and underground parking, when they discovered archaeological structures from ancient Lisbon and so this place became a cultural site and now hosts free tours for everyone who wants to discover more about the history of Lisbon.
The Rua dos Correeiros Archaeological guided tour takes around 1 hour and you get many info in regards to the big earthquake and fire that destroyed Lisbon almost completely a few hundred years ago, plus you get to see remnants from the oriental influence in Portugal and all the way back to the Roman era in Lisbon.
The tour is easily accessible, in the Pombaline historical center of Lisbon and it would be a pity to miss it, considering the fact that it is a free guided tour that gives you so much input about this city's past.
9. Free Walking Tours in Lisbon
If you want to get to know the real Lisbon with the help of a local, you can join one of the many walking tours, where people will show you different neighborhoods and their most important sights.
Many of these tours are part of the free walking tours movement, where you don't pay a set price at the beginning, instead you pay the guide what you consider at the end of the tour, depending on how much you enjoyed the experience.
There are many companies offering such tours in Lisbon, but some of the most popular are Discover Walks, Chill-out Lisbon Free Walking Tour (smaller company, but their guides get great reviews online) and SANDEMAN's New Europe walking tour in Lisbon.
10. A walk through Alfama
Alfama is Lisbon's oldest part that survived after the earthquake and the big fire, so you will it laid out very differently from the rest of the city. Its streets are narrow and sort of like a labyrinth, so there's no right or wrong way to go, just enjoy the walk and the atmosphere.
You don't really need a guided tour to do this. Just walk around the entire neighborhood and discover its narrow paths and old buildings.
One of the best times to experience Alfama is during the festivities in June, when there are parties every night, with the largest party held on the night of 12th of June, in honor of Saint Anthony, the patron saint of Lisbon.
If you believe in superstitions and you're in search for new love, you can try to toss a coin and if it lands in the book held by Saint Anthony (the statue in front of the Saint's church in Alfama) it means that you will find a new partner or that your current relationship will improve. Worth a penny or a euro, right?
Markets and Fairs in Lisbon
Budget shopping & amazing viewpoints in Lisbon
For a local experience, forget about the big shopping centers and buy unique souvenirs from the flea market or from one of the local artists in Lisbon.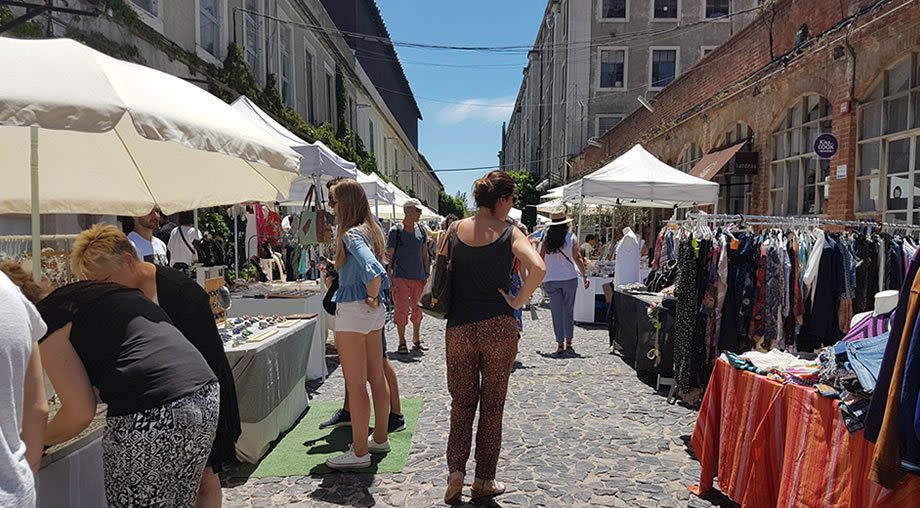 11. LX Factory
Address: R. Rodrigues de Faria 103, 1300 - 501 – Belem area
LX Factory is a trending new attraction in Lisbon, set in an old industrial area that had been abandoned and unused for many years, which now hosts a series of small local shops and interesting cafes.
We recommend you go there on Sundays if possible, because in the courtyard you will also find a craft fair, where local artists and creators come to sell their stuff. You will find jewelry purses, vintage items of clothing and many objects suitable to bring back home as souvenirs.
LX Factory is close to Belem, so you can visit the entire area in the same day and make a day out of it.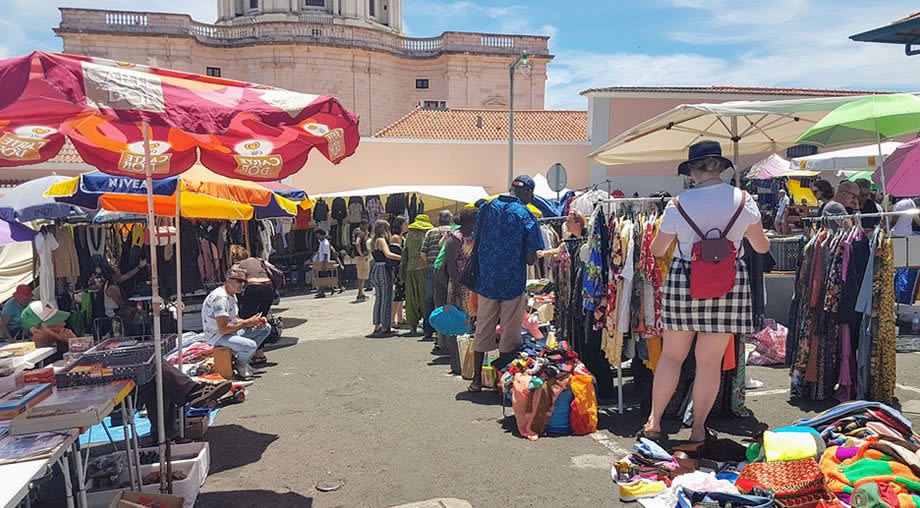 12. Feira da Ladra – Lisbon's largest flea market
Tuesday & Saturday, from 9 am to 6 pm
Feira da Ladra translates to Market of the thieves but nowadays there's nothing to worry about and you should definitely pay a visit if you like digging for old treasures.
Feira da Ladra is held every Tuesday and Saturday and it is Lisbon's largest flea market. You can get here with the famous tram no. 28. You will find anything from clothes, CDs, ceramics, coins and even souvenirs.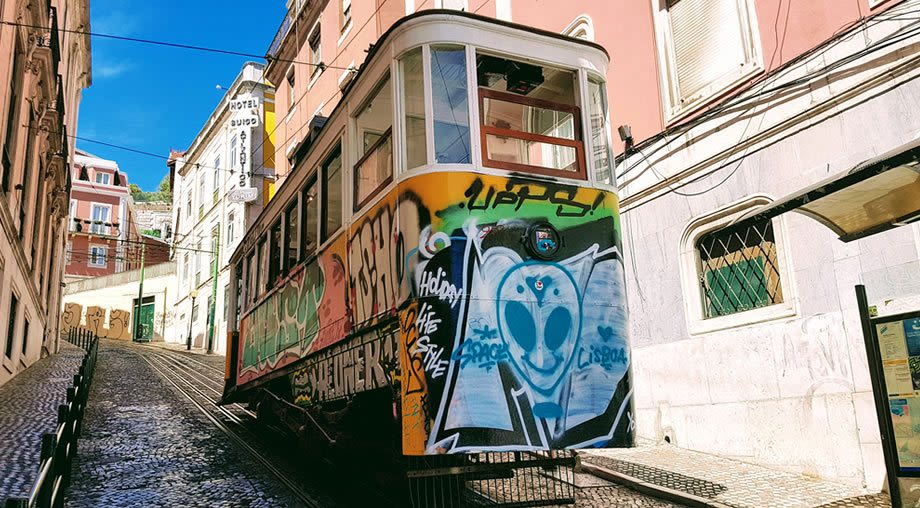 Free Things To Do in Lisbon – if you have a VIVA Viagem ticket or daily ticket
Lisbon is a city that's best explored by walking, but after a few days you might get tired and find yourself in need of a break. So the best idea is to buy yourself a day ticket for transport around Lisbon for 6.15 Euros (valid in 2017) and you will have access to all means of transportation including:
13. The historic tram 28
A ride on the 28 tram is a must while in Lisbon and it's included in the price of the daily ticket. You can ride the tram back and forth from one end to another and this way you get to see so many famous sights in the city and pass through different neighborhoods and districts.
14. Santa Just lift
If you buy a return ticket at the lift it will cost you 5,5 Euros, but if you have a day ticket, the ride is included in the price. So just a return ticket with the lift is almost worth the price of the daily ticket.
15. The famous yellow funiculars in Lisbon
Gloria funicular, Bica funicular and Lavra funicular. If you buy a return ticket on board it will cost you 3,7 Euros – so again you will save a lot of money with a 24h ticket.
16. Admire the city from one of Lisbon's many viewpoints
The many hills of Lisbon come with many vantage points from where you can enjoy spectacular views of the city. Miradouro de Santa Luzia, offers beautiful views over the Alfama; Miradouro de Sao Pedro de Alcantara can be reached with the Gloria Funicular and overlooks the Baixa neighborhood and Mirador da Graca is probably the highest point of all and has stunning views of the 25 April Bridge and the Sao Jorge Castle. Besides these you will discover many more spots where you can enjoy lovely views and maybe something to drink, since in most of these places you will find the traditional Portuguese kiosk that serves beer, coffee and other drinks, offering the perfect break for the tired traveler.
As you can see Lisbon is a city full of attractions many of which can be enjoyed for free if you plan ahead.